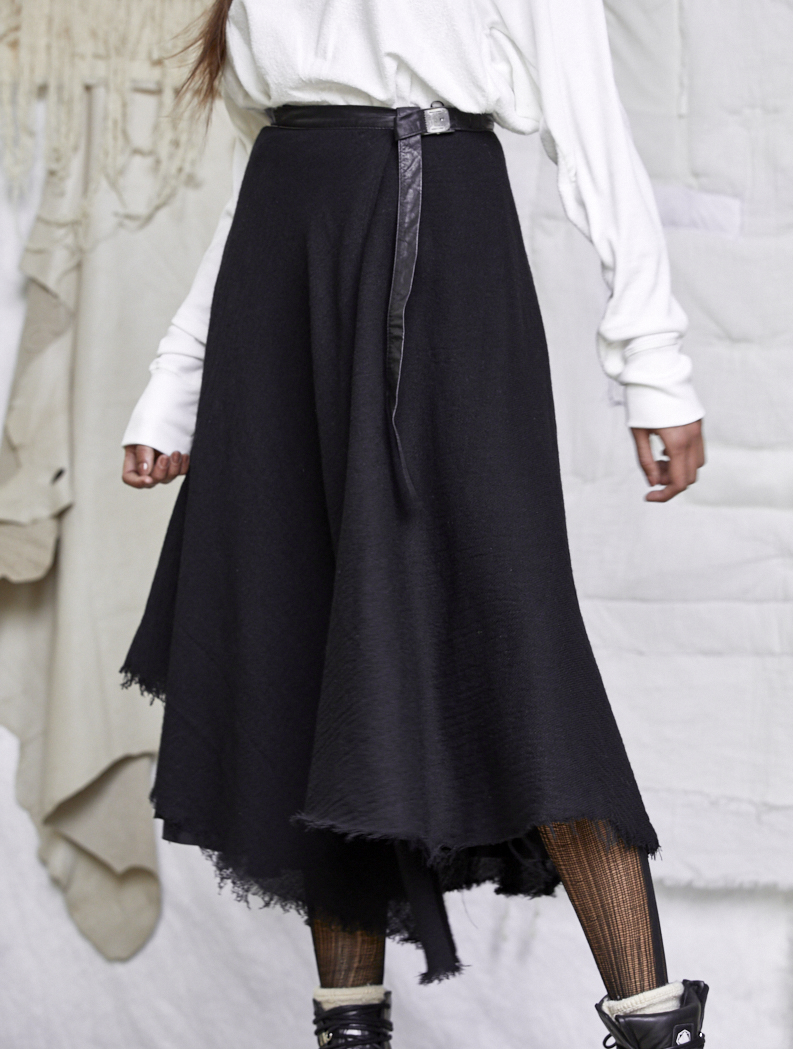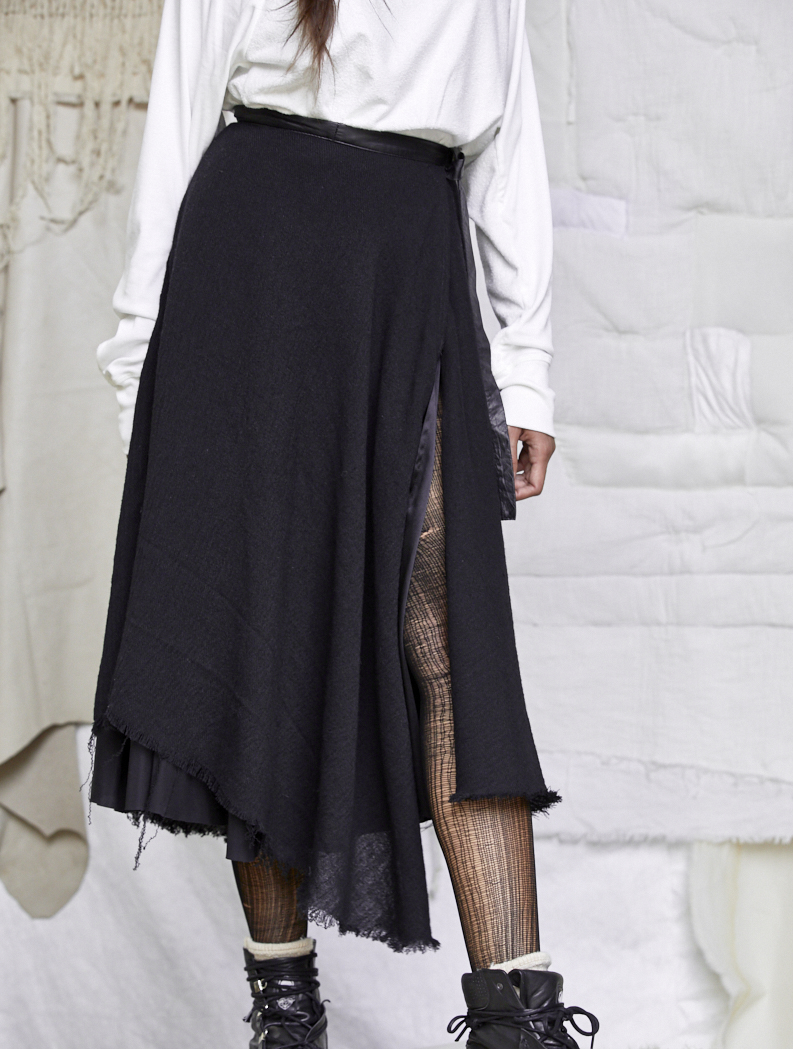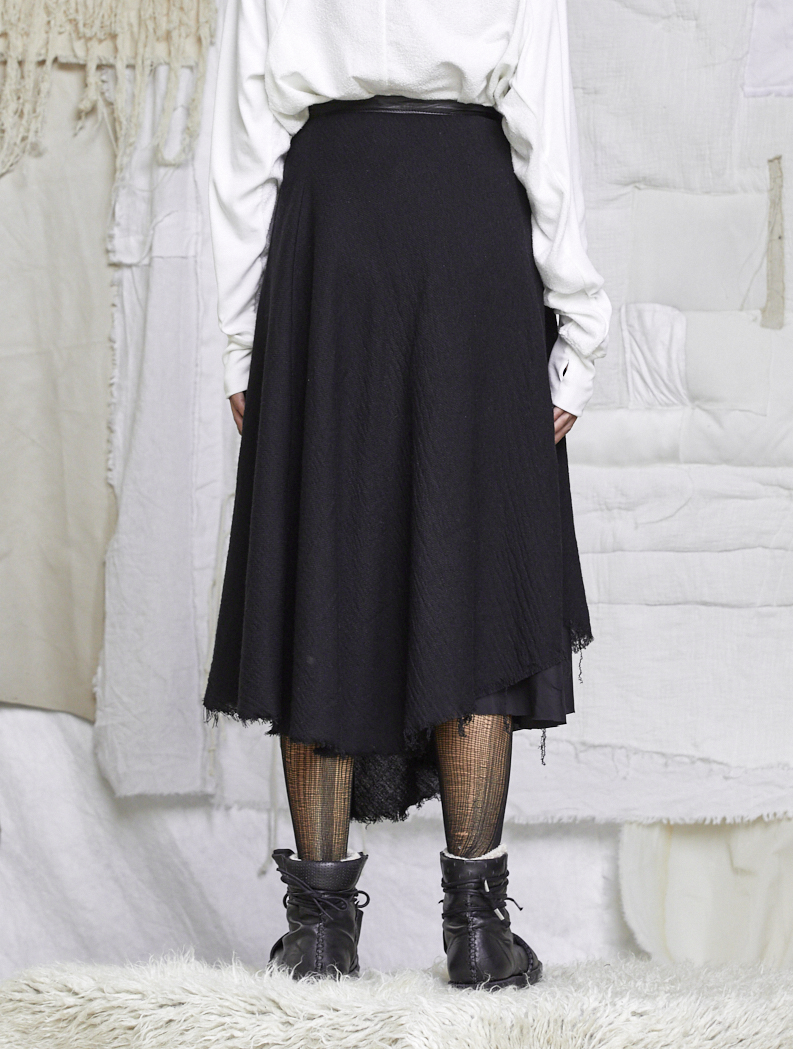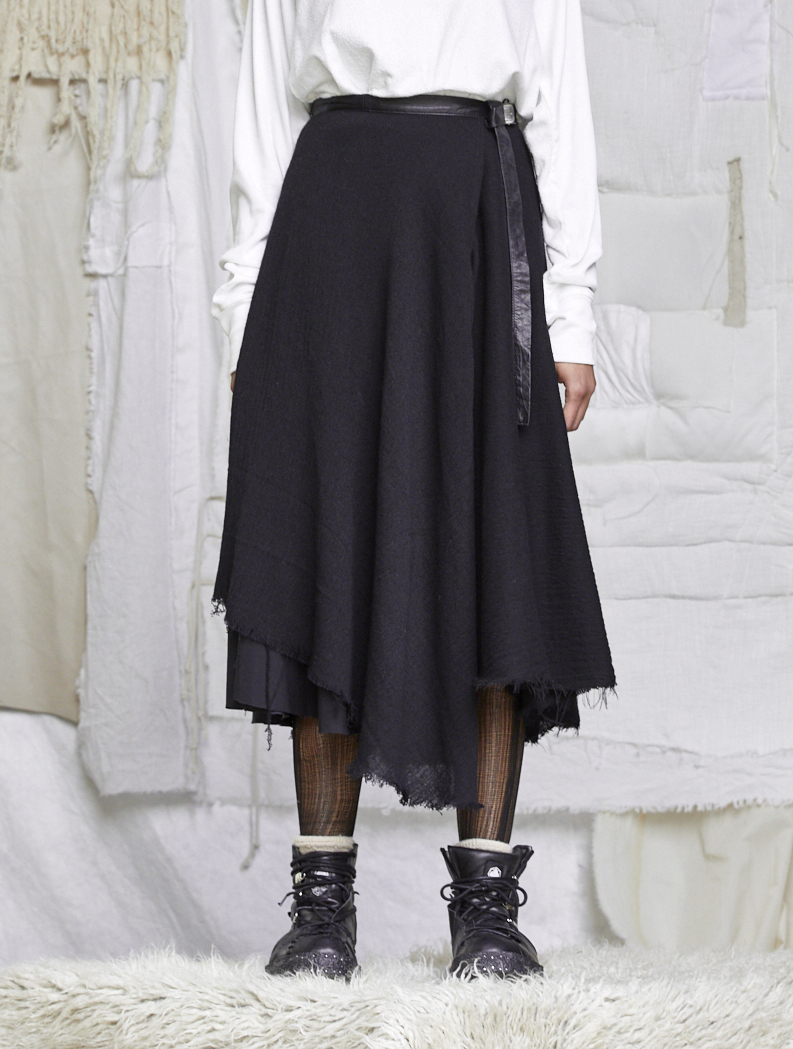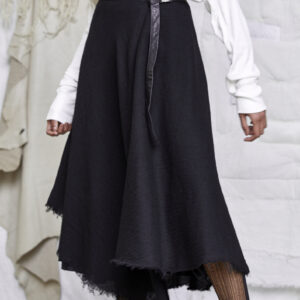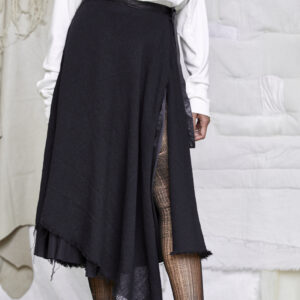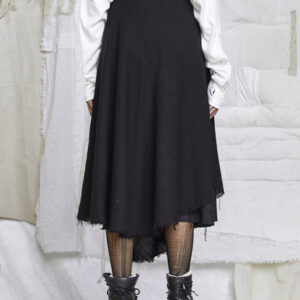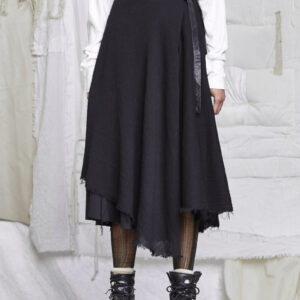 Sophisticated shape and movement. The silk layer is facing the skin. Wool shell is slightly longer than the lining. Raw, curved bottom hem. Japanese calf leather is very soft and lightweight. Waist band belt is extended into a hanging element. Big side slit. High waist. 
Overall, medium weight. Lusciously sleek and textured hand feel. 
Composition
Shell Fabric 1: 100% wool
Fabric 2: 100% silk 
Colour: black
Features
Behavior: comforting elegant flow. The weight of the fabric follows the movement of the body. Silk sensation touching the skin is sleek and slippery, layered with the wool warms.
Composition properties: 
Wool fiber has a natural UV protection and antibacterial properties. It continues to insulate even when wet. It is  the most recycled fiber in the world. 
Silk: strong natural fiber, breathable, has thermal regulation, shine, slippery
Sustainability: the style is made in house, extending  the life cycle by using small quantities of left over fabrics. Limited quantities available.
Conscious care:  Delicate hand wash or cold wash, with non catchy elements. For durability and to avoid shrinkage do not wash in hot water. 
Size S
Half waist: 34.5 cm(adjustable) to 32 cm
Hip: undefined  
Half Bottom width (along the hem): cr.150 cm
Length: (varies) cr. 77-90 cm
Vivian size: 
Hight: 1.75
Chest 87
Waist 70 
Hips: 90
Leon Louis ADDU Wrap Skirt in double layered wool and silk. A shape. Japanese calf leather waist hemming. Commes with uniquely treated metal closure.
WOMEN'S SIZE CHART
1CLOTHING
WOMEN'S SIZE CHART
CLOTHING
XO
OO
O
1
2
3
4
5
6
EUROPE
34
36
38
40
42
44
46
48
50
INTERNATIONAL
XS
S
M
L
XL
2 XL
3 XL
4 XL
5 XL
FRANCE
34
36
38
40
42
44
44
44
44
ITALY
38
40
42
44
46
48
48
48
48
UK
6
8
10
12
14
16
16
16
16
USA
2
4
6
8
10
12
12
12
12
JAPAN
5
7
9
11
13
15
15
15
15
AUSTRALIA
6
8
10
12
14
16
16
16
16
2JEANS
WOMEN'S SIZE CHART
CLOTHING
XO
OO
O
1
2
3
4
5
6
JEANS
25
26
28
30
32
34
34
34
34
3SHOES
WOMEN'S SIZE CHART
CLOTHING
XO
OO
O
1
2
3
4
5
6
SHOES
EUROPE
34
35
36
37
38
39
40
41
42
FRANCE
35
36
37
38
39
40
41
42
43
UK
1
2
3
4
5
6
7
8
9
USA
4
5
6
7
8
9
10
11
12
JAPAN
22 CM
22.5 CM
23 CM
23.5 CM
24 CM
24.5CM
25 CM
26 CM
27 CM
4GLOVES
WOMEN'S SIZE CHART
CLOTHING
XO
OO
O
1
2
3
4
5
6
GLOVES
STANDARD
6
6.5
7
7.5
8
8.5
9
9.5
INTERNATIONAL
XS
S
S
M
M
L
L
XL
CENTIMETERS
17
17.5
19
20
21.5
23
24
25.5