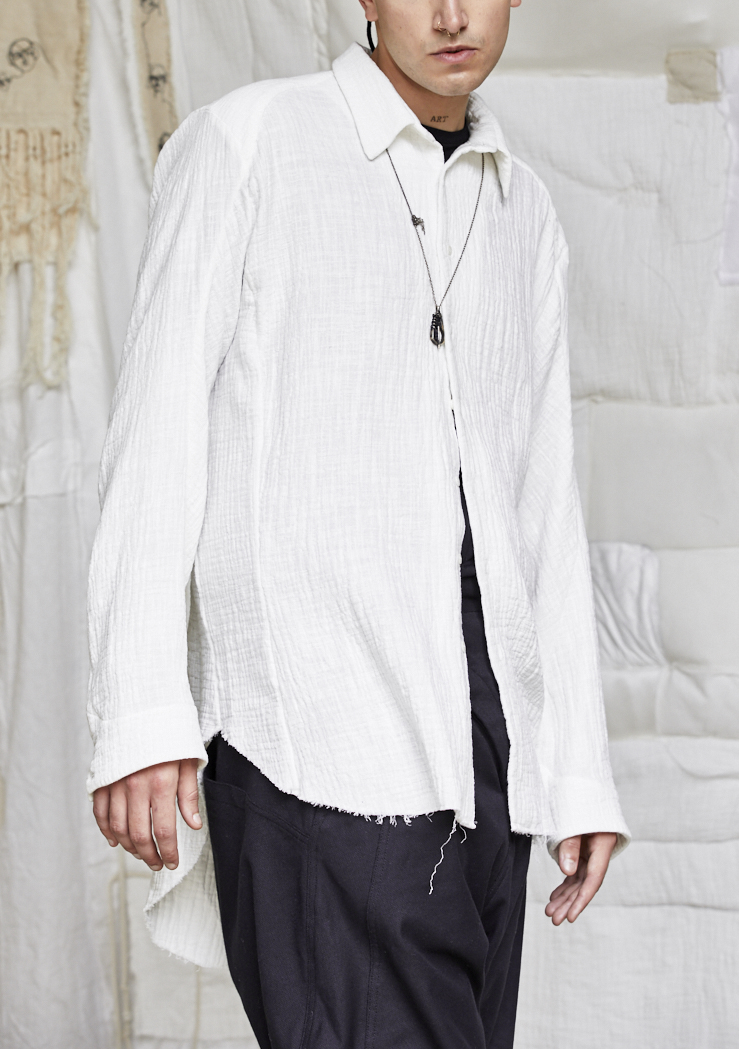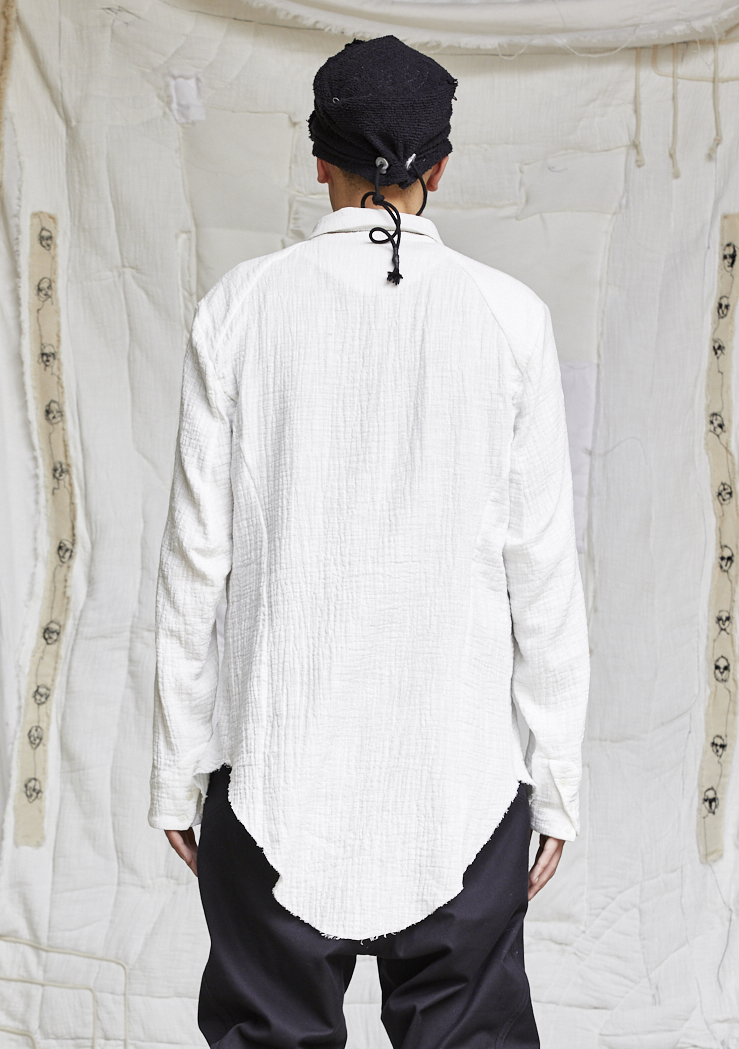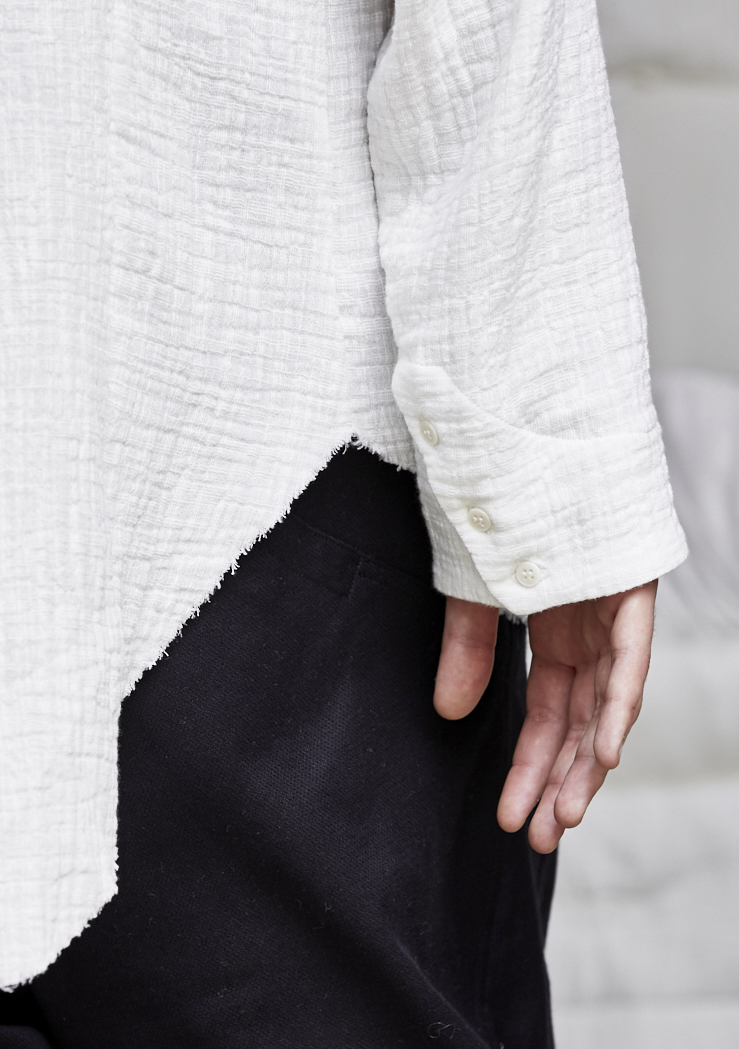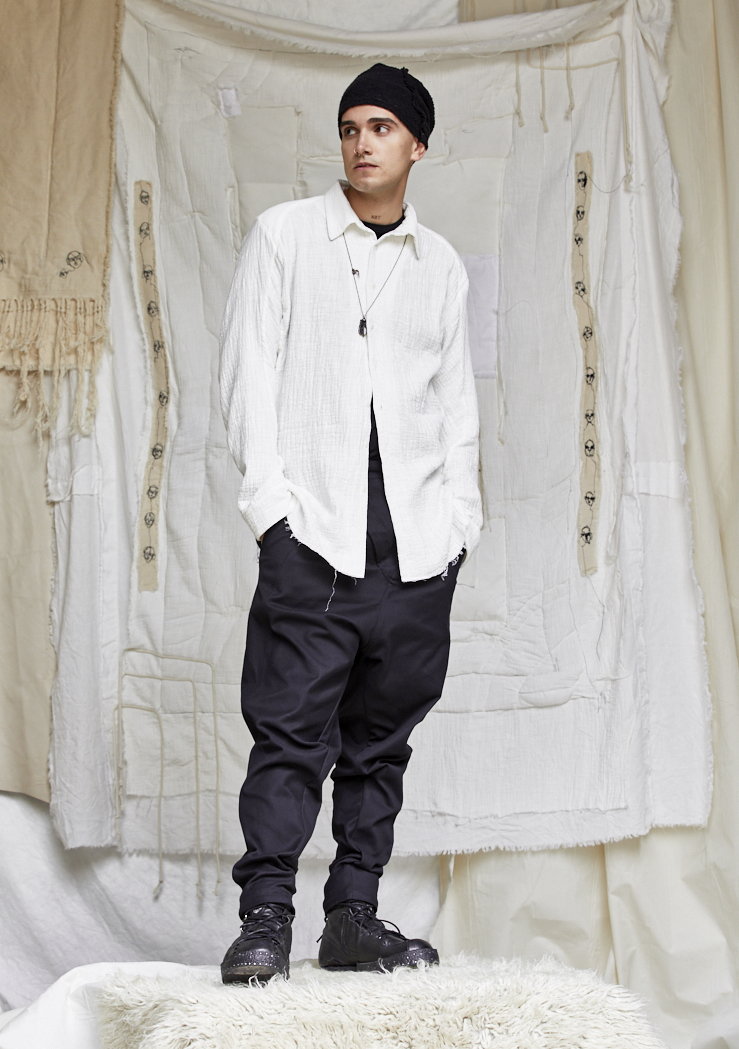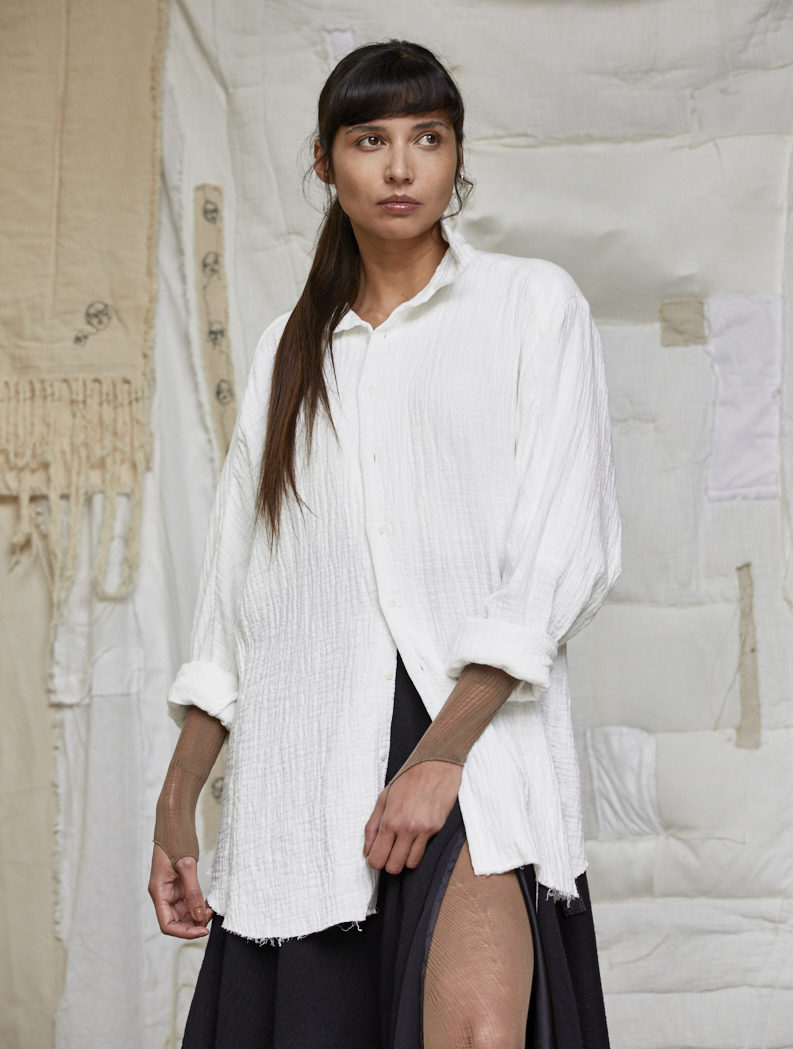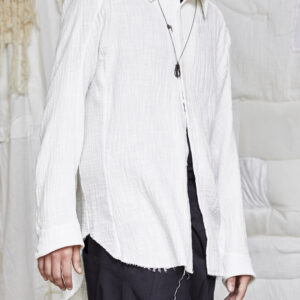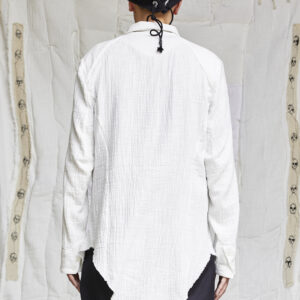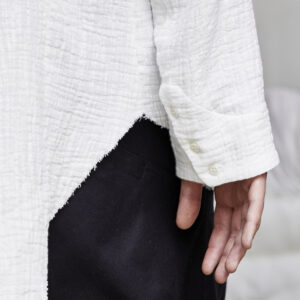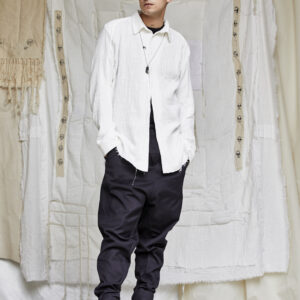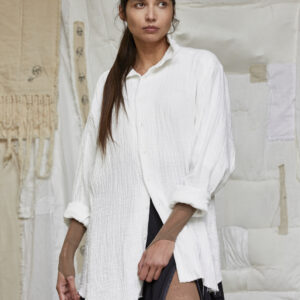 Specially woven, tactile and uneven surface. Front closure made with corozo buttons. Raw bottom hem. Long sleeves come with curved cut lines and angled 3 button closure on the cuff. Half reglan shoulder construction , flattering for the shaping of the shoulder and collar bone area. Curved and slightly longer back bottom hem. 
Medium weight, ultra soft hand feel.
Composition
Fabric : 100% cotton.
Colour: white, black
Features:
Behavior:  Distinctive surface and pleasurable to the skin. Soft woven texture is non stretchy and has a unique density for a shirt. 
Composition properties:  Cotton is Hypoallergenic, breathable, absorbent, non toxic. It becomes stronger when wet and is biodegradable.
Corozo buttons are made from the seeds of the tagua palm tree. Natural material, often called 'vegetable ivory' and shows visible grain patterns.
Sustainability: Produced locally using sourced stand still stock. Durable
Conscious care: gentle 30 degrees wash cycle, with non catchy elements. Hand wash advised.
Size L
Shoulder to shoulder: 50  cm
Half Chest width: 61 cm
Length: 82.5cm
Sleeve length: 67 cm
Nuno size: 
Hight: 1.83
Chest 92
Waist 72
Hips 92
Leon Louis ALONE Cotton Shirt crafted in 100% double faced woven cotton. Classical shirt shape in Leon Louis universe. Loose fitted model with a classical shirt collar. Minimal, textural experience.
MEN'S SIZE CHART
MEN'S SIZE CHART
CLOTHING
0
1
2
3
4
5
6
EUROPE
46
48
50
52
54
56
58
INTERNATIONAL
XS
S
M
L
XL
2 XL
3 XL
FRANCE
46
48
50
52
54
56
58
ITALY
46
48
50
52
54
56
58
UK
36
38
40
42
44
46
48
USA
36
38
40
42
44
46
48
JAPAN
2
3
4
5
6
7
8
AUSTRALIA
36
38
40
42
44
46
48
MEN'S SIZE CHART
CLOTHING
0
1
2
3
4
5
6
JEANS
29
30
32
34
36
38
40
MEN'S SIZE CHART
CLOTHING
0
1
2
3
4
5
6
SHOES
EUROPE
38
39
40
41
42
43
44
45
46
UK
4
5
6
7
8
9
10
11
12
USA
5
6
7
8
9
10
11
12
13
JAPAN
23 CM
24 CM
25 CM
26 CM
27 CM
28 CM
29 CM
30 CM
31 CM
MEN'S SIZE CHART
CLOTHING
0
1
2
3
4
5
6
GLOVES
STANDARD
7
7.5
8
8.5
9
9.5
10
10.5
INTERNATIONAL
XS
S
S
M
M
L
L
XL
CENTIMETERS
19
20
21.5
23
24
25.5
27
28