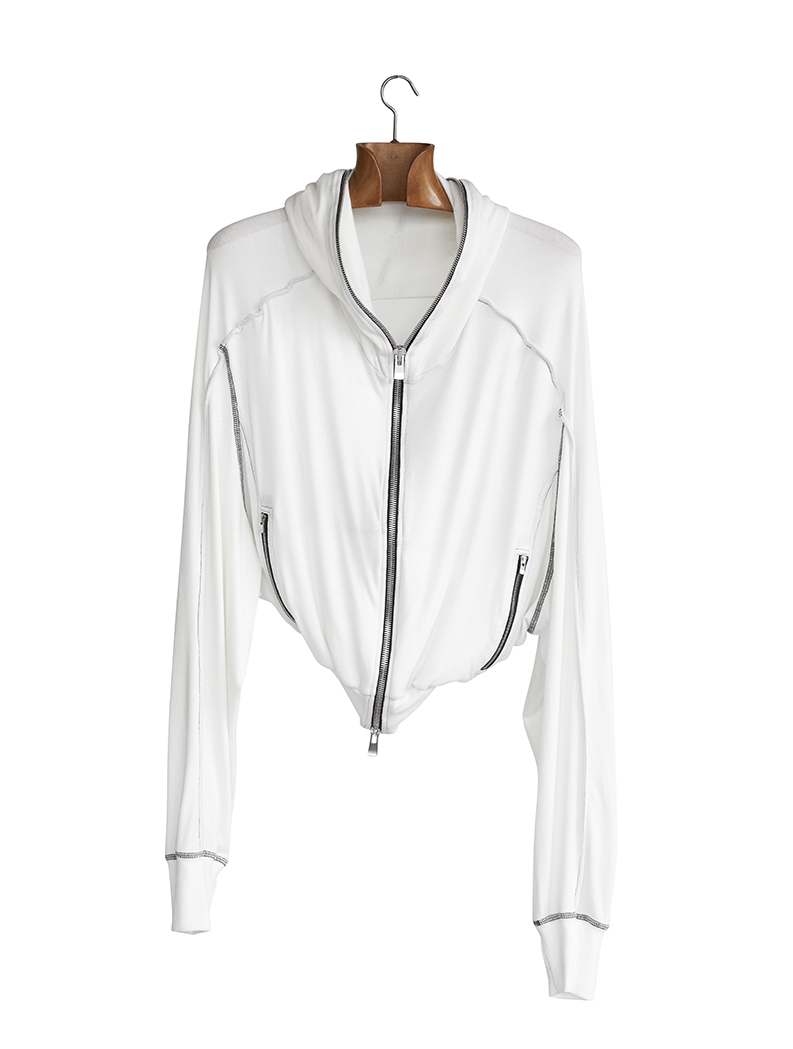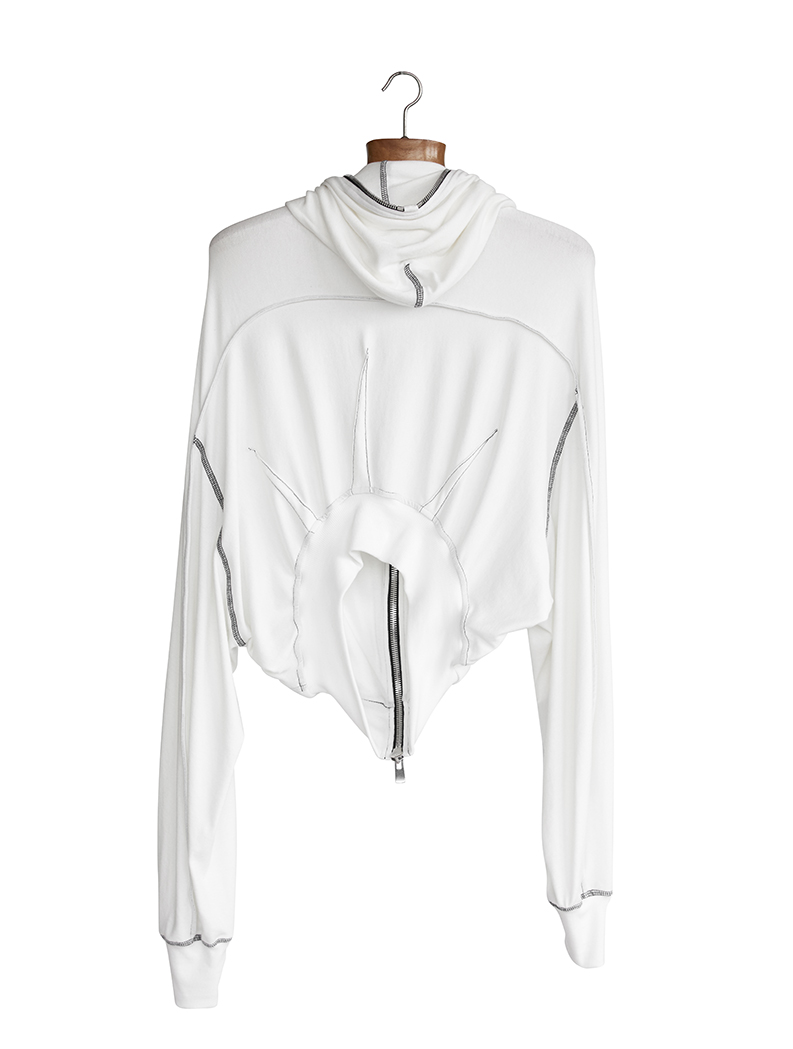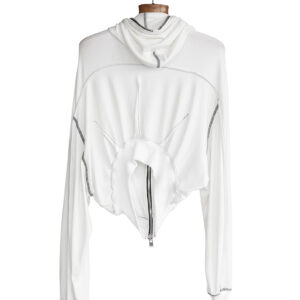 Made in collaboration with Valeriya Olkhova.
Comfortable and flexible sweat hoodie with graphic cut lines and reglan, long sleeves. The wide drapey fit is elongated by the undefined shoulder and the sleeve width. The silhouette is slimmed down by the rib at the waist and sleeves cuff.  Thumb hole. The 2 way zipper goes all the way to the top of the hood. The back of the hoodie is further cropped, designed to sit high waist. This style is very versatile in the styling options and shapes, due to the fabric weight, construction and 2 way zipper. Visible cover stitch and french seams in various places.
Overall, medium weight. Lusciously soft and stretchy hand feel. 
Composition
Shell Fabric 1: 100% cashmere
Colour: white, black 
Features
Behavior: very flexible and hugging. Natural draping. The cashmere textile allows the balance of the body temperature all year round, due to  Cashmere fibers developing a unique molecular structure.
Composition properties: 
Cashmere is very durable, hypoallergenic, insulating and has antibacterial properties. It's extremely soft and comfortable to wear all year round.
Tencel is a botanic, hypoallergenic, biodegradable textile. It has perfect moisture management and breathability. 
Sustainability: Locally produced. Zero waist. Durable. Non seasonal. Cashmere sourced from stand still stock.
Conscious care:  Delicate hand wash , with non catchy elements. Do not machine wash. Max temperature 30 degrees.
Size S?
Shoulder to shoulder: undefinable due to reglan construction 
Half Chest width: undefinable due to pattern construction, sleeves are elongating the body. 
Front Length : 54 cm
Back HSP- shortest 50 cm
Sleeve length: 88 cm from neck cut line
Vivian size: 
Hight: 1.75
Chest 87
Waist 70 
Hips: 90
CROPO_Cropped Hoodie Sweat
Leon Louis CROPO Cropped Hoodie Sweat in exquisite cashmere and rib detail. Wide, drapey fit with accentuating waist. Comes with front 2 way, size 8 zipper and zipped side pockets. 
WOMEN'S SIZE CHART
WOMEN'S SIZE CHART
CLOTHING
XO
OO
O
1
2
3
4
5
6
EUROPE
34
36
38
40
42
44
46
48
50
INTERNATIONAL
XS
S
M
L
XL
2 XL
3 XL
4 XL
5 XL
FRANCE
34
36
38
40
42
44
44
44
44
ITALY
38
40
42
44
46
48
48
48
48
UK
6
8
10
12
14
16
16
16
16
USA
2
4
6
8
10
12
12
12
12
JAPAN
5
7
9
11
13
15
15
15
15
AUSTRALIA
6
8
10
12
14
16
16
16
16
WOMEN'S SIZE CHART
CLOTHING
XO
OO
O
1
2
3
4
5
6
JEANS
25
26
28
30
32
34
34
34
34
WOMEN'S SIZE CHART
CLOTHING
XO
OO
O
1
2
3
4
5
6
SHOES
EUROPE
34
35
36
37
38
39
40
41
42
FRANCE
35
36
37
38
39
40
41
42
43
UK
1
2
3
4
5
6
7
8
9
USA
4
5
6
7
8
9
10
11
12
JAPAN
22 CM
22.5 CM
23 CM
23.5 CM
24 CM
24.5CM
25 CM
26 CM
27 CM
WOMEN'S SIZE CHART
CLOTHING
XO
OO
O
1
2
3
4
5
6
GLOVES
STANDARD
6
6.5
7
7.5
8
8.5
9
9.5
INTERNATIONAL
XS
S
S
M
M
L
L
XL
CENTIMETERS
17
17.5
19
20
21.5
23
24
25.5