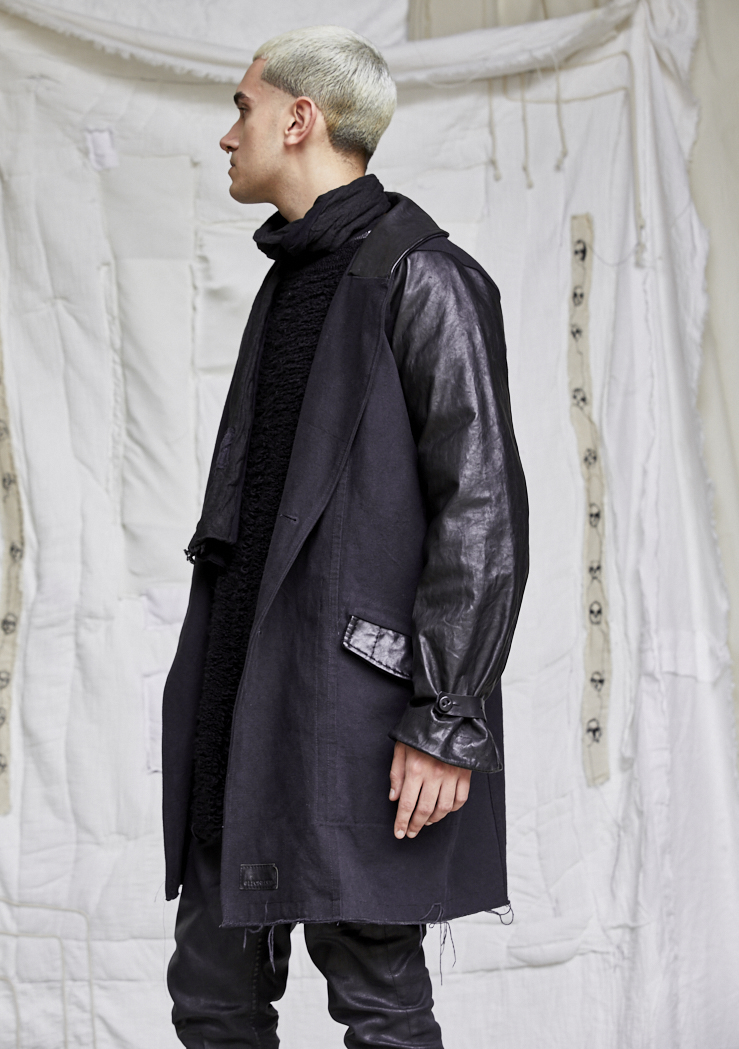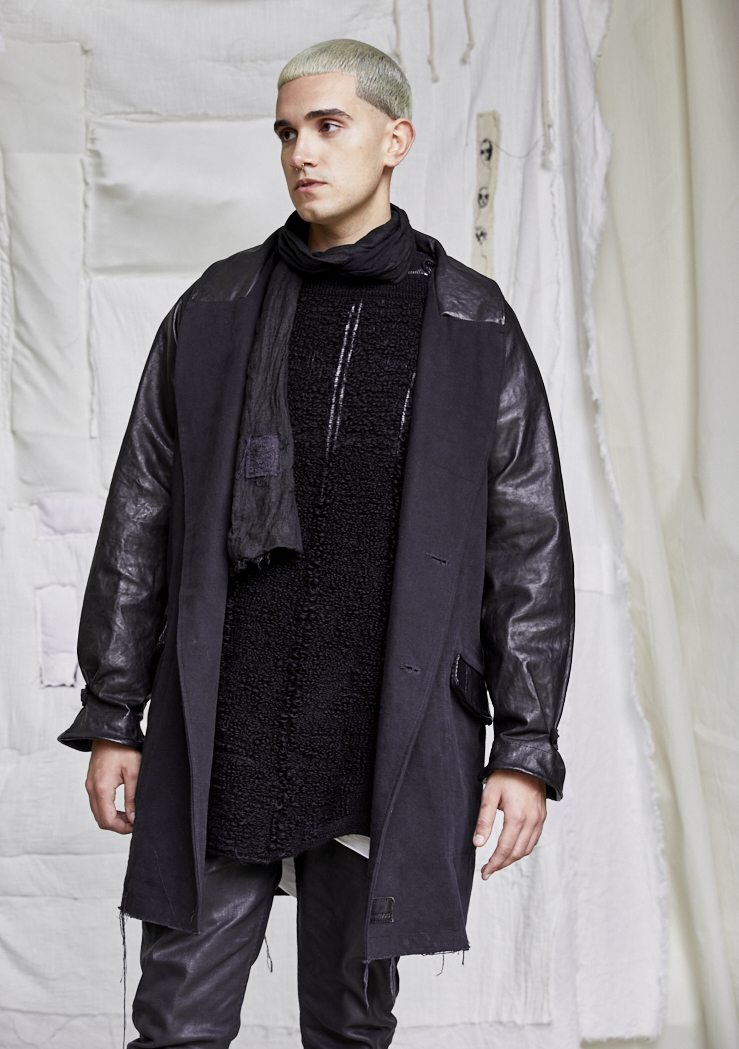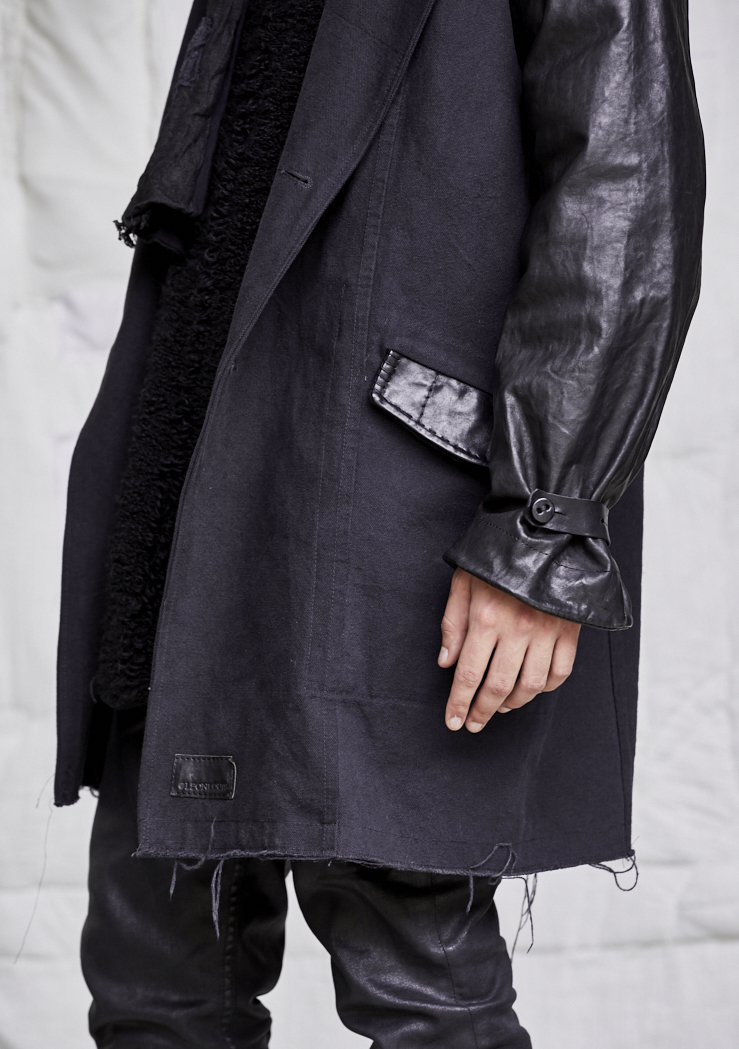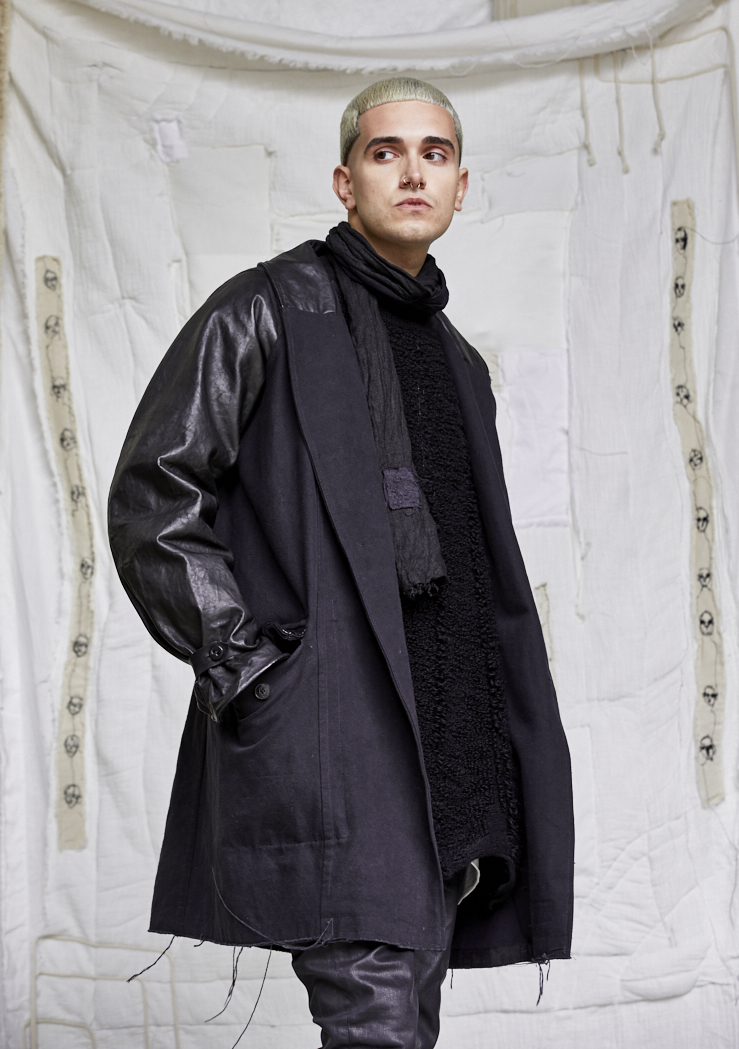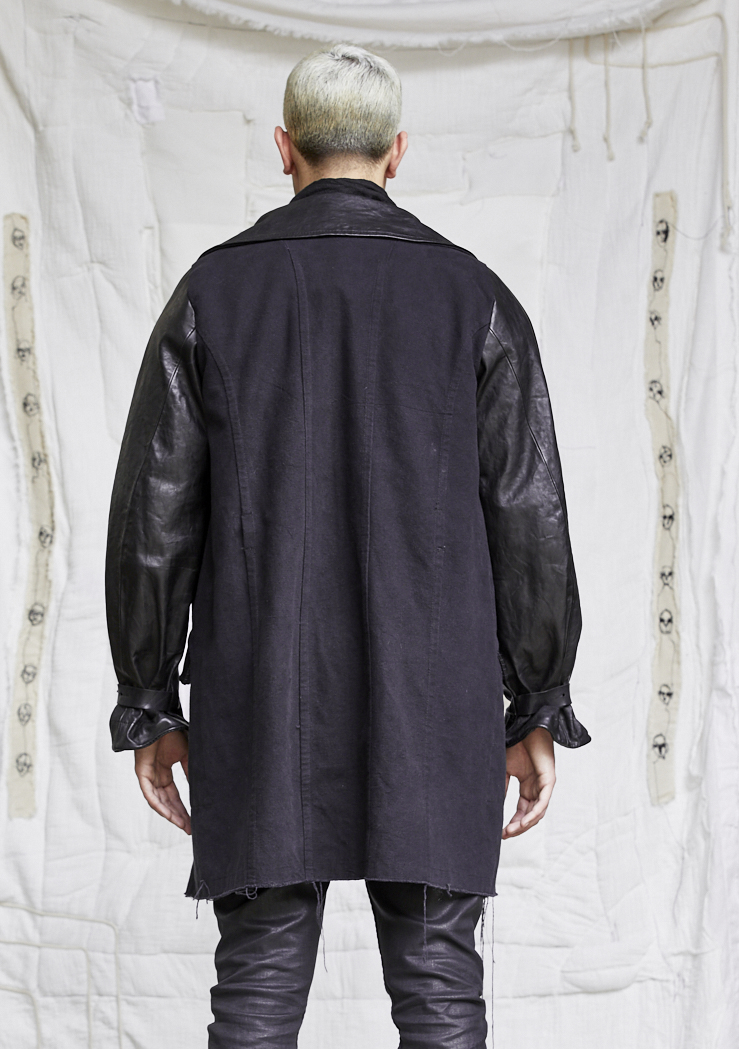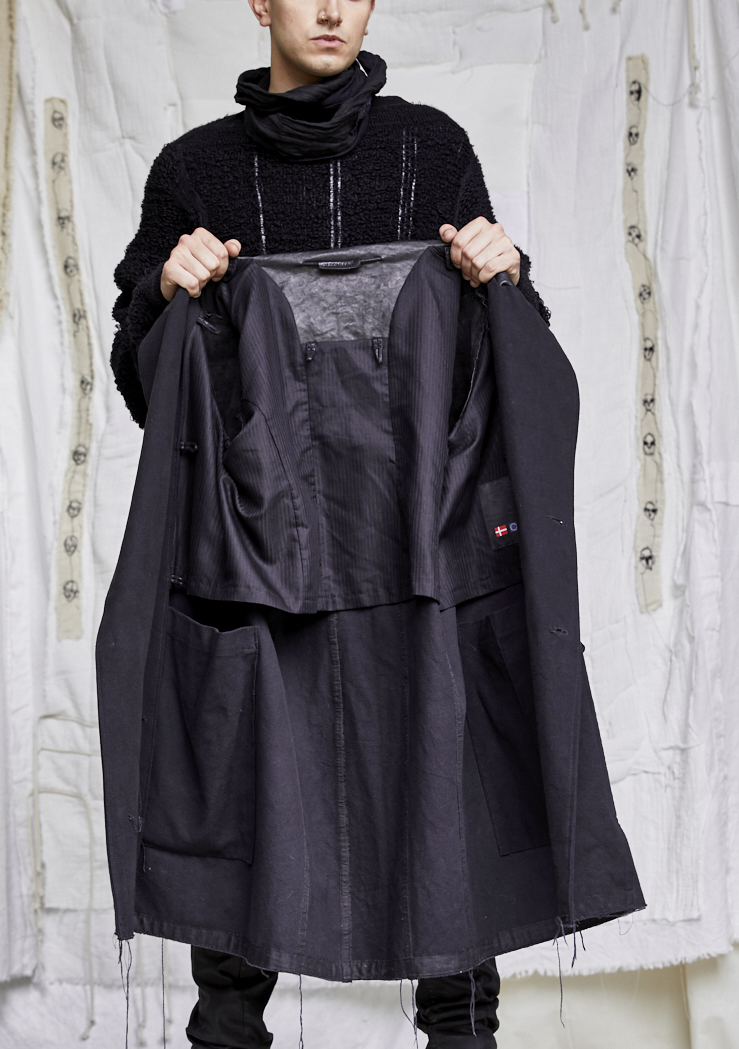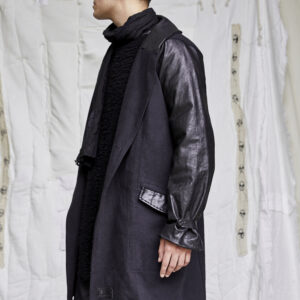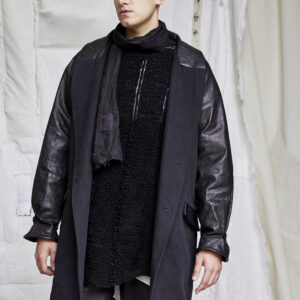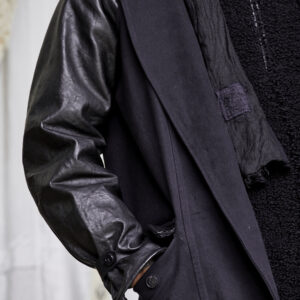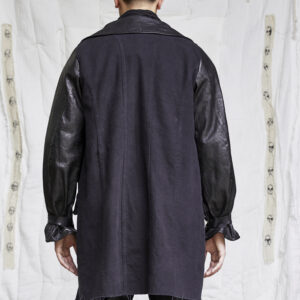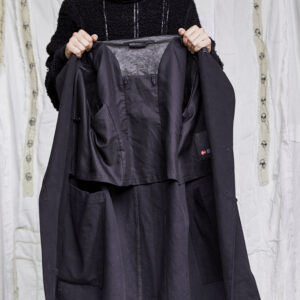 Half reglan shoulder. Interactive designed sleeve hem, additional button closure for option of exaggerating the shaping. Front welt pockets with a flip. Controlled raw bottom hem. Cotton poly tone in tone striped lining. Inner loops made to attach lining, that can be purchased on our webshop (when available). Taped inner seams.
Medium heavy weight, Sturdy hand feel. Non seasonal
Composition
Shell 1  : 100% cotton
Colour: black 
Sleeves 1: 100% horsehide leather
Features
Behavior: sturdy
Composition properties: Cotton is Hypoallergenic, breathable, absorbent, non toxic. It becomes stronger when wet and is biodegradable . 
protective shell
Sustainability: local production cycle
Conscious care:  no washing
Size 
Shoulder to shoulder: half reglan, undefined
Half Chest width: 56 cm
Front Length ( HSP to longest point in bottom hem) : 95 cm
Sleeve length: 69 cm
Vivian size: 
Hight: 1.75
Chest 87
Waist 70 
Hips: 90
Nuno size: 
Hight: 1.83
Chest 92
Waist 72
Hips 92
DENV_Mouldable Sleeve Jacket
Leon Louis Denv Mouldable sleeve jacket in cotton and leather, a trench coat reinterpretation. Wide Fit, to size or oversize. Around knee length. Distinctive metal wiring in the sleeve hem. Hand stitch detail on the front pocket flip. Two front button closure. Leather sleeves and upper collar.
MEN'S SIZE CHART
MEN'S SIZE CHART
CLOTHING
0
1
2
3
4
5
6
EUROPE
46
48
50
52
54
56
58
INTERNATIONAL
XS
S
M
L
XL
2 XL
3 XL
FRANCE
46
48
50
52
54
56
58
ITALY
46
48
50
52
54
56
58
UK
36
38
40
42
44
46
48
USA
36
38
40
42
44
46
48
JAPAN
2
3
4
5
6
7
8
AUSTRALIA
36
38
40
42
44
46
48
MEN'S SIZE CHART
CLOTHING
0
1
2
3
4
5
6
JEANS
29
30
32
34
36
38
40
MEN'S SIZE CHART
CLOTHING
0
1
2
3
4
5
6
SHOES
EUROPE
38
39
40
41
42
43
44
45
46
UK
4
5
6
7
8
9
10
11
12
USA
5
6
7
8
9
10
11
12
13
JAPAN
23 CM
24 CM
25 CM
26 CM
27 CM
28 CM
29 CM
30 CM
31 CM
MEN'S SIZE CHART
CLOTHING
0
1
2
3
4
5
6
GLOVES
STANDARD
7
7.5
8
8.5
9
9.5
10
10.5
INTERNATIONAL
XS
S
S
M
M
L
L
XL
CENTIMETERS
19
20
21.5
23
24
25.5
27
28
WOMEN'S SIZE CHART
WOMEN'S SIZE CHART
CLOTHING
XO
OO
O
1
2
3
4
5
6
EUROPE
34
36
38
40
42
44
46
48
50
INTERNATIONAL
XS
S
M
L
XL
2 XL
3 XL
4 XL
5 XL
FRANCE
34
36
38
40
42
44
44
44
44
ITALY
38
40
42
44
46
48
48
48
48
UK
6
8
10
12
14
16
16
16
16
USA
2
4
6
8
10
12
12
12
12
JAPAN
5
7
9
11
13
15
15
15
15
AUSTRALIA
6
8
10
12
14
16
16
16
16
WOMEN'S SIZE CHART
CLOTHING
XO
OO
O
1
2
3
4
5
6
JEANS
25
26
28
30
32
34
34
34
34
WOMEN'S SIZE CHART
CLOTHING
XO
OO
O
1
2
3
4
5
6
SHOES
EUROPE
34
35
36
37
38
39
40
41
42
FRANCE
35
36
37
38
39
40
41
42
43
UK
1
2
3
4
5
6
7
8
9
USA
4
5
6
7
8
9
10
11
12
JAPAN
22 CM
22.5 CM
23 CM
23.5 CM
24 CM
24.5CM
25 CM
26 CM
27 CM
WOMEN'S SIZE CHART
CLOTHING
XO
OO
O
1
2
3
4
5
6
GLOVES
STANDARD
6
6.5
7
7.5
8
8.5
9
9.5
INTERNATIONAL
XS
S
S
M
M
L
L
XL
CENTIMETERS
17
17.5
19
20
21.5
23
24
25.5