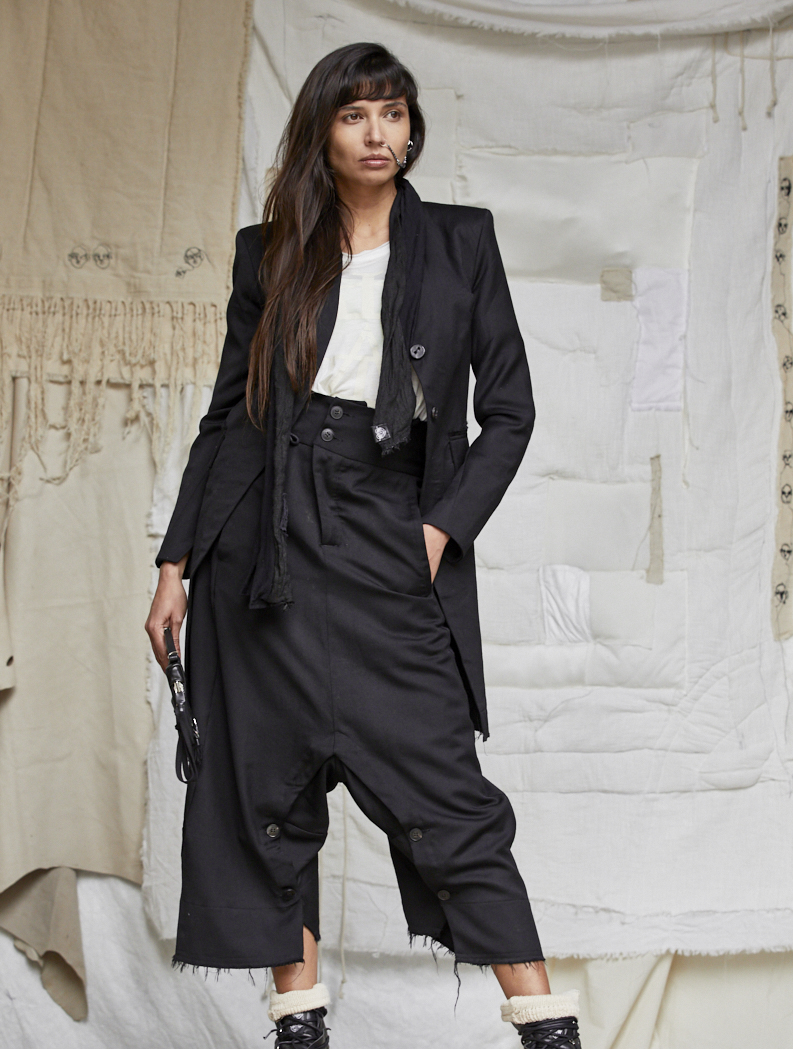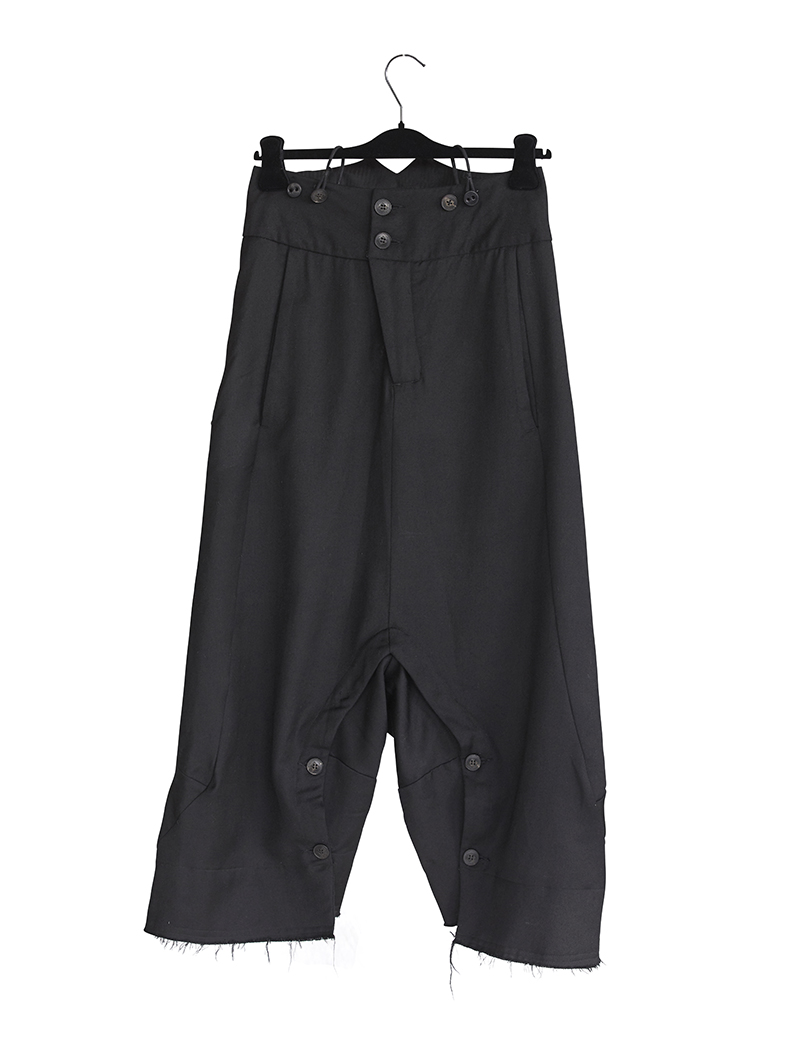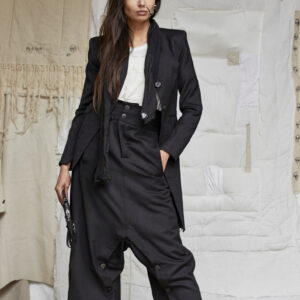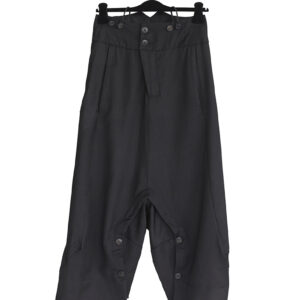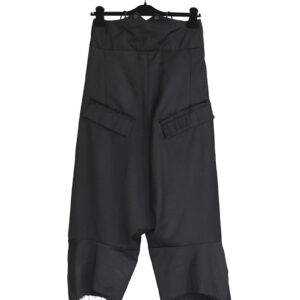 Sophisticated Japanese aesthetic like shape. Two front pockets, two welt pockets with a flap on the back. Horn logo buttons and snap buttons on the in seam. Horn and chunky leather buttons on the waist belt. Controlled raw edge on leg bottom hem. Black Stripy cotton and polyester lining. Woven clean, fine wool. By unbuttoning the inseam the pants transform to a skirt, longer on the sides and shorter to the middle. Signature hanging detail.
Medium weight, smooth woven hand feel.
Composition
Shell Fabric 1: 100% wool
Lining: cotton polyester
Colour: black
Features
Behavior: Falls densely. Structured, sculptural. 
Composition properties: 
Wool fiber has a natural UV protection and antibacterial properties. It continues to insulate even when wet. It is  the most recycled fiber in the world. 
Sustainability: Produced locally, limited quantities. Made from leftover inhouse stock.
Conscious care:  Dry clean 
Size S
Half waist: 37 cm
Hip:  cr. 52
Half Bottom width (along the hem): 31 cm
Length: 97 cm
Vivian size: 
Hight: 1.75
Chest 87
Waist 70 
Hips: 90
DROP_Transformer/ Skirt Pants
Leon Louis DROP_Transformer Skirt Pants is a tailored pant skirt. Comes with a range of buttons. Easily transformable by unbuttoning the buttons on the inseam. This style comes with a wide waist belt, higher on the back. Buttoned fly and pockets. A-Shaped wide and drop crotch fit
WOMEN'S SIZE CHART
1CLOTHING
WOMEN'S SIZE CHART
CLOTHING
XO
OO
O
1
2
3
4
5
6
EUROPE
34
36
38
40
42
44
46
48
50
INTERNATIONAL
XS
S
M
L
XL
2 XL
3 XL
4 XL
5 XL
FRANCE
34
36
38
40
42
44
44
44
44
ITALY
38
40
42
44
46
48
48
48
48
UK
6
8
10
12
14
16
16
16
16
USA
2
4
6
8
10
12
12
12
12
JAPAN
5
7
9
11
13
15
15
15
15
AUSTRALIA
6
8
10
12
14
16
16
16
16
2JEANS
WOMEN'S SIZE CHART
CLOTHING
XO
OO
O
1
2
3
4
5
6
JEANS
25
26
28
30
32
34
34
34
34
3SHOES
WOMEN'S SIZE CHART
CLOTHING
XO
OO
O
1
2
3
4
5
6
SHOES
EUROPE
34
35
36
37
38
39
40
41
42
FRANCE
35
36
37
38
39
40
41
42
43
UK
1
2
3
4
5
6
7
8
9
USA
4
5
6
7
8
9
10
11
12
JAPAN
22 CM
22.5 CM
23 CM
23.5 CM
24 CM
24.5CM
25 CM
26 CM
27 CM
4GLOVES
WOMEN'S SIZE CHART
CLOTHING
XO
OO
O
1
2
3
4
5
6
GLOVES
STANDARD
6
6.5
7
7.5
8
8.5
9
9.5
INTERNATIONAL
XS
S
S
M
M
L
L
XL
CENTIMETERS
17
17.5
19
20
21.5
23
24
25.5