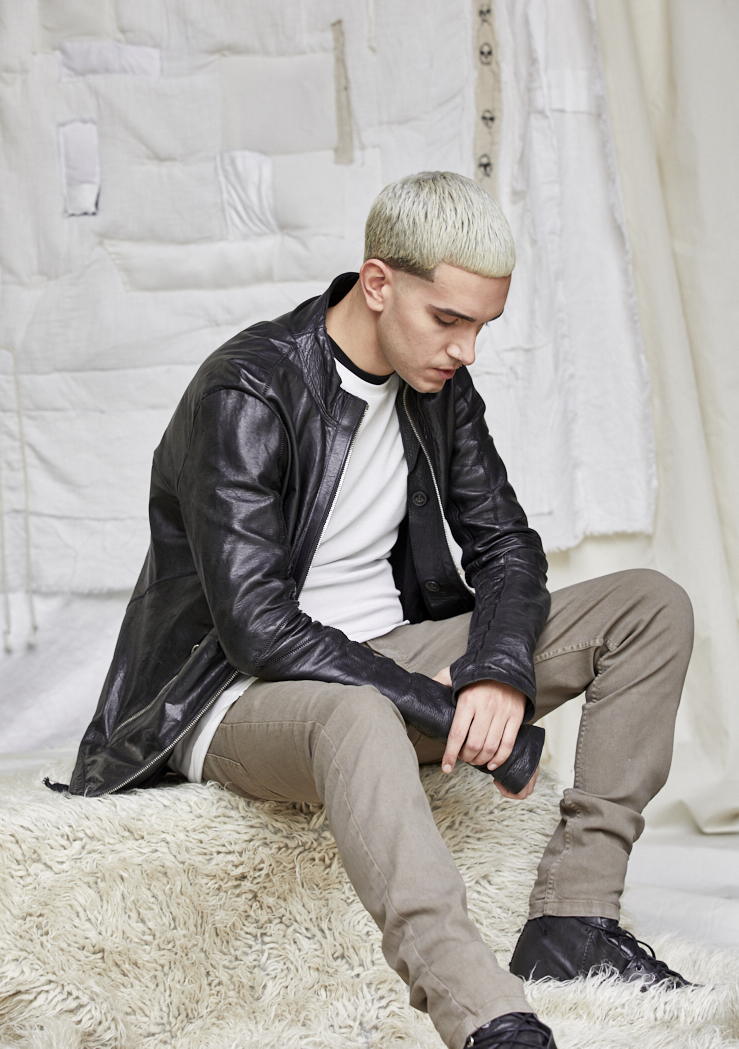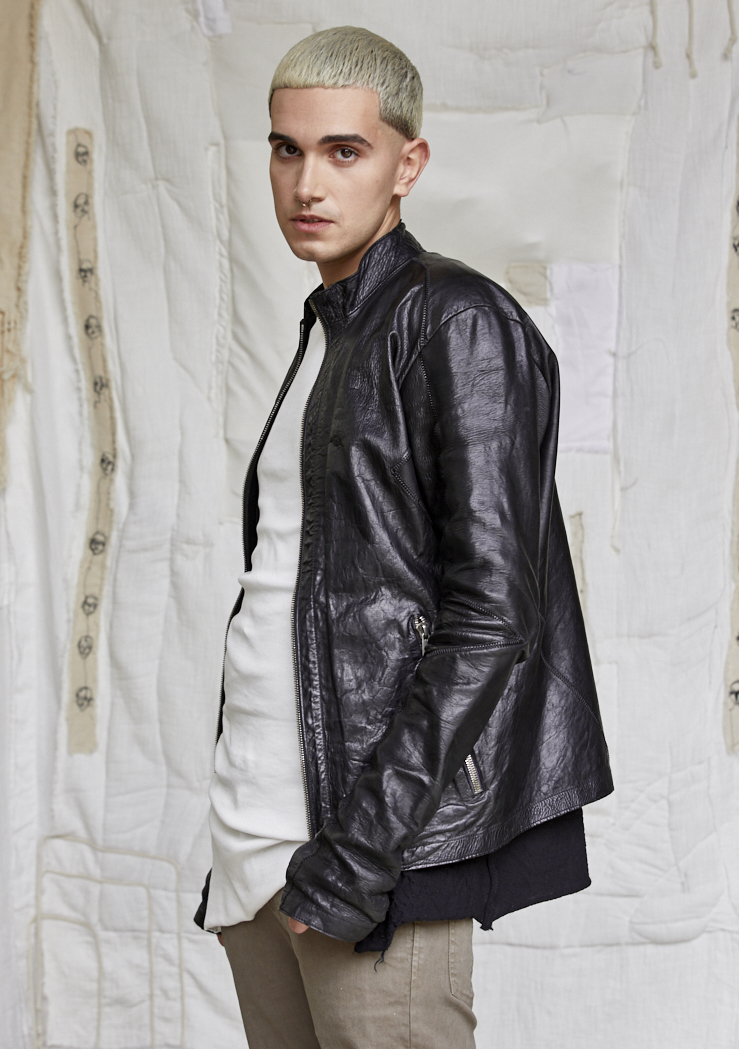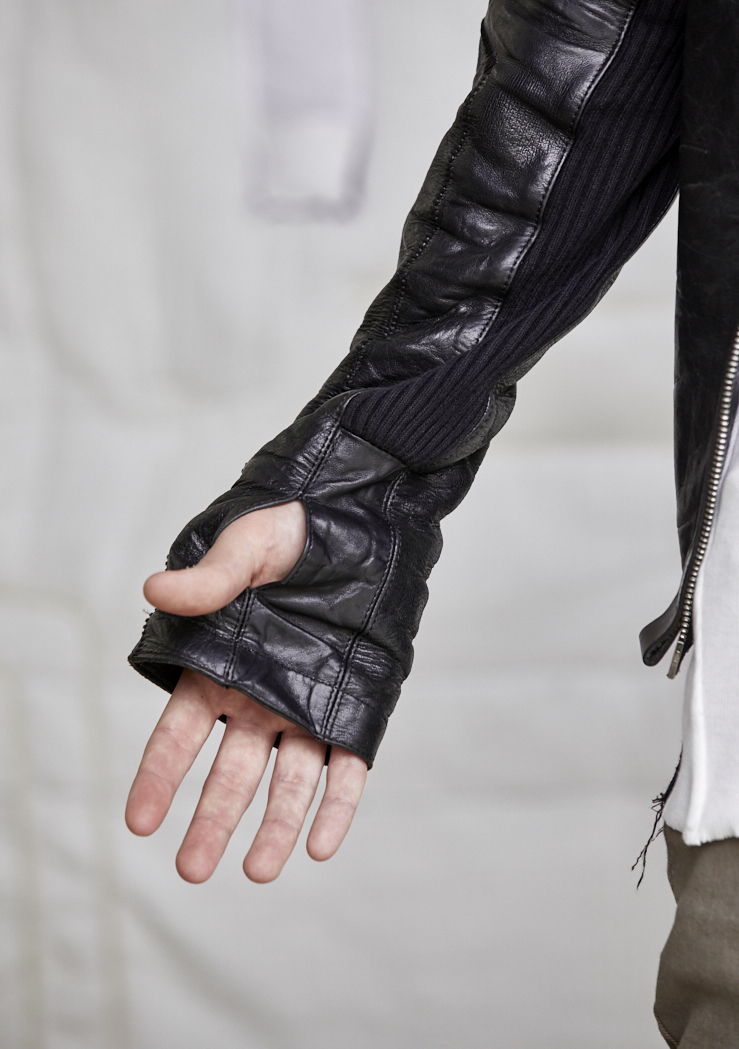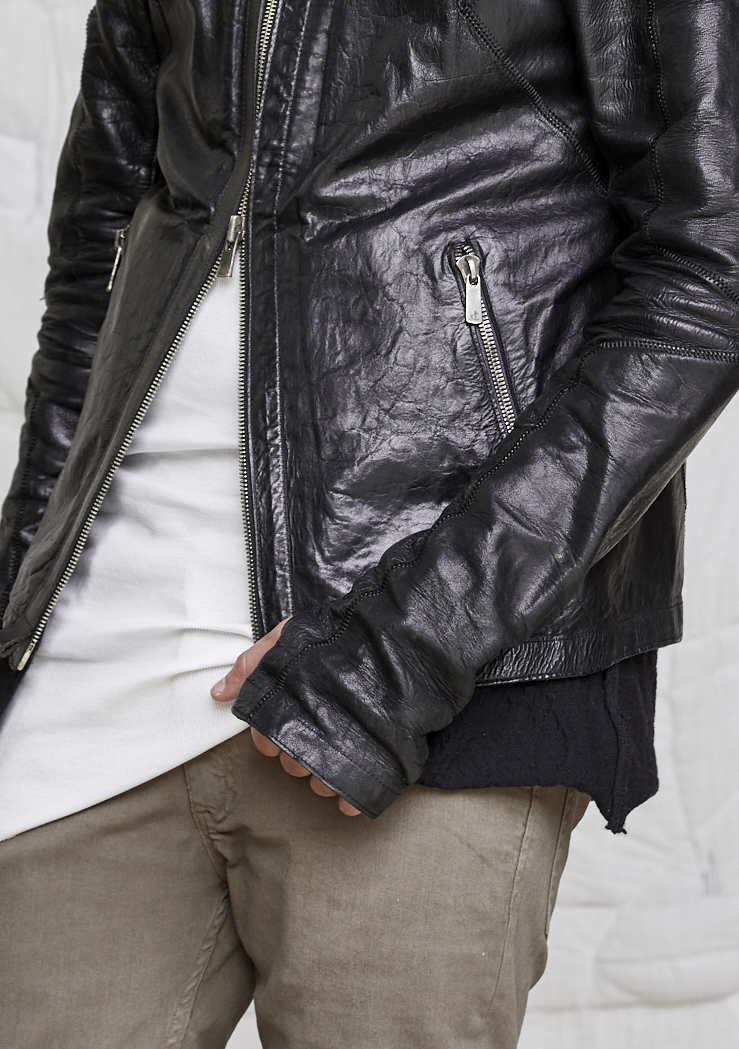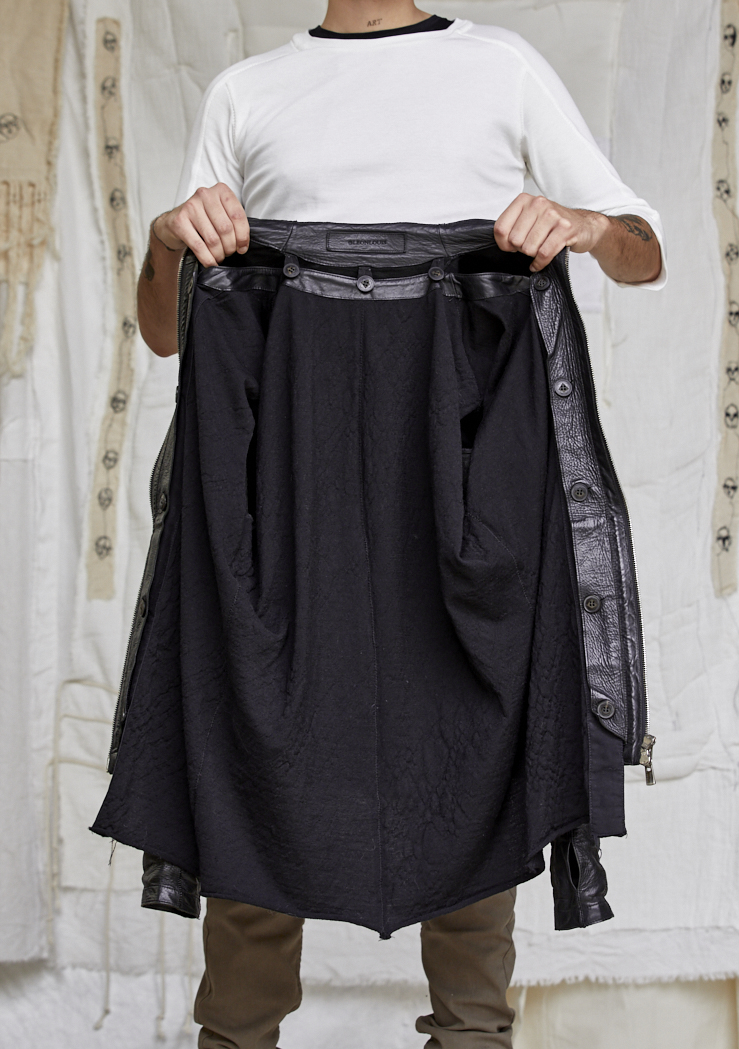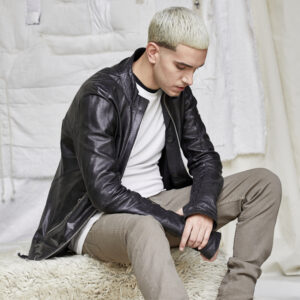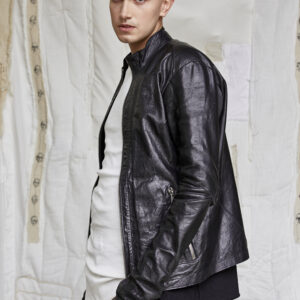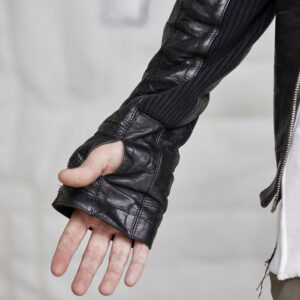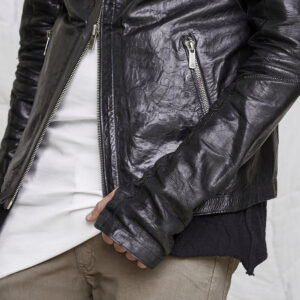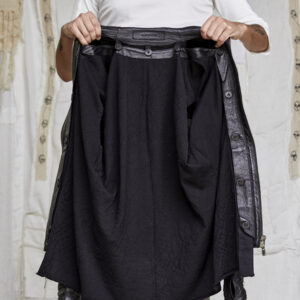 Engineered in signature cut lines sewn with scar stitch. All zippers distressed. Style comes with detachable lining, controlled by logo horn buttons (internally).  As an interactive design element, the lining can be worn separately and/or bought in another fabric. This increases the versatility in usage. 
Overall structured leather.
Heavy-ish strong and sturdy hand feel. Non seasonal
Composition
Shell 1  : 100% horse leather
Colour: black 
Lining 1: 100% wool
Colour: black
Features
Behavior: Very strong and sculptural
Composition properties: protective shell
Sustainability: Local production cycle. Durable and timeless
Conscious care:  no washing
Size 54
Shoulder to shoulder: 48 cm seam to seam (shoulder fit can vary)
Half Chest width: 57 cm
Front Length ( HSP to longest point in bottom hem) : 70 cm
Sleeve length: 75 cm
Nuno size: 
Hight: 1.83
Chest 92
Waist 72
Hips 92
Leon Louis signature Enos Scar Leather jacket in horse leather. Slim, regular fit. Inserted rib panels in the inner sleeve for extra flexibility. Detachable wool lining. Double way, lightweight excella zipper on the front. Zipper side pockets. Long sleeves with thumb holes.
MEN'S SIZE CHART
MEN'S SIZE CHART
CLOTHING
0
1
2
3
4
5
6
EUROPE
46
48
50
52
54
56
58
INTERNATIONAL
XS
S
M
L
XL
2 XL
3 XL
FRANCE
46
48
50
52
54
56
58
ITALY
46
48
50
52
54
56
58
UK
36
38
40
42
44
46
48
USA
36
38
40
42
44
46
48
JAPAN
2
3
4
5
6
7
8
AUSTRALIA
36
38
40
42
44
46
48
MEN'S SIZE CHART
CLOTHING
0
1
2
3
4
5
6
JEANS
29
30
32
34
36
38
40
MEN'S SIZE CHART
CLOTHING
0
1
2
3
4
5
6
SHOES
EUROPE
38
39
40
41
42
43
44
45
46
UK
4
5
6
7
8
9
10
11
12
USA
5
6
7
8
9
10
11
12
13
JAPAN
23 CM
24 CM
25 CM
26 CM
27 CM
28 CM
29 CM
30 CM
31 CM
MEN'S SIZE CHART
CLOTHING
0
1
2
3
4
5
6
GLOVES
STANDARD
7
7.5
8
8.5
9
9.5
10
10.5
INTERNATIONAL
XS
S
S
M
M
L
L
XL
CENTIMETERS
19
20
21.5
23
24
25.5
27
28