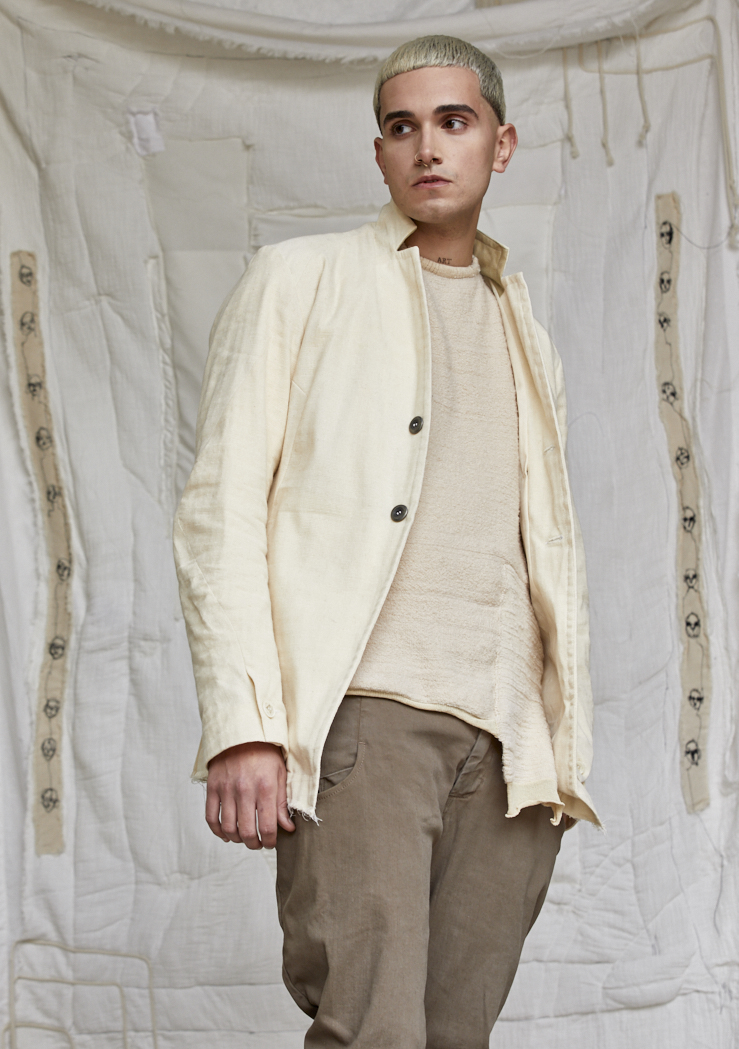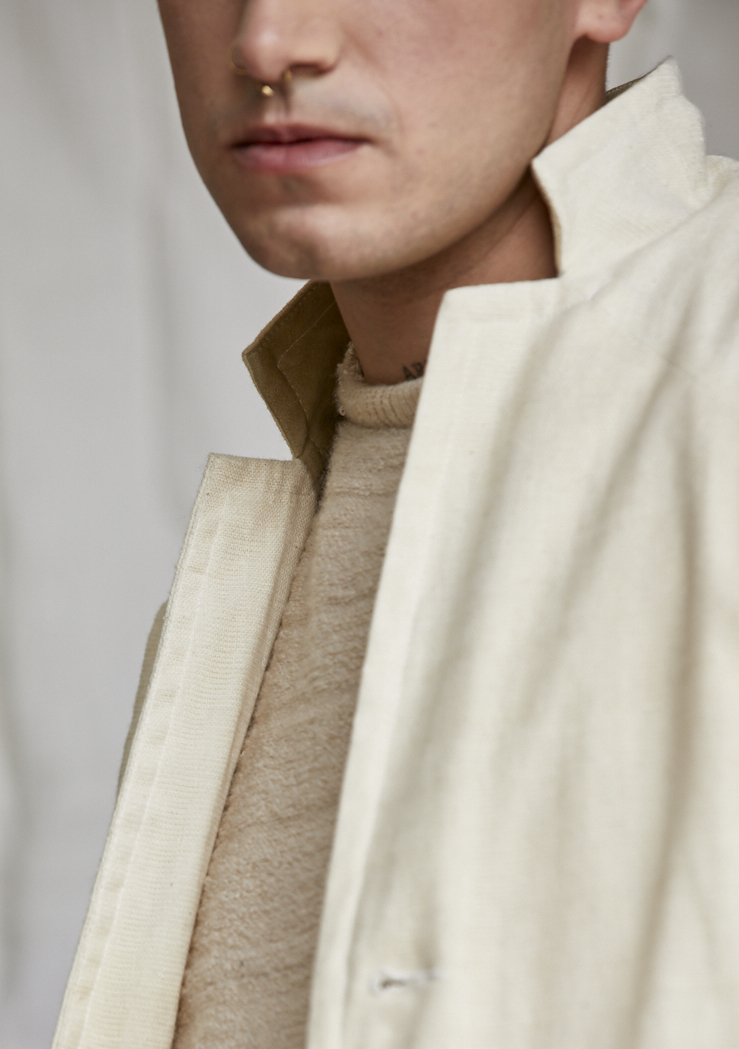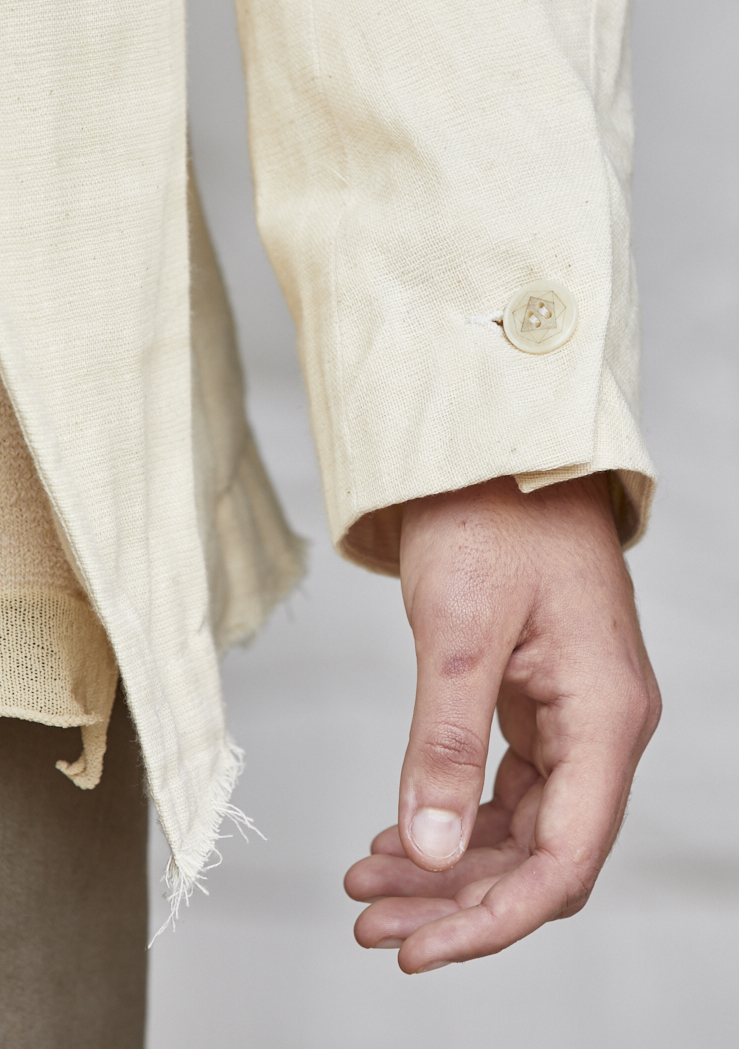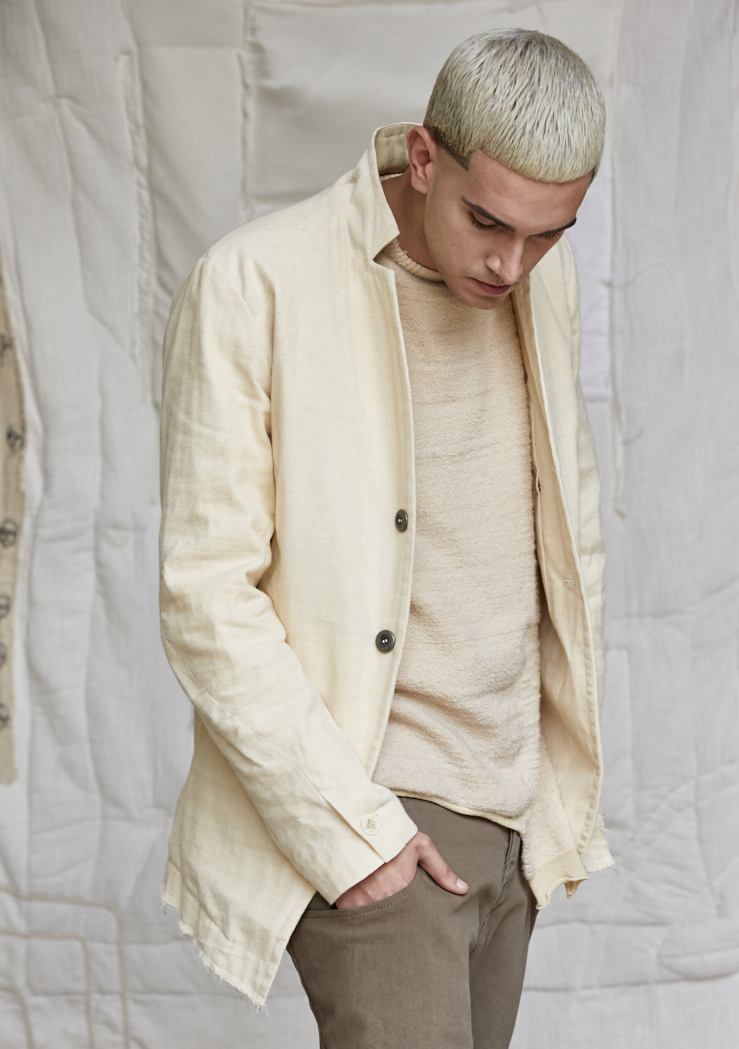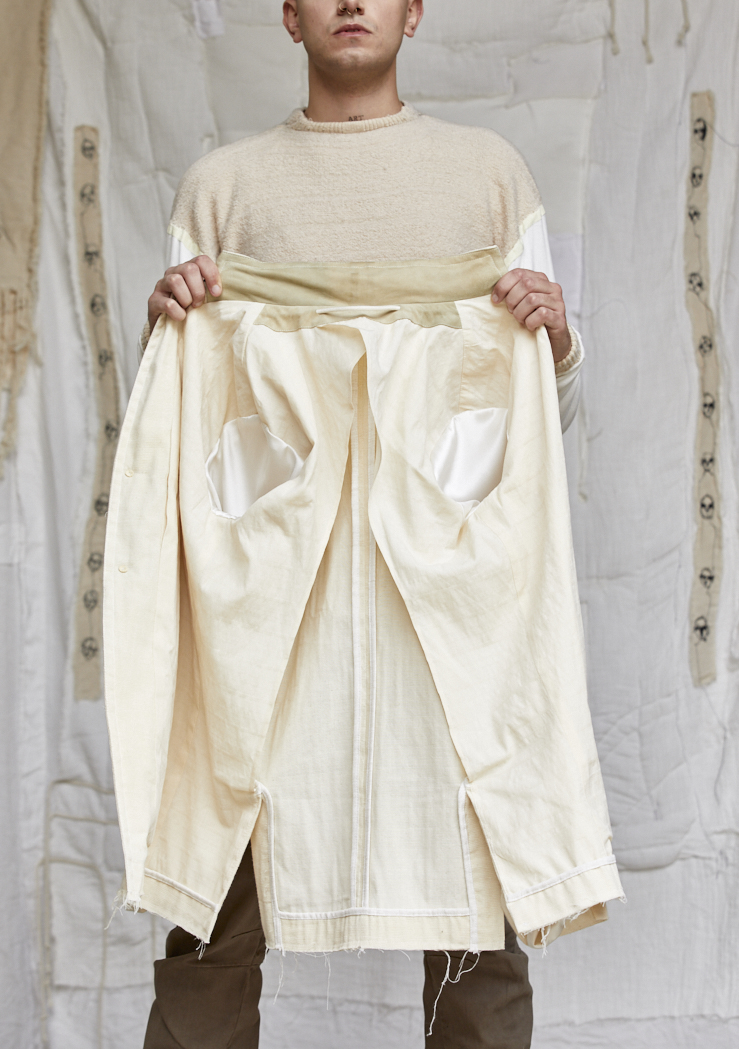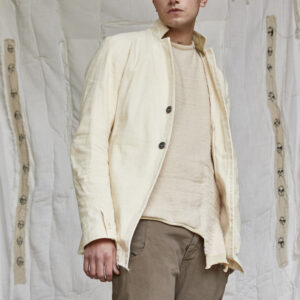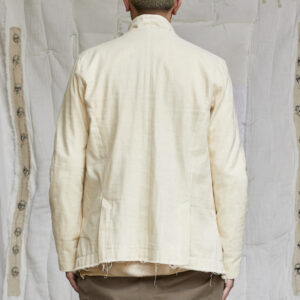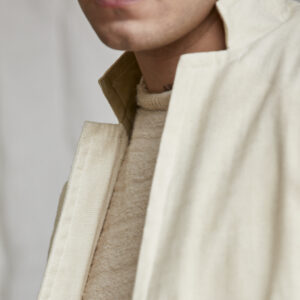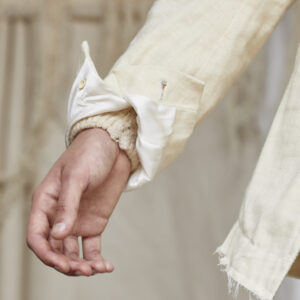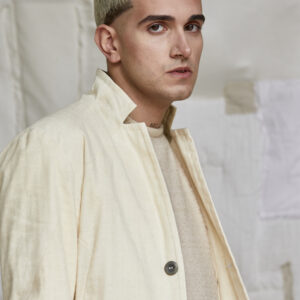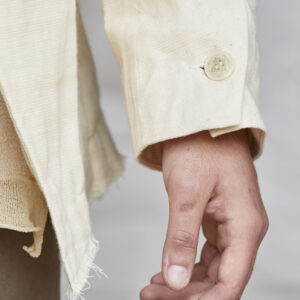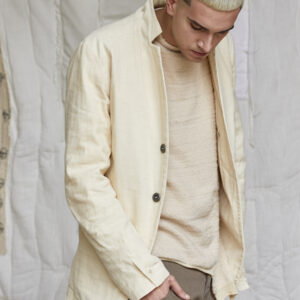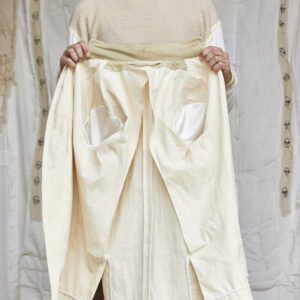 Engineered for a unique sense experience in the textile combination. 2 front metal buttons and horn logo buttons at the cuff. Lined with woven pattern poplin and sleek silk, that faces the skin, inside the sleeves. Double back split for extra comfort in movement. Very thin lamb leather in the collar, with suede tactility. If the collar is standing, a clean minimal look is achieved. Two front pockets. The style is below the hip long, front slightly longer, angled towards the middle. Internally the style is completely piped in the seams signature hanging detail. 
Medium weight double layered cotton gauze has a sturdy and dryish hand feel. Non seasonal.
Lightweight silk is slippery and soft in the hand feel. 
Composition
Shell 1  : 100% cotton gauze
Colour: Ecru (unbleached raw, )
Lining 1: 100% silk
Colour: white
Lining 2: textured ornamented poplin 
Colour: tone in tone with Ecru
Features
Behavior:  woven, non stretchy. The cotton gauze  may change through use to become more beautiful and texture. Use relentlessly always with love. 
Composition properties: Cotton is Hypoallergenic, breathable, absorbent, non toxic. It becomes stronger when wet and is biodegradable . 
Silk: strong natural fiber, breathable, has thermal regulation, shine, slippery.
Sustainability: Local production cycle. Zero waist. Limited edition. Fabric sourced locally from stand still stock. 
Conscious care:  Dry clean Only
Size XL
Shoulder to shoulder: 46.5 cm 
Half Chest width: 54 cm
Front Length ( HSP to longest point in bottom hem) : 84 cm 
Sleeve length: 69 cm (along the curved construction)
Nuno size: 
Hight: 1.83
Chest 92
Waist 72
Hips 92
ESSE_Simple Collar Blazer
Leon Louis signature Esse Simple Collar Blazer in double layered cotton gauze. Regular fit. Special leather collar detail. Silk, inner sleeve lining. Graffical cutlines on the collarbone area and chest. One button closure at the cuff. Controlled raw bottom hem. 2 button front closure.
MEN'S SIZE CHART
MEN'S SIZE CHART
CLOTHING
0
1
2
3
4
5
6
EUROPE
46
48
50
52
54
56
58
INTERNATIONAL
XS
S
M
L
XL
2 XL
3 XL
FRANCE
46
48
50
52
54
56
58
ITALY
46
48
50
52
54
56
58
UK
36
38
40
42
44
46
48
USA
36
38
40
42
44
46
48
JAPAN
2
3
4
5
6
7
8
AUSTRALIA
36
38
40
42
44
46
48
MEN'S SIZE CHART
CLOTHING
0
1
2
3
4
5
6
JEANS
29
30
32
34
36
38
40
MEN'S SIZE CHART
CLOTHING
0
1
2
3
4
5
6
SHOES
EUROPE
38
39
40
41
42
43
44
45
46
UK
4
5
6
7
8
9
10
11
12
USA
5
6
7
8
9
10
11
12
13
JAPAN
23 CM
24 CM
25 CM
26 CM
27 CM
28 CM
29 CM
30 CM
31 CM
MEN'S SIZE CHART
CLOTHING
0
1
2
3
4
5
6
GLOVES
STANDARD
7
7.5
8
8.5
9
9.5
10
10.5
INTERNATIONAL
XS
S
S
M
M
L
L
XL
CENTIMETERS
19
20
21.5
23
24
25.5
27
28