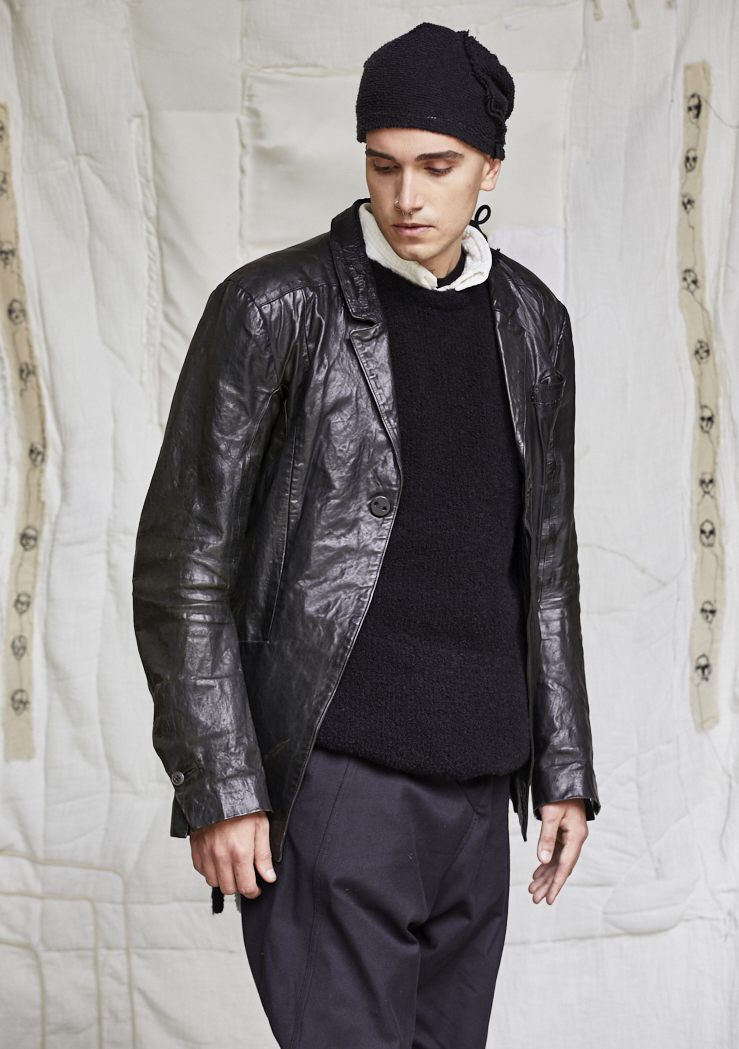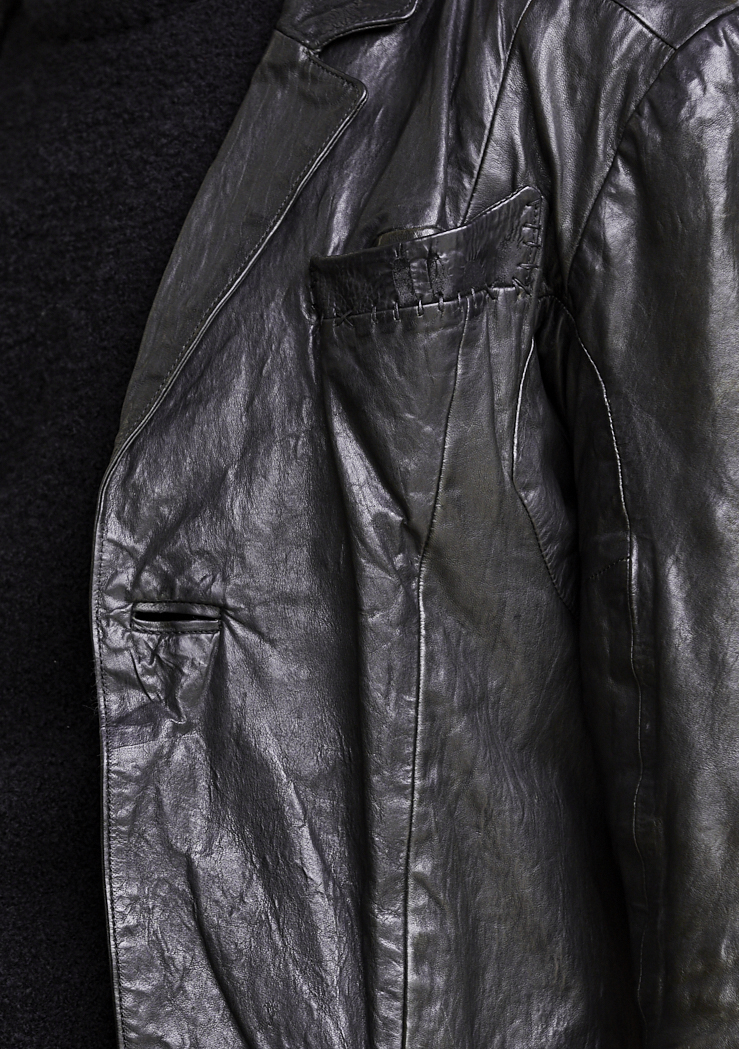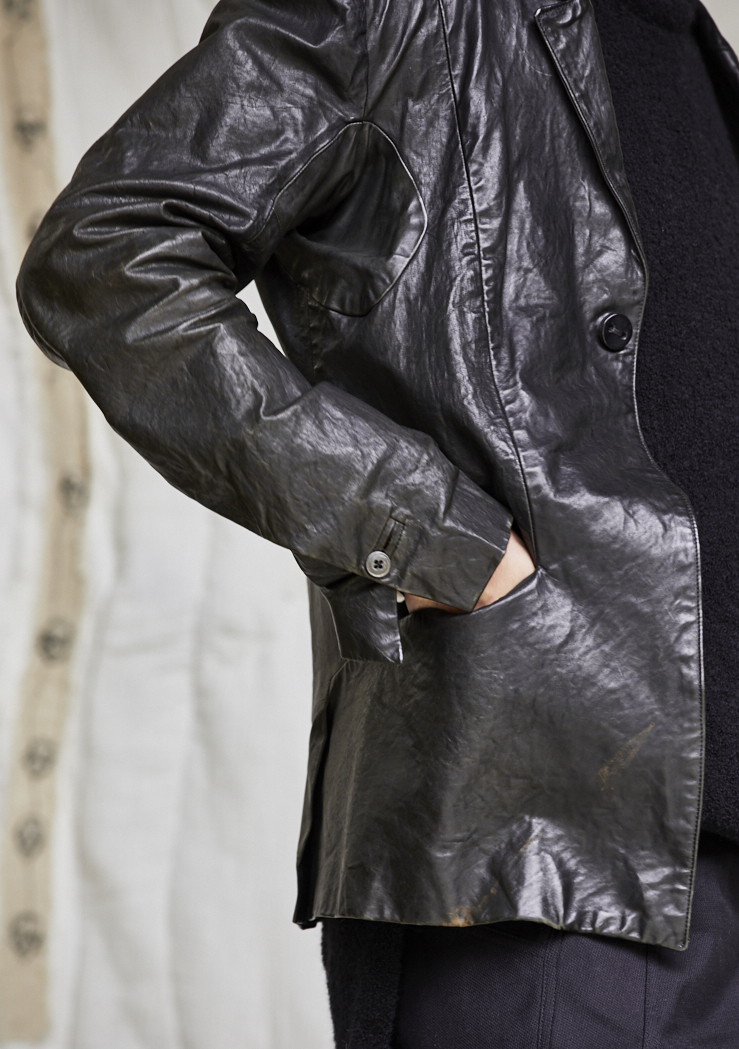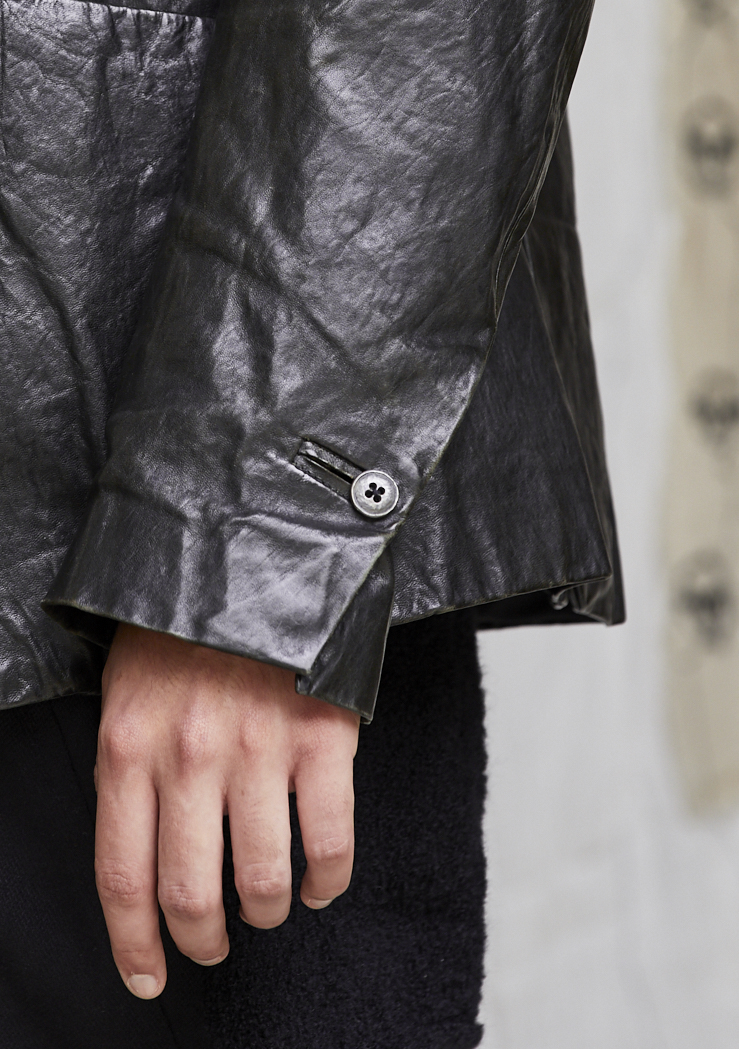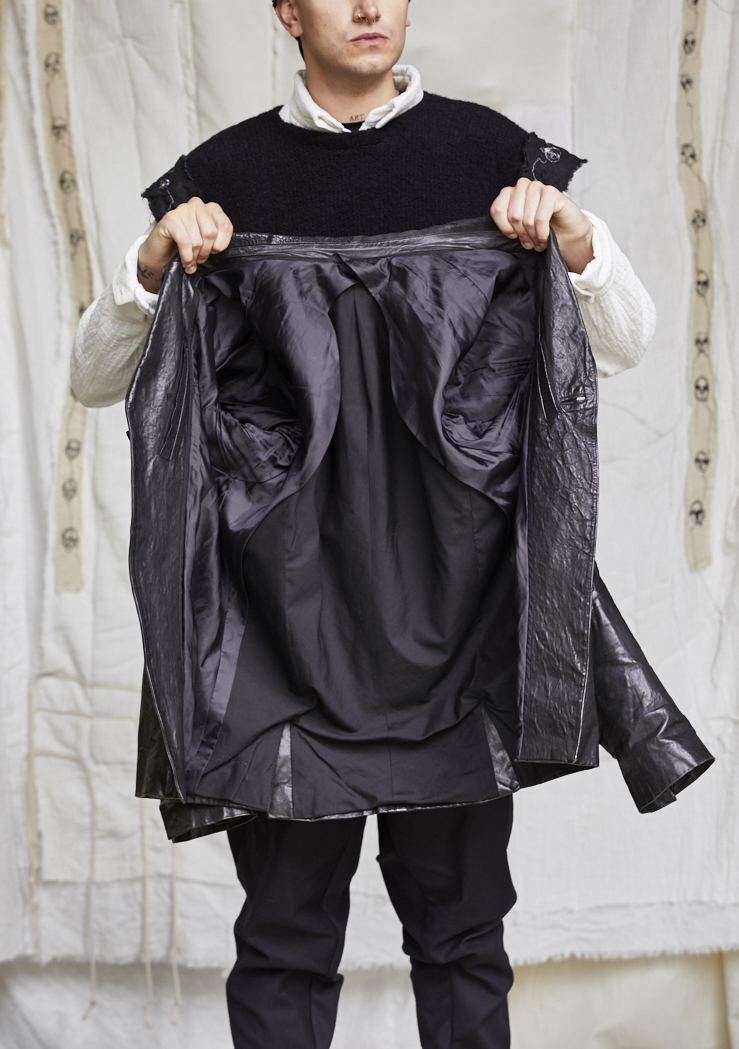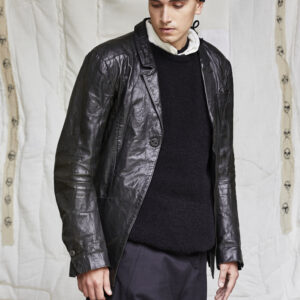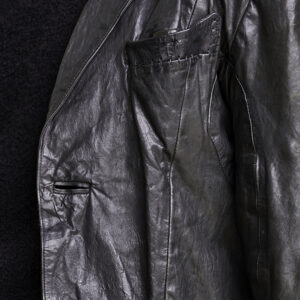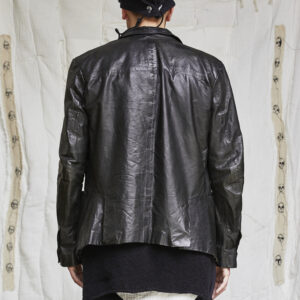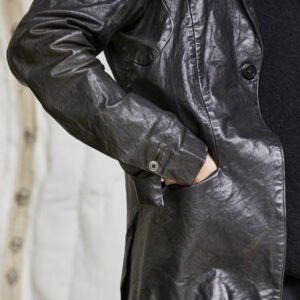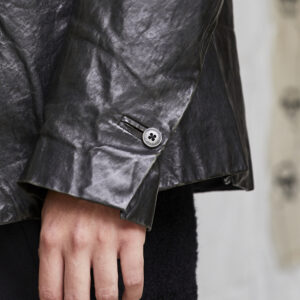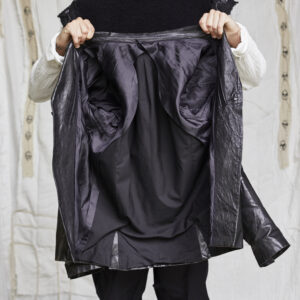 Two front pockets, chest pocket and 2 inner chest pockets. Welted buttonholes.
Culatta leather: Appeal of this leather is its stunning texture, moving from unique grains to natural scaring to smooth suedes. Artisanal. 
Heavy-ish sturdy hand feel. Non seasonal
Composition
Shell 1  : 100% culatta  leather
Colour: black 
Lining 1: 100% cotton
Lining 2: satin
Features
Behavior:  Sturdy, bendable
Composition properties: protective shell
Sustainability: Local production cycle. Durable and timeless
Conscious care:  no washing
Size 52
Shoulder to shoulder: 50.5 cm
Half Chest width: 54.5 cm
Front Length ( HSP to longest point in bottom hem) : 77 cm
Sleeve length: 71 cm
Nuno size: 
Hight: 1.83
Chest 92
Waist72
Hips 92
EUS_ Culatta Collar Blazer
Leon Louis EUS Culatta Collar blazer. This item, both unique in texture and engineering, features wedges.  Comes with a signature curved sleeve, one metal button closure on the cuff. Normal, slightly long fit. Robust single leather front chest button. Hand stitch detail on the chest pocket.
MEN'S SIZE CHART
MEN'S SIZE CHART
CLOTHING
0
1
2
3
4
5
6
EUROPE
46
48
50
52
54
56
58
INTERNATIONAL
XS
S
M
L
XL
2 XL
3 XL
FRANCE
46
48
50
52
54
56
58
ITALY
46
48
50
52
54
56
58
UK
36
38
40
42
44
46
48
USA
36
38
40
42
44
46
48
JAPAN
2
3
4
5
6
7
8
AUSTRALIA
36
38
40
42
44
46
48
MEN'S SIZE CHART
CLOTHING
0
1
2
3
4
5
6
JEANS
29
30
32
34
36
38
40
MEN'S SIZE CHART
CLOTHING
0
1
2
3
4
5
6
SHOES
EUROPE
38
39
40
41
42
43
44
45
46
UK
4
5
6
7
8
9
10
11
12
USA
5
6
7
8
9
10
11
12
13
JAPAN
23 CM
24 CM
25 CM
26 CM
27 CM
28 CM
29 CM
30 CM
31 CM
MEN'S SIZE CHART
CLOTHING
0
1
2
3
4
5
6
GLOVES
STANDARD
7
7.5
8
8.5
9
9.5
10
10.5
INTERNATIONAL
XS
S
S
M
M
L
L
XL
CENTIMETERS
19
20
21.5
23
24
25.5
27
28