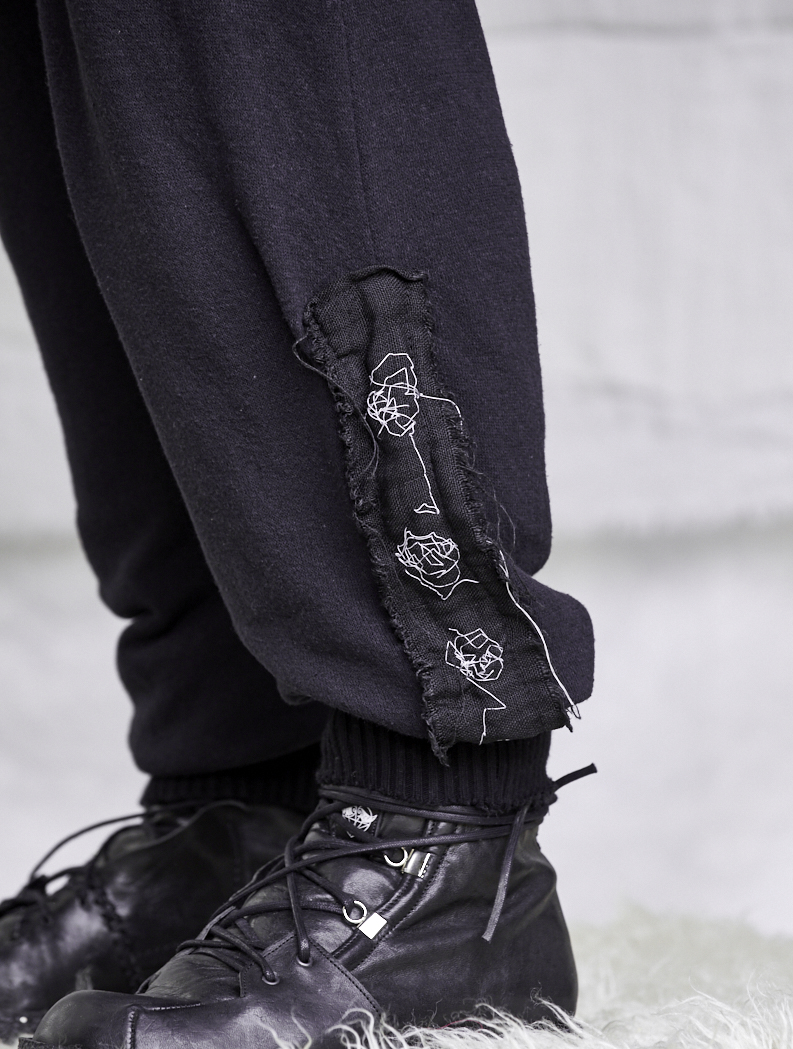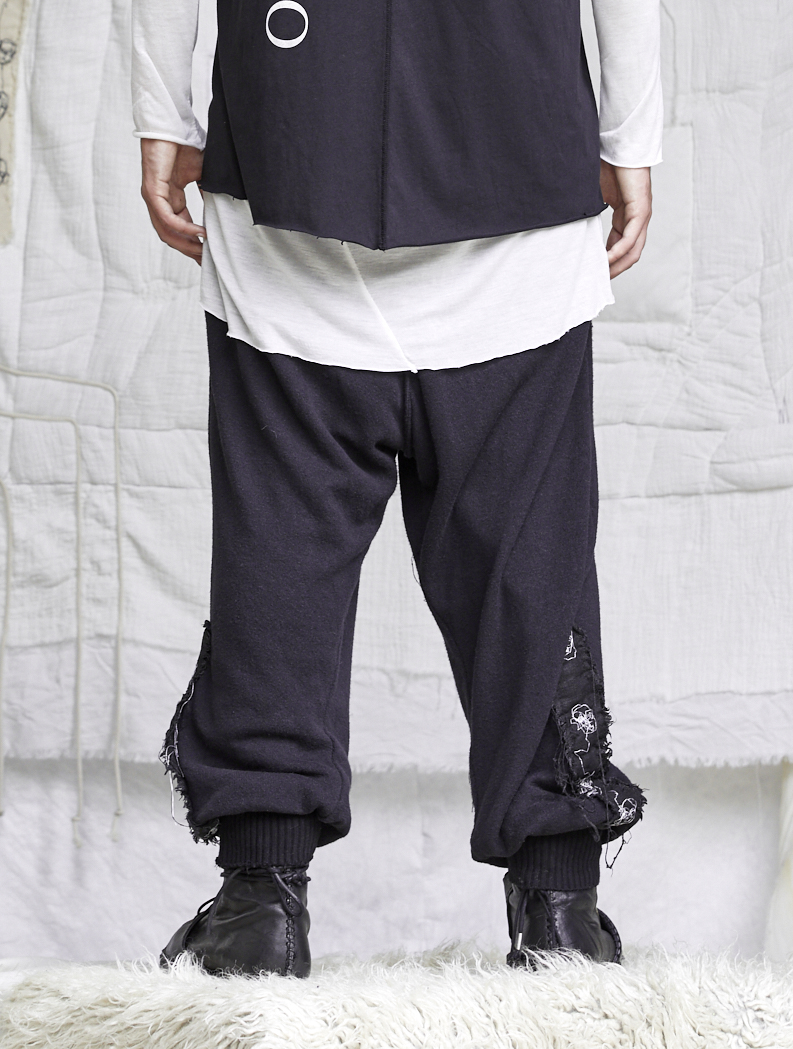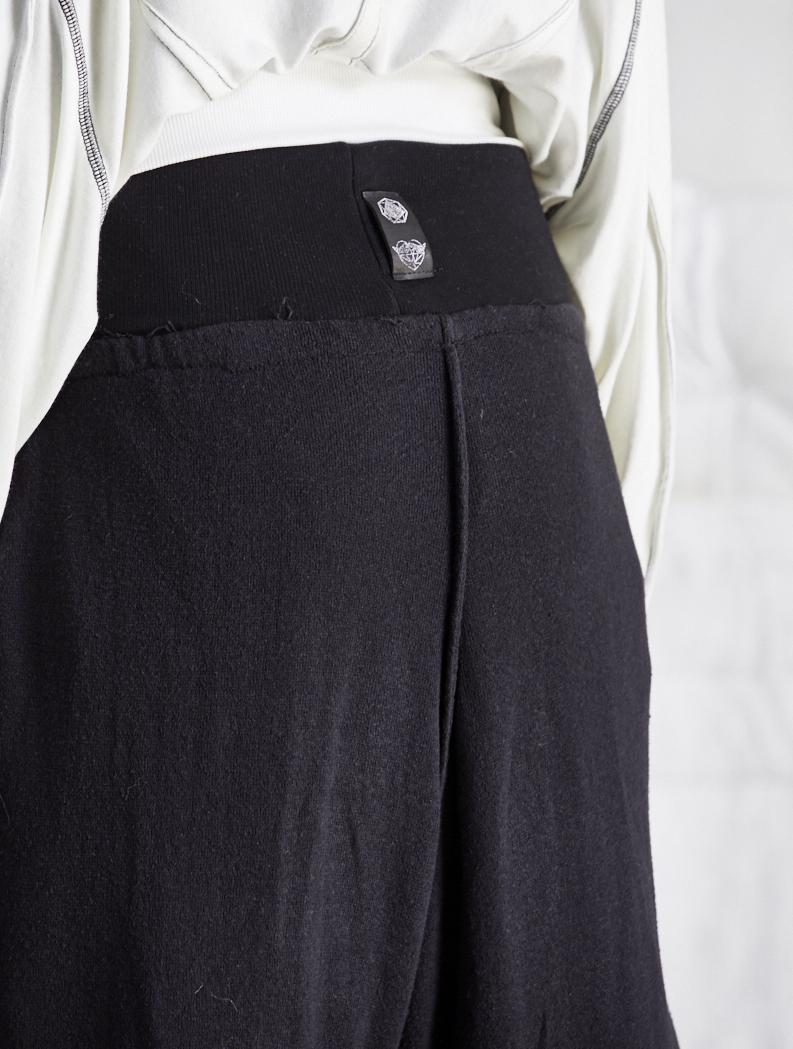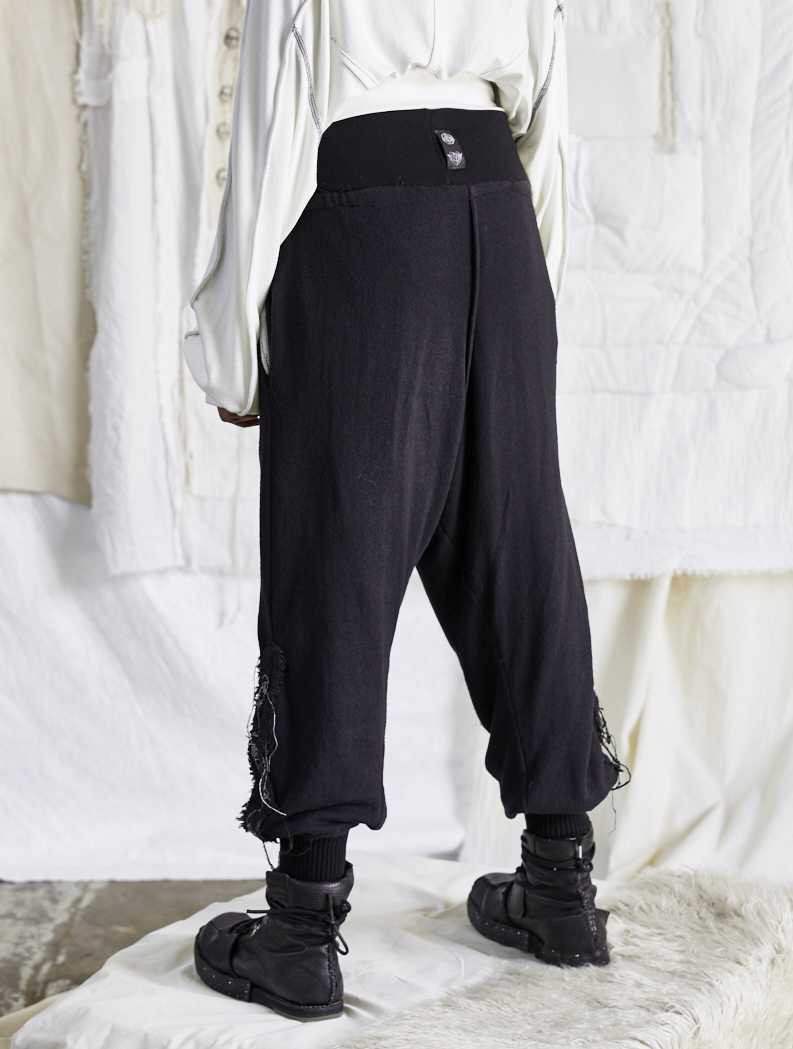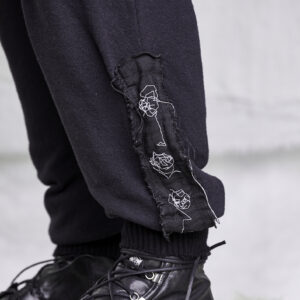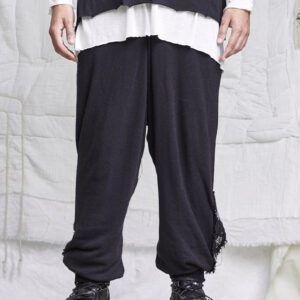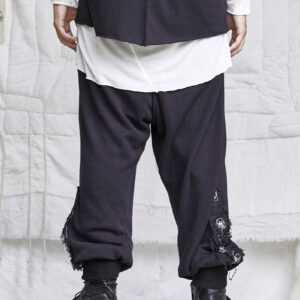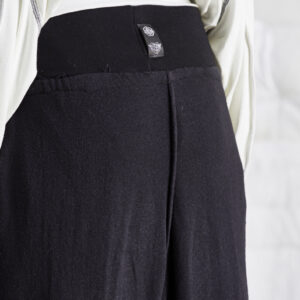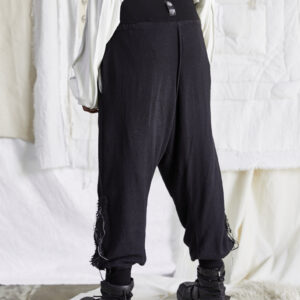 Made in collaboration with Valeriya Olkhova.
Comfortable, baggy fit, lounge pants. Both layers are extremely soft and stretchy. Outer layer is more dense and has a woven tactility. Inner layer is a knitted jersey. Gauze mesh side pockets.
Medium light weight with terry cloth hand feel. Comes with artisanally embroidered faces, linen panel patches.
Composition
Fabric 1: 100 % cotton
Fabric 2: 100% cotton
Colour: black, white inside.
Features
Behavior: Very flexible, comforting, Perfect for easy movement such as yoga, relaxation.
Composition properties: Fabric is Upcycled from standstill stock (limited quantities).
Cotton is hypoallergenic, biodegradable textile. It has perfect moisture management and breathability.
Sustainability: Produced in house. Zero waist.
Conscious care: gentle cold wash cycle, with non catchy elements.
Size M
Half waste: 36 cm (stretchy)
Half hips: 60 cm (stretchy)
Length :99 cm (inc waist band and bottom rib)
Front drop: 48 cm (inc waist band)
Bottom half width: 13 (stretchy)
Vivian size:
Hight: 1.75
Chest 87
Waist 70
Hips: 90
Nuno size:
Hight: 1.83
Chest 92
Waist 72
Hips 92
Leon Louis FACIEM Jogg pants in double layered jersey cotton. Drop crotch, wide waistband with a string loop on the back. Full length pants with ribbed ankles.
Gender inclusive style.
MEN'S SIZE CHART
MEN'S SIZE CHART
CLOTHING
0
1
2
3
4
5
6
EUROPE
46
48
50
52
54
56
58
INTERNATIONAL
XS
S
M
L
XL
2 XL
3 XL
FRANCE
46
48
50
52
54
56
58
ITALY
46
48
50
52
54
56
58
UK
36
38
40
42
44
46
48
USA
36
38
40
42
44
46
48
JAPAN
2
3
4
5
6
7
8
AUSTRALIA
36
38
40
42
44
46
48
MEN'S SIZE CHART
CLOTHING
0
1
2
3
4
5
6
JEANS
29
30
32
34
36
38
40
MEN'S SIZE CHART
CLOTHING
0
1
2
3
4
5
6
SHOES
EUROPE
38
39
40
41
42
43
44
45
46
UK
4
5
6
7
8
9
10
11
12
USA
5
6
7
8
9
10
11
12
13
JAPAN
23 CM
24 CM
25 CM
26 CM
27 CM
28 CM
29 CM
30 CM
31 CM
MEN'S SIZE CHART
CLOTHING
0
1
2
3
4
5
6
GLOVES
STANDARD
7
7.5
8
8.5
9
9.5
10
10.5
INTERNATIONAL
XS
S
S
M
M
L
L
XL
CENTIMETERS
19
20
21.5
23
24
25.5
27
28
WOMEN'S SIZE CHART
WOMEN'S SIZE CHART
CLOTHING
XO
OO
O
1
2
3
4
5
6
EUROPE
34
36
38
40
42
44
46
48
50
INTERNATIONAL
XS
S
M
L
XL
2 XL
3 XL
4 XL
5 XL
FRANCE
34
36
38
40
42
44
44
44
44
ITALY
38
40
42
44
46
48
48
48
48
UK
6
8
10
12
14
16
16
16
16
USA
2
4
6
8
10
12
12
12
12
JAPAN
5
7
9
11
13
15
15
15
15
AUSTRALIA
6
8
10
12
14
16
16
16
16
WOMEN'S SIZE CHART
CLOTHING
XO
OO
O
1
2
3
4
5
6
JEANS
25
26
28
30
32
34
34
34
34
WOMEN'S SIZE CHART
CLOTHING
XO
OO
O
1
2
3
4
5
6
SHOES
EUROPE
34
35
36
37
38
39
40
41
42
FRANCE
35
36
37
38
39
40
41
42
43
UK
1
2
3
4
5
6
7
8
9
USA
4
5
6
7
8
9
10
11
12
JAPAN
22 CM
22.5 CM
23 CM
23.5 CM
24 CM
24.5CM
25 CM
26 CM
27 CM
WOMEN'S SIZE CHART
CLOTHING
XO
OO
O
1
2
3
4
5
6
GLOVES
STANDARD
6
6.5
7
7.5
8
8.5
9
9.5
INTERNATIONAL
XS
S
S
M
M
L
L
XL
CENTIMETERS
17
17.5
19
20
21.5
23
24
25.5