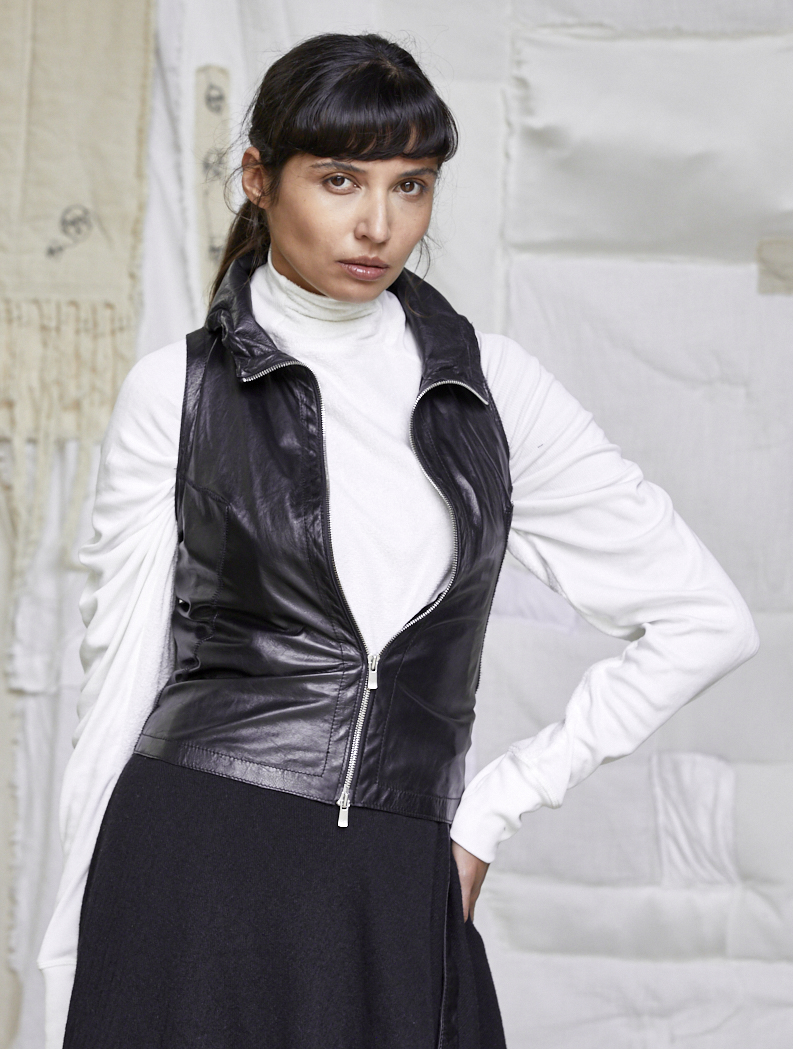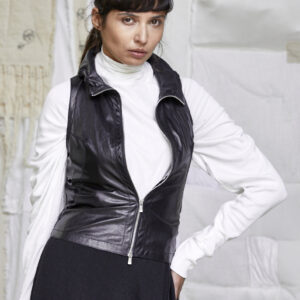 High collar, exaggerated on the back. The wiring allows shaping in the collar, for practical or romantically organic styling. Dictated raw edge at collar, armholes and bottom hem with leather facing. Front darts, for shaping, with scar stitching. Y-back construction, slightly boxing shape. Top spine features a signature triangle. 
Overall, medium weight. Lusciously soft and strong hand feel. 
Composition
Shell  1: 100% Japanese Calf leather
Colour: black
Features
Behavior: very soft, thin and sturdy, easily folded into tiny item.
Composition properties:  Durable, wind resistant.
Sustainability:  Non seasonal. Timeless.
Conscious care: No wash.
S
Length : 52 cm
Half chest width (flat) : 42.5  cm
Half bottom width : 41.5  cm
Vivian size: 
Hight: 1.75
Chest 87
Waist 70 
Hips: 90
Leon Louis GENU_Mould Collar Vest in Japanese calf leather. Engineered to mimic the hour glass feminine shape. Features a unique moldable metal wiring in the collar. Aluminum, excella 2 way zipper in the front. Non seasonal style, suitable all year round.
WOMEN'S SIZE CHART
WOMEN'S SIZE CHART
CLOTHING
XO
OO
O
1
2
3
4
5
6
EUROPE
34
36
38
40
42
44
46
48
50
INTERNATIONAL
XS
S
M
L
XL
2 XL
3 XL
4 XL
5 XL
FRANCE
34
36
38
40
42
44
44
44
44
ITALY
38
40
42
44
46
48
48
48
48
UK
6
8
10
12
14
16
16
16
16
USA
2
4
6
8
10
12
12
12
12
JAPAN
5
7
9
11
13
15
15
15
15
AUSTRALIA
6
8
10
12
14
16
16
16
16
WOMEN'S SIZE CHART
CLOTHING
XO
OO
O
1
2
3
4
5
6
JEANS
25
26
28
30
32
34
34
34
34
WOMEN'S SIZE CHART
CLOTHING
XO
OO
O
1
2
3
4
5
6
SHOES
EUROPE
34
35
36
37
38
39
40
41
42
FRANCE
35
36
37
38
39
40
41
42
43
UK
1
2
3
4
5
6
7
8
9
USA
4
5
6
7
8
9
10
11
12
JAPAN
22 CM
22.5 CM
23 CM
23.5 CM
24 CM
24.5CM
25 CM
26 CM
27 CM
WOMEN'S SIZE CHART
CLOTHING
XO
OO
O
1
2
3
4
5
6
GLOVES
STANDARD
6
6.5
7
7.5
8
8.5
9
9.5
INTERNATIONAL
XS
S
S
M
M
L
L
XL
CENTIMETERS
17
17.5
19
20
21.5
23
24
25.5