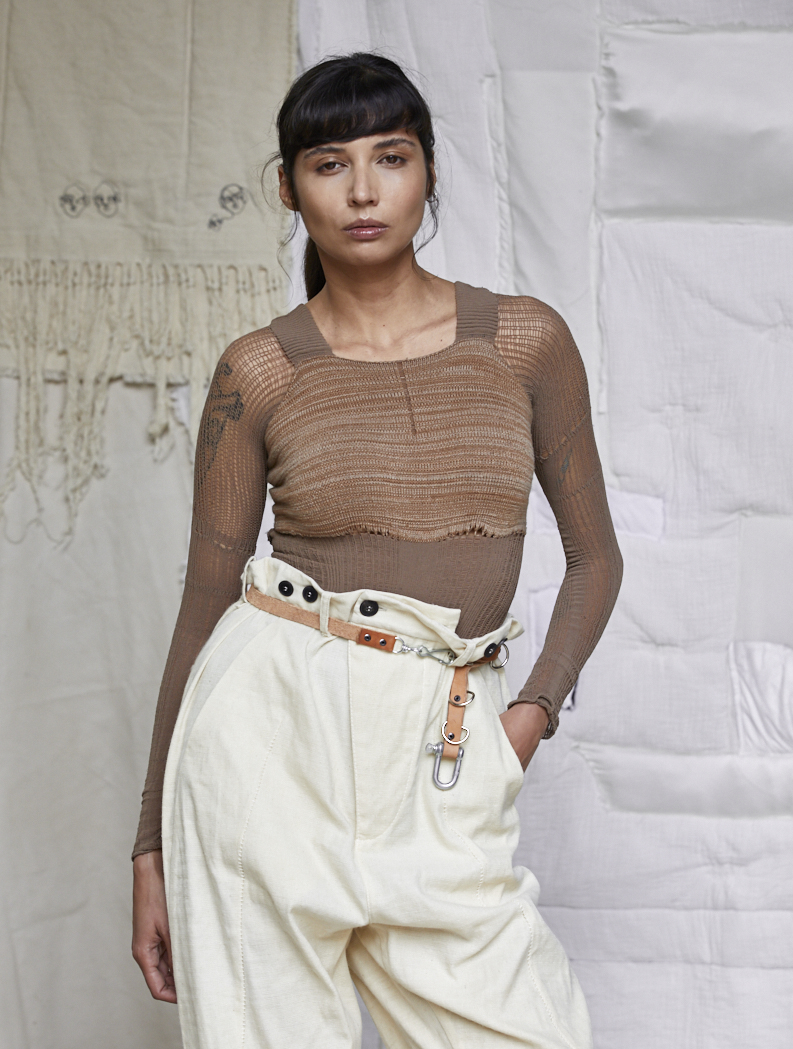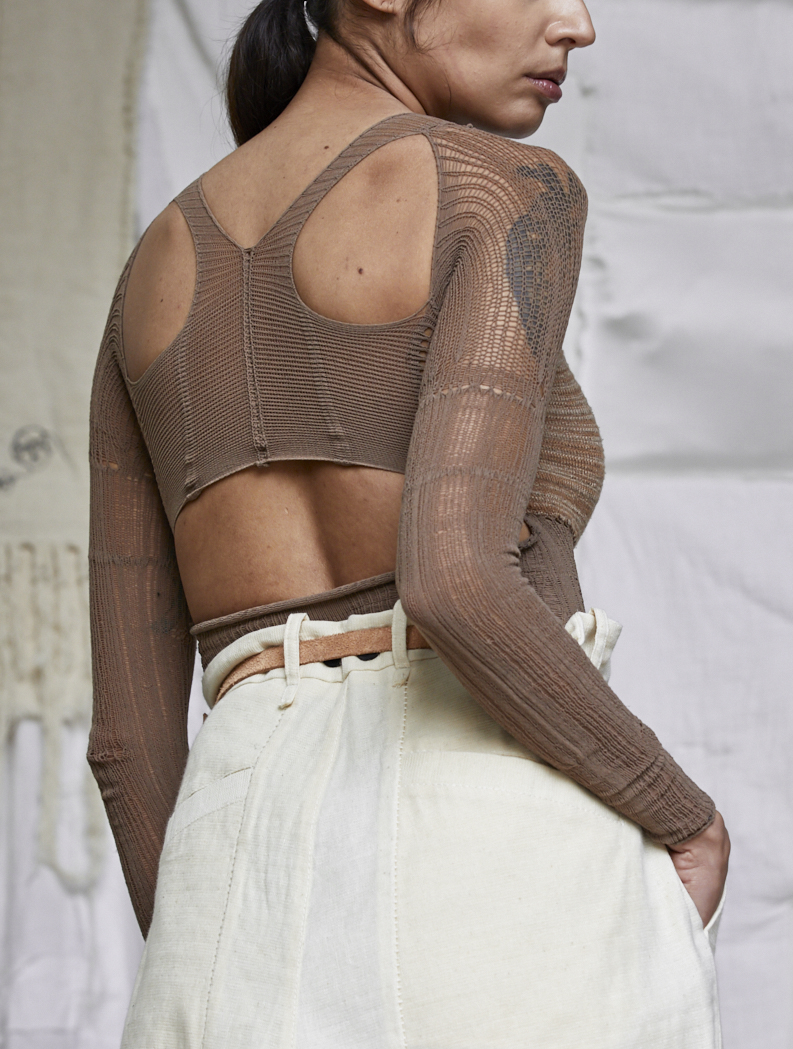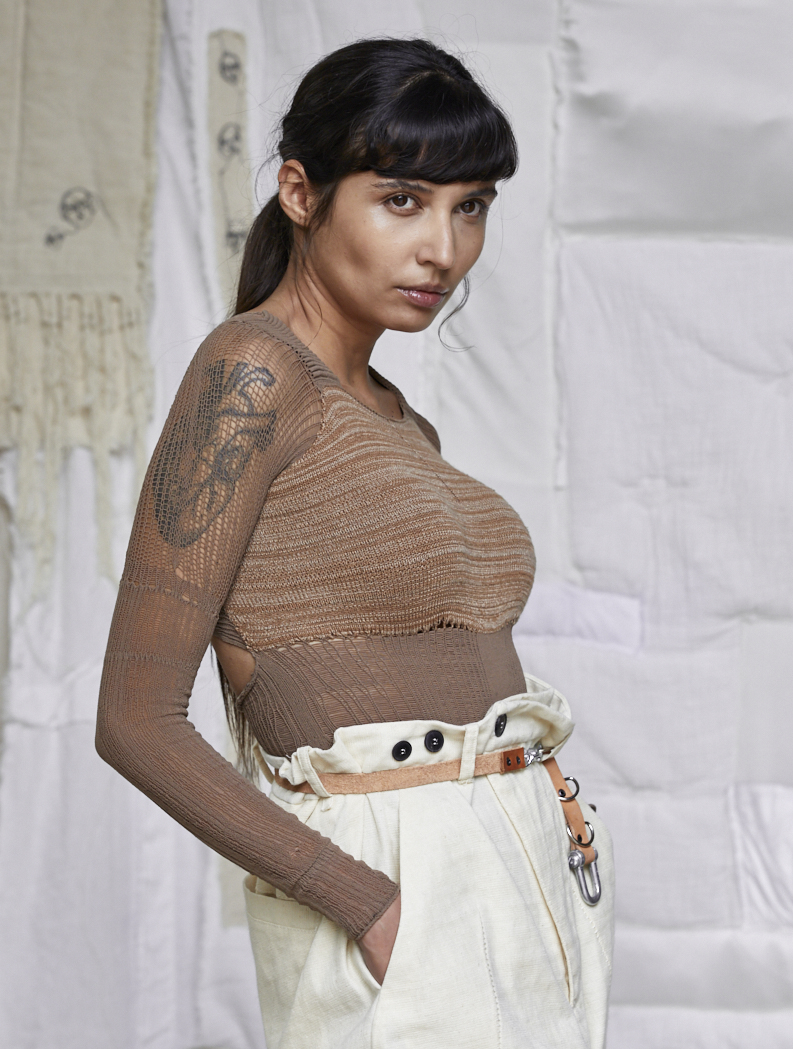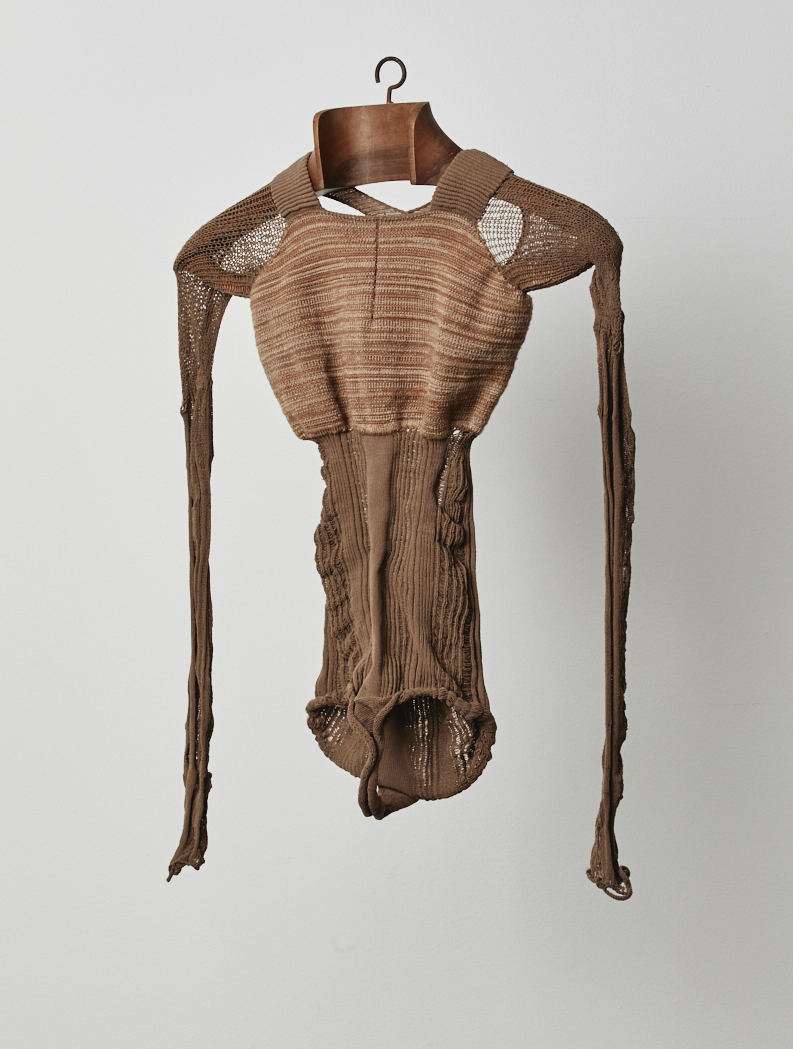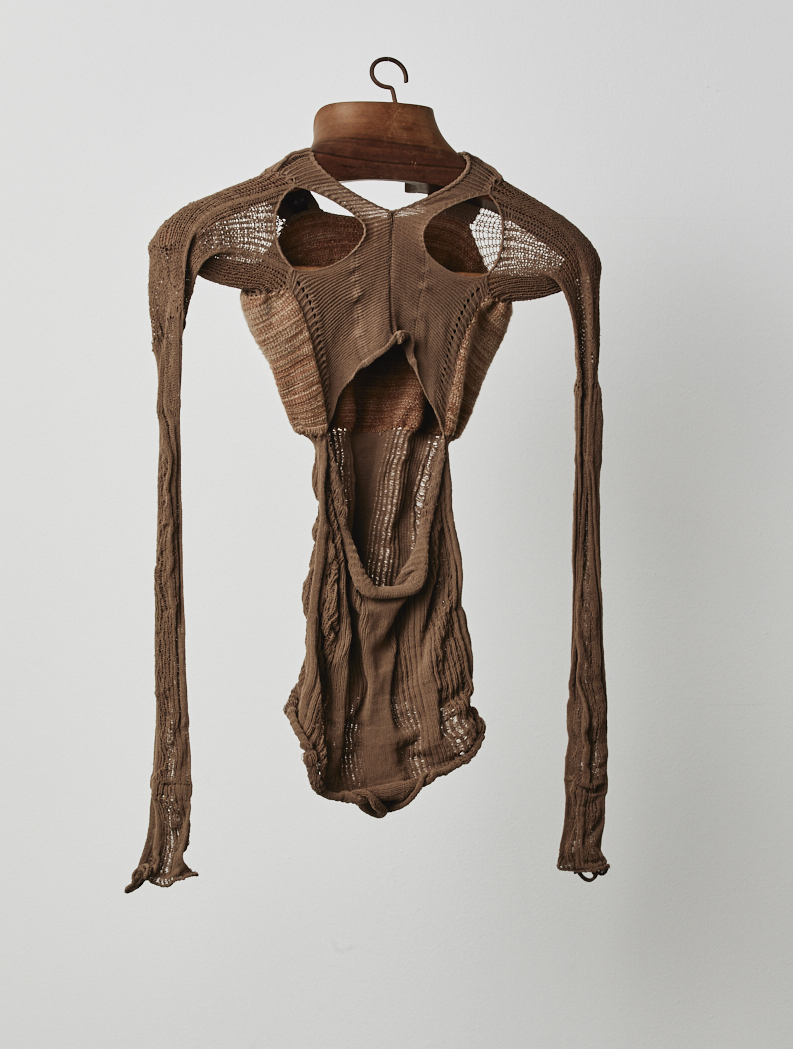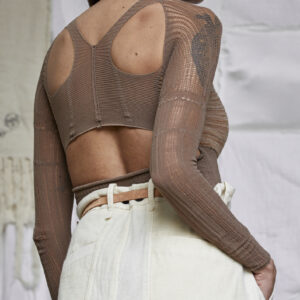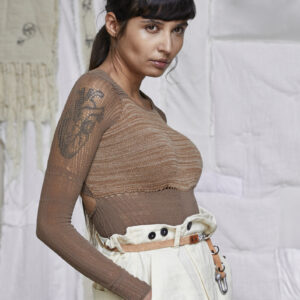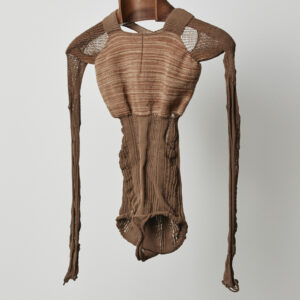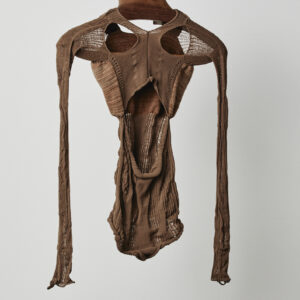 Fully body, bodystocking comes with lycra and merino mix in the chest area. Overall empowering feeling. Artisianally crafted in house starting from a string. This style is carefully engineered to stretch and tighten in all the right places. 
Very lightweight and flexible hand feel.  
Composition
Yarn  : 100 % Lycra
Tarn 2:  100% merino wool
Colour:  nude, black
Features: No movement restriction. Second skin, shapewear. 
Behavior: flexible, slightly warm
Composition properties:
Lycra:  Exceptionally elastic and reverts back to its original form after being stretched. Very light weight. Crease resistant
Sustainability:  Artisan, made in house in numbered limited quantities. Loop by loop, row by row. Made to order. 
Conscious care: Cold hand wash
HUYI_Second Skin Bodysuit
Leon Louis HUYI Second skin bodysuit. Made in collaboration with Valeriya Olkhova Vo/ft.
Shapewear, second skin knit. Open back, long sleeved, comes with finger hole loops. High Waisted style. Rounded neck. Mix technical patterns. 
WOMEN'S SIZE CHART
1CLOTHING
WOMEN'S SIZE CHART
CLOTHING
XO
OO
O
1
2
3
4
5
6
EUROPE
34
36
38
40
42
44
46
48
50
INTERNATIONAL
XS
S
M
L
XL
2 XL
3 XL
4 XL
5 XL
FRANCE
34
36
38
40
42
44
44
44
44
ITALY
38
40
42
44
46
48
48
48
48
UK
6
8
10
12
14
16
16
16
16
USA
2
4
6
8
10
12
12
12
12
JAPAN
5
7
9
11
13
15
15
15
15
AUSTRALIA
6
8
10
12
14
16
16
16
16
2JEANS
WOMEN'S SIZE CHART
CLOTHING
XO
OO
O
1
2
3
4
5
6
JEANS
25
26
28
30
32
34
34
34
34
3SHOES
WOMEN'S SIZE CHART
CLOTHING
XO
OO
O
1
2
3
4
5
6
SHOES
EUROPE
34
35
36
37
38
39
40
41
42
FRANCE
35
36
37
38
39
40
41
42
43
UK
1
2
3
4
5
6
7
8
9
USA
4
5
6
7
8
9
10
11
12
JAPAN
22 CM
22.5 CM
23 CM
23.5 CM
24 CM
24.5CM
25 CM
26 CM
27 CM
4GLOVES
WOMEN'S SIZE CHART
CLOTHING
XO
OO
O
1
2
3
4
5
6
GLOVES
STANDARD
6
6.5
7
7.5
8
8.5
9
9.5
INTERNATIONAL
XS
S
S
M
M
L
L
XL
CENTIMETERS
17
17.5
19
20
21.5
23
24
25.5