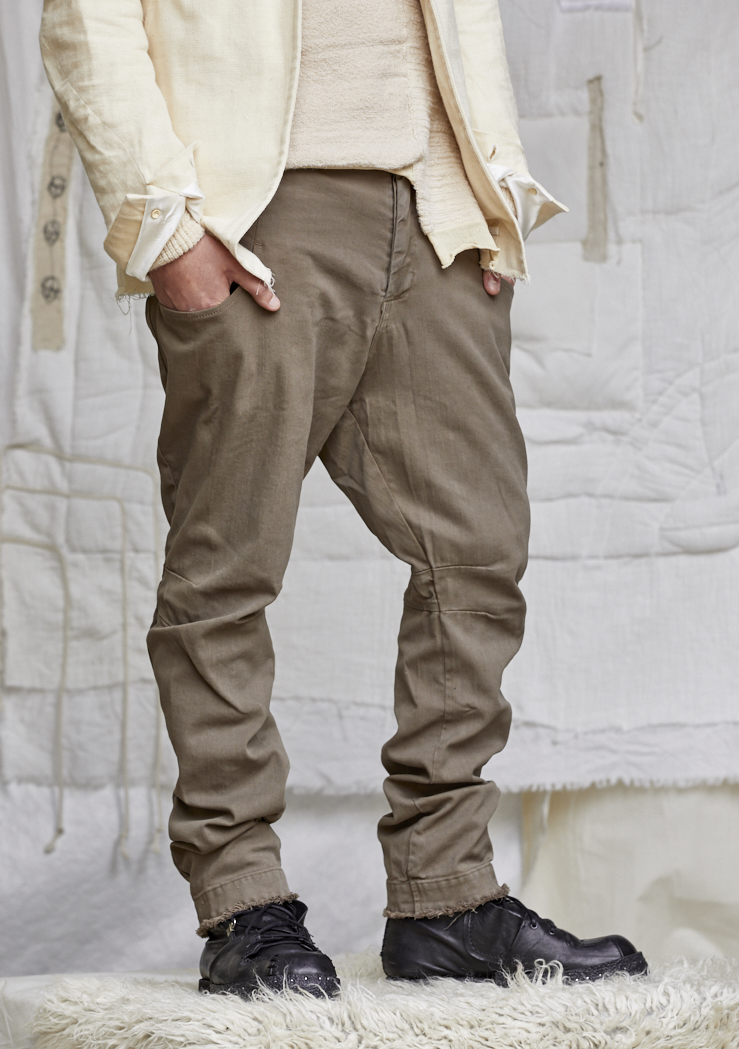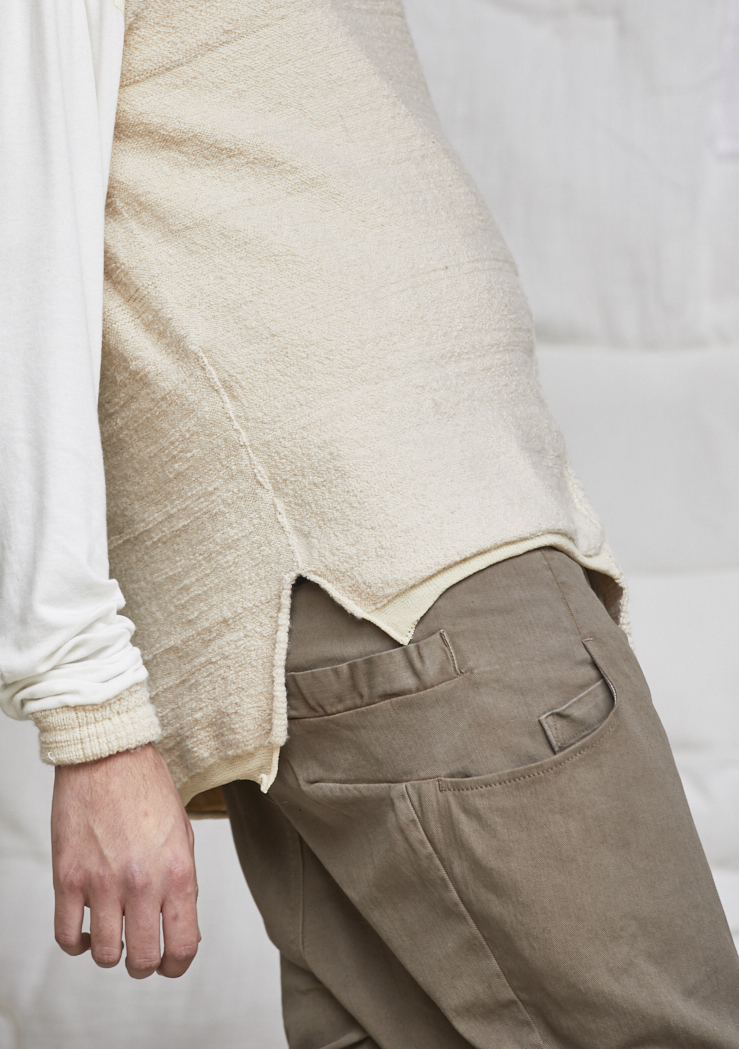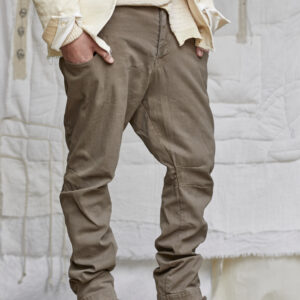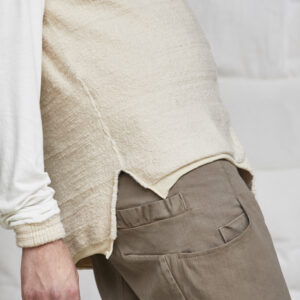 Style comes with Belt loops at the waist band. It features a heavy leather patch, embossed, at the back waistband. Front right pocket has a smaller phone pocket. Logo rivet as signature characteristic.
Medium weight cotton elastane has a dry stretchy hand feel.
Composition
Fabric shell  : 98% cotton, 2% elastane
Fabric pocket lining: 90% cotton/ 10% polyester
Colour: covert green, black 
Features
Behavior:  Structured and Stretchy, moves where needed with the wearer. Durable with relentless use. 
Composition properties: Cotton is Hypoallergenic, breathable, absorbent, non toxic. It becomes stronger when wet and is biodegradable 
Sustainability: Local production cycle. Zero waist. Highly durable
Conscious care:  30 degrees machine wash, to preserve colour. Wash inside out. We recommend a 'no wash' care , where possible. For hygiene of the jeans, place in the freezer for 1-2 hours  or hang outside to air out. 
Size 32
Half waste: 44 cm
Half hips: 54 cm
Front Length : 102 cm (along the side seam, inc. waist band)
Front drop: 24 cm
Bottom leg half width: 15 cm
Nuno size: 
Hight: 1.83
Chest 92
Waist72
Hips 92
Leon Louis INVALIDI Skinny Jeans in stretch cotton.Front fly closure and five pocket styling. Slim fit.
MEN'S SIZE CHART
MEN'S SIZE CHART
CLOTHING
0
1
2
3
4
5
6
EUROPE
46
48
50
52
54
56
58
INTERNATIONAL
XS
S
M
L
XL
2 XL
3 XL
FRANCE
46
48
50
52
54
56
58
ITALY
46
48
50
52
54
56
58
UK
36
38
40
42
44
46
48
USA
36
38
40
42
44
46
48
JAPAN
2
3
4
5
6
7
8
AUSTRALIA
36
38
40
42
44
46
48
MEN'S SIZE CHART
CLOTHING
0
1
2
3
4
5
6
JEANS
29
30
32
34
36
38
40
MEN'S SIZE CHART
CLOTHING
0
1
2
3
4
5
6
SHOES
EUROPE
38
39
40
41
42
43
44
45
46
UK
4
5
6
7
8
9
10
11
12
USA
5
6
7
8
9
10
11
12
13
JAPAN
23 CM
24 CM
25 CM
26 CM
27 CM
28 CM
29 CM
30 CM
31 CM
MEN'S SIZE CHART
CLOTHING
0
1
2
3
4
5
6
GLOVES
STANDARD
7
7.5
8
8.5
9
9.5
10
10.5
INTERNATIONAL
XS
S
S
M
M
L
L
XL
CENTIMETERS
19
20
21.5
23
24
25.5
27
28