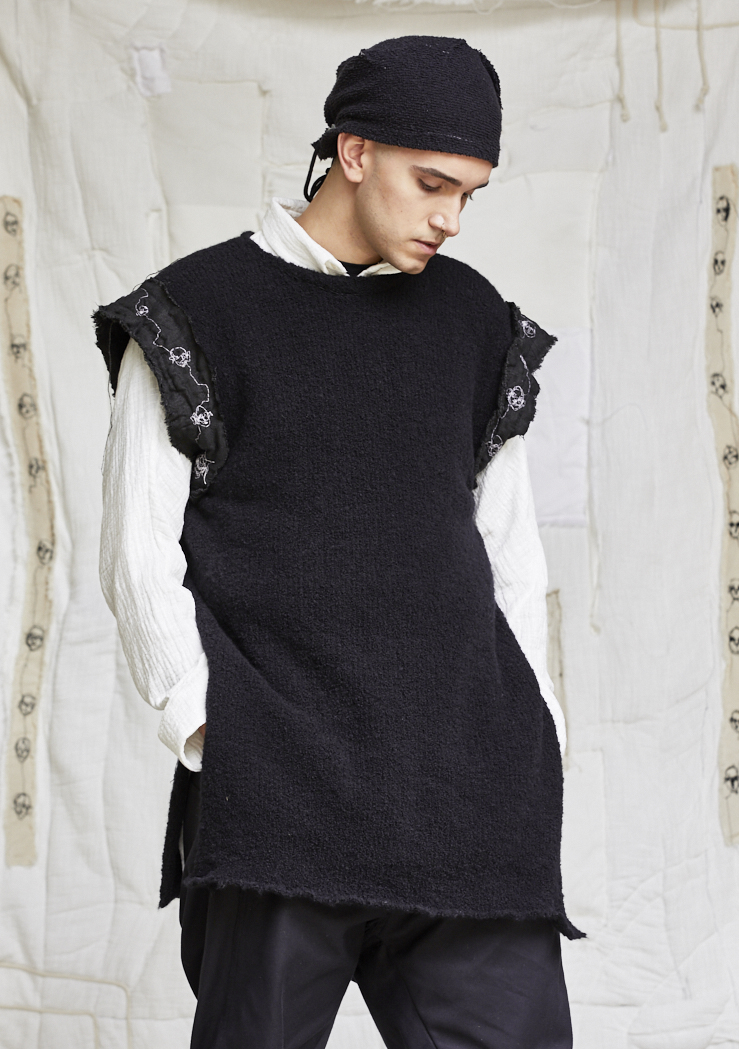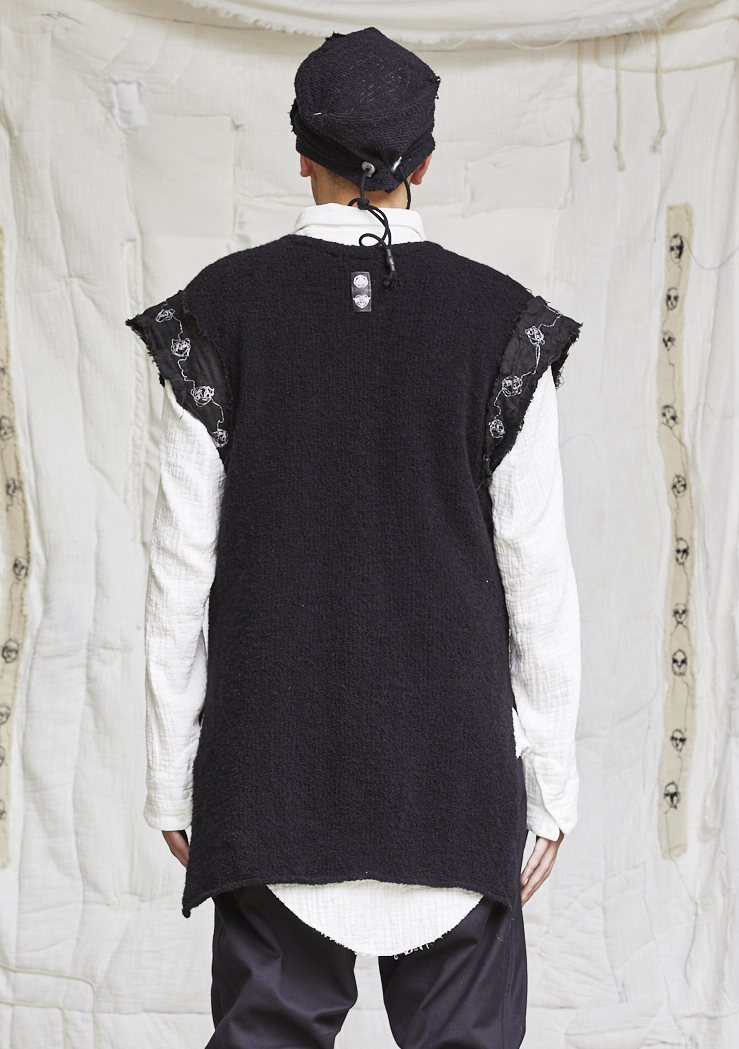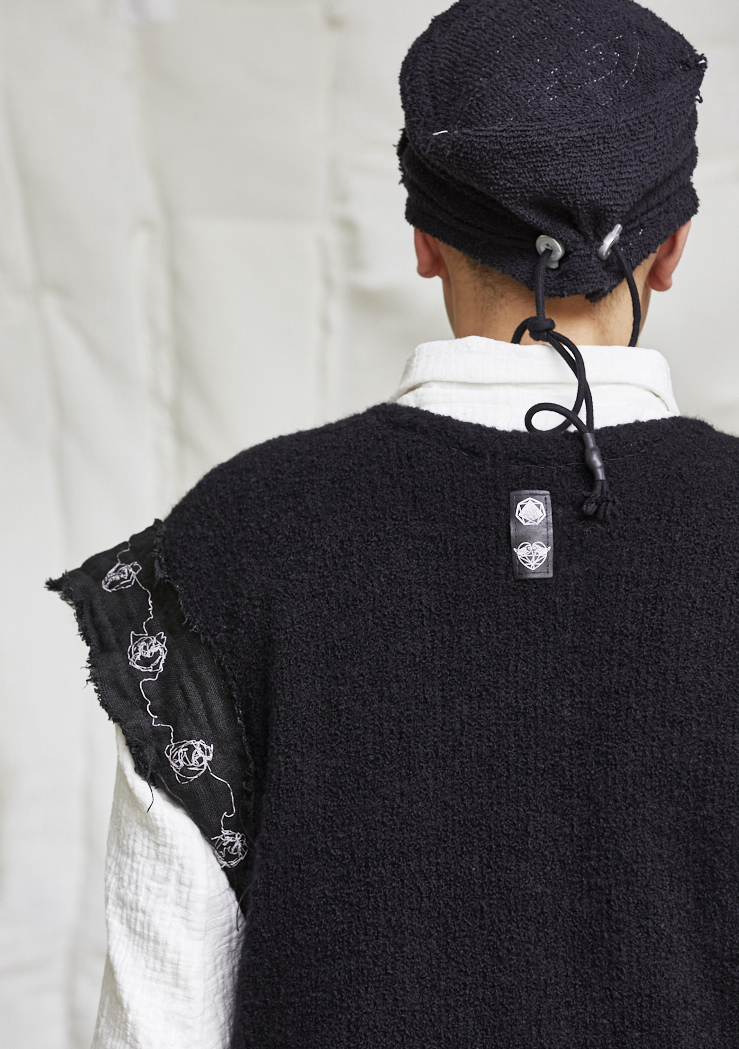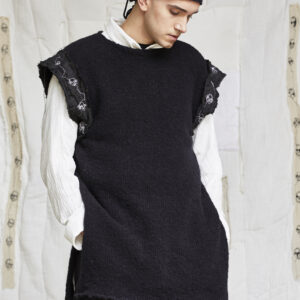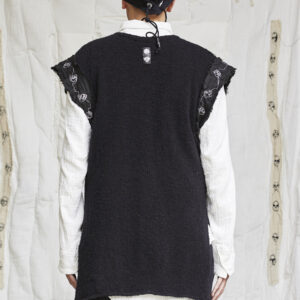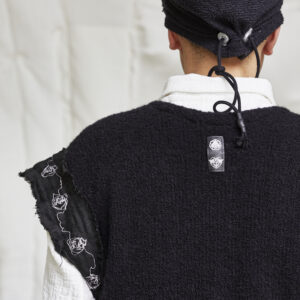 The core textile in IONT, merino wool, has been knitted, then felted. Raw bottom hem. Hand stitched, padded neck line. Hand stitched side seams. Below mid thigh. Side slits
Straight cut lines.  
Heavy density, comforting, lusciously soft hand feel. 
Composition
Yarn  : 100% merino wool
Colour:  black 
Features: Unique tactile experience due to the stretch and warms. No movement restriction. 
Behavior: warm, flexible. 
Composition properties: Wool fiber has a natural UV protection and antibacterial properties. It continues to insulate even when wet. It is  the most recycled fiber in the world. 
Sustainability:  Artisan, made in house in numbered limited quantities. Made to order. 
Conscious care: Cold hand wash. Dry flat
Size: ONE SIZE
Flat measurements
Half Chest width flat :  61 cm (stretchy)
Front length: 80
Back length: 84
Shoulder to shoulder: 63 cm
Leon Louis IONT Beatle Vest
Made in collaboration with Valeriya Olkhova Vo/ft.
Overall oversized fit. Visually Exaggerated Shoulder silhouette. Armholes,  hemmed with linen and artisanally embroidered face. Very warm.
Crafted in house. Gender inclusive. 
MEN'S SIZE CHART
MEN'S SIZE CHART
CLOTHING
0
1
2
3
4
5
6
EUROPE
46
48
50
52
54
56
58
INTERNATIONAL
XS
S
M
L
XL
2 XL
3 XL
FRANCE
46
48
50
52
54
56
58
ITALY
46
48
50
52
54
56
58
UK
36
38
40
42
44
46
48
USA
36
38
40
42
44
46
48
JAPAN
2
3
4
5
6
7
8
AUSTRALIA
36
38
40
42
44
46
48
MEN'S SIZE CHART
CLOTHING
0
1
2
3
4
5
6
JEANS
29
30
32
34
36
38
40
MEN'S SIZE CHART
CLOTHING
0
1
2
3
4
5
6
SHOES
EUROPE
38
39
40
41
42
43
44
45
46
UK
4
5
6
7
8
9
10
11
12
USA
5
6
7
8
9
10
11
12
13
JAPAN
23 CM
24 CM
25 CM
26 CM
27 CM
28 CM
29 CM
30 CM
31 CM
MEN'S SIZE CHART
CLOTHING
0
1
2
3
4
5
6
GLOVES
STANDARD
7
7.5
8
8.5
9
9.5
10
10.5
INTERNATIONAL
XS
S
S
M
M
L
L
XL
CENTIMETERS
19
20
21.5
23
24
25.5
27
28
WOMEN'S SIZE CHART
WOMEN'S SIZE CHART
CLOTHING
XO
OO
O
1
2
3
4
5
6
EUROPE
34
36
38
40
42
44
46
48
50
INTERNATIONAL
XS
S
M
L
XL
2 XL
3 XL
4 XL
5 XL
FRANCE
34
36
38
40
42
44
44
44
44
ITALY
38
40
42
44
46
48
48
48
48
UK
6
8
10
12
14
16
16
16
16
USA
2
4
6
8
10
12
12
12
12
JAPAN
5
7
9
11
13
15
15
15
15
AUSTRALIA
6
8
10
12
14
16
16
16
16
WOMEN'S SIZE CHART
CLOTHING
XO
OO
O
1
2
3
4
5
6
JEANS
25
26
28
30
32
34
34
34
34
WOMEN'S SIZE CHART
CLOTHING
XO
OO
O
1
2
3
4
5
6
SHOES
EUROPE
34
35
36
37
38
39
40
41
42
FRANCE
35
36
37
38
39
40
41
42
43
UK
1
2
3
4
5
6
7
8
9
USA
4
5
6
7
8
9
10
11
12
JAPAN
22 CM
22.5 CM
23 CM
23.5 CM
24 CM
24.5CM
25 CM
26 CM
27 CM
WOMEN'S SIZE CHART
CLOTHING
XO
OO
O
1
2
3
4
5
6
GLOVES
STANDARD
6
6.5
7
7.5
8
8.5
9
9.5
INTERNATIONAL
XS
S
S
M
M
L
L
XL
CENTIMETERS
17
17.5
19
20
21.5
23
24
25.5