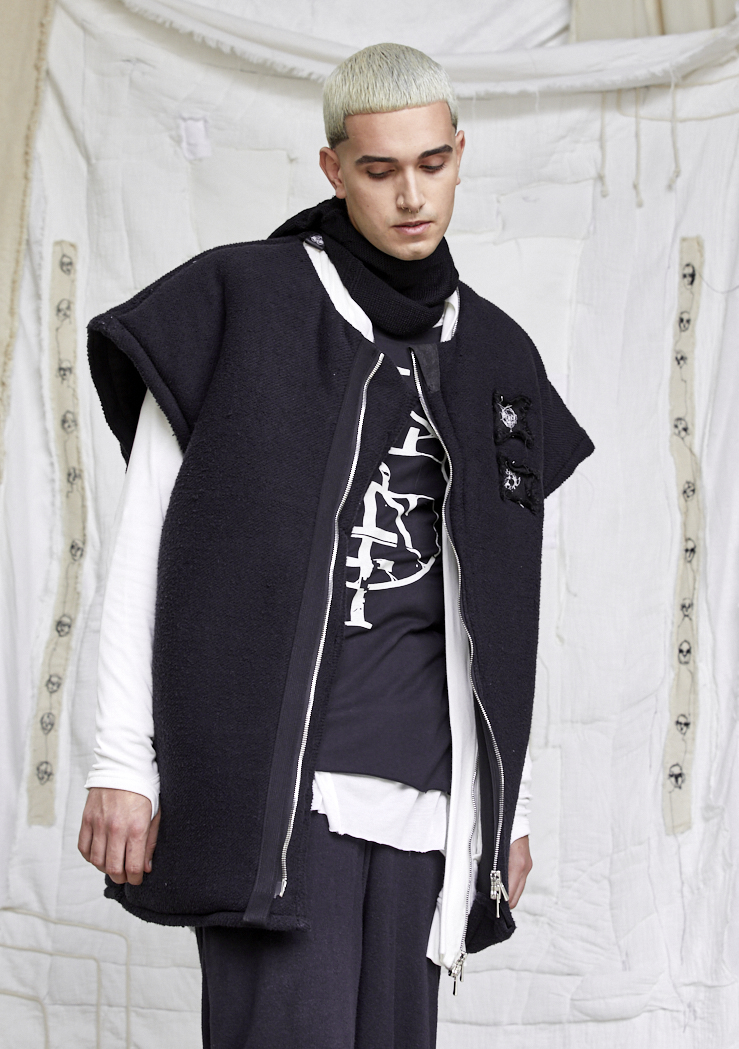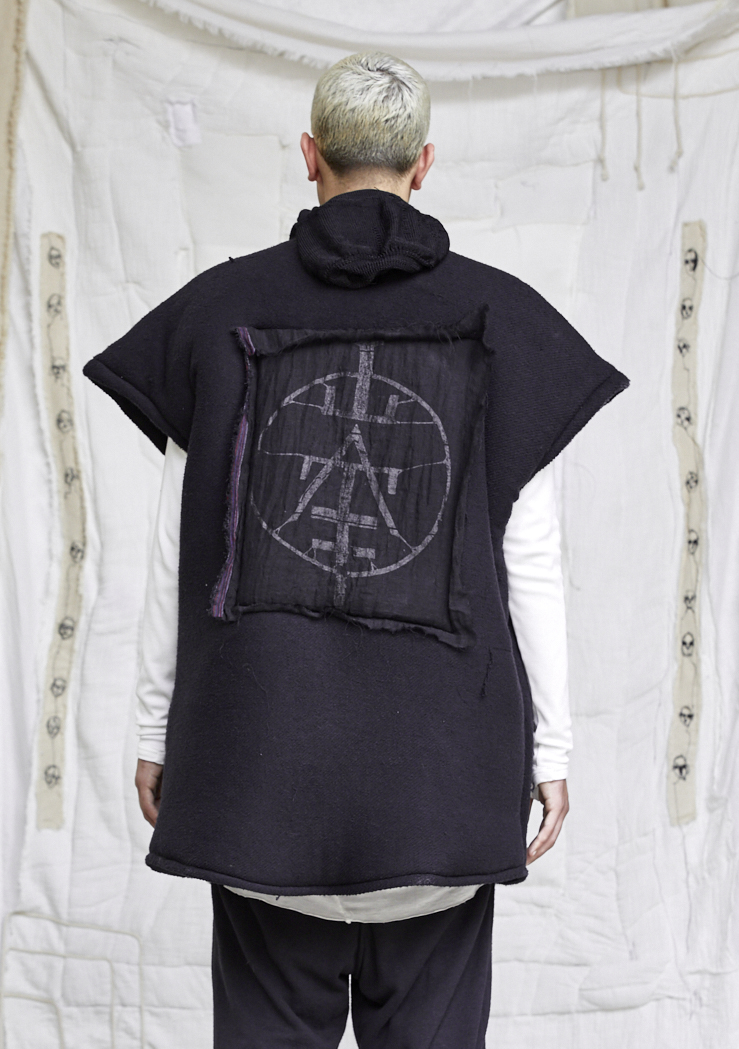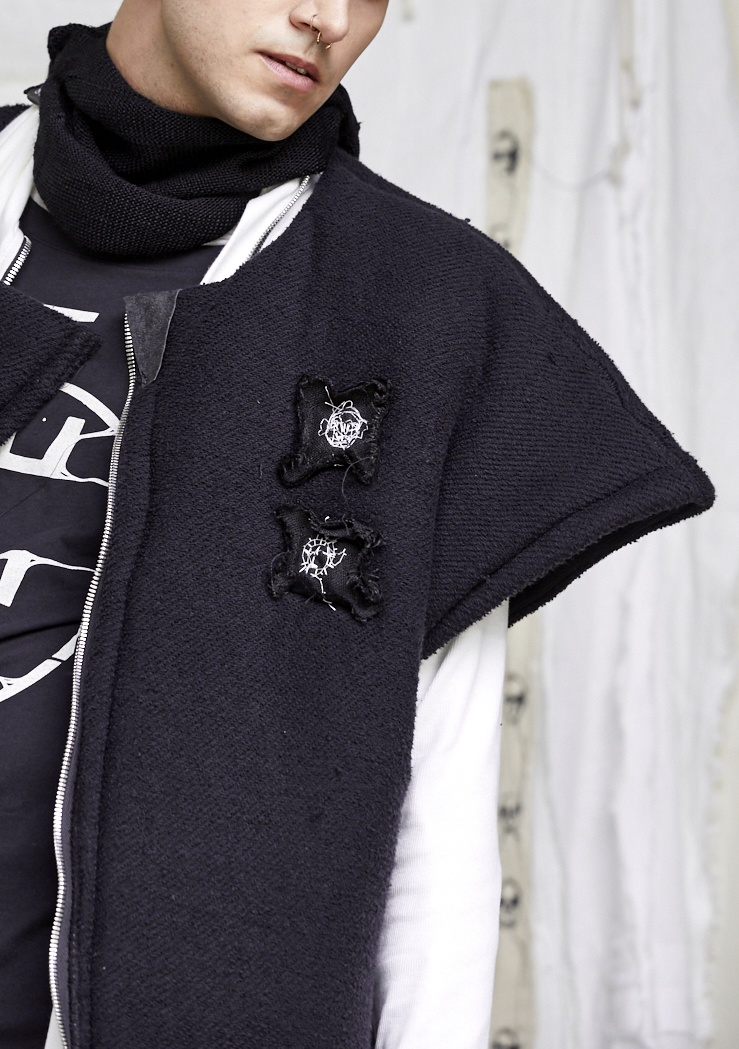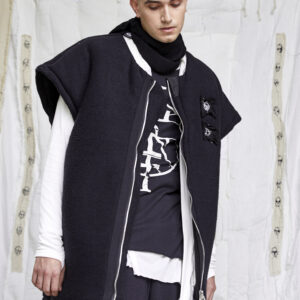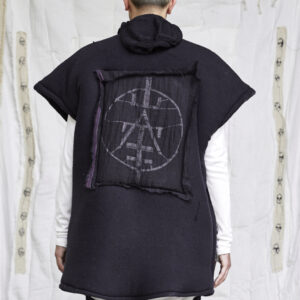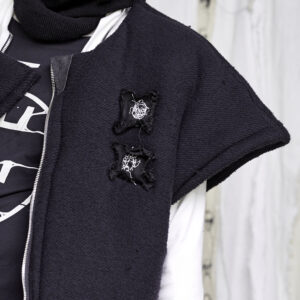 This sculptural style comes with clean cut lines. Length mid thigh- above knee depending on your size. Significantly wide shoulder silhouette and wide arm hole, that goes to anything between the upper to lower biceps (depending on your size) . It's padded between the layer of open loop japanese sweatshirt fabric (outer )and 100% cotton on the inner. All inner seams have a special loop that looks like a knot pearl hand stitch. (black and white). Taped look for inner hem lines. Visible tone in tone scar stitching on the shell.The vest features unique face embroideries on the front left, linen patch work and locally screen printed patch on the center back. Signature hanging detail.
Medium heavy in thickness, yet lightweight.
flexible , moldable and spongy in hand feel.
Composition
Fabric outer : 100% cotton
Fabric inner: 100% cotton
Padding: sintepon
Colour: black
Features:
Behavior: Easy movement, cocooning comforting feeling
Composition properties: Cotton is Hypoallergenic, breathable, absorbent, non toxic. Sintepon is very warm.
Sustainability: Made in house from left over limited stock. Print produced locally.
Conscious care: gentle cold wash cycle, with non catchy elements.
Size: ONE SIZE
Neck opening: 24 cm
Shoulder to shoulder:undefined, edge to edge 83cm
Half Chest width: 83 cm
Length : 91 cm
Half Bottom width: 72
Nuno size:
Hight: 1.83
Chest: 92
Waist: 72
Hips: 92
Vivian size:
Hight: 1.75
Chest 87
Waist 70
Hips: 90
Leon Louis Lava Padded vest jacket produced in collaboration with Valeriya Olkhova.
Very oversized, wearable duvet feeling style, with exaggerated shoulders and sculpting form. Comes with a two way, size 8, front zipper and leather neck detail on the inside.. Multimedia patch work, of manually embroidered faces and screen print collaboration 'symbol' on the back.
Gender inclusive style.
MEN'S SIZE CHART
MEN'S SIZE CHART
CLOTHING
0
1
2
3
4
5
6
EUROPE
46
48
50
52
54
56
58
INTERNATIONAL
XS
S
M
L
XL
2 XL
3 XL
FRANCE
46
48
50
52
54
56
58
ITALY
46
48
50
52
54
56
58
UK
36
38
40
42
44
46
48
USA
36
38
40
42
44
46
48
JAPAN
2
3
4
5
6
7
8
AUSTRALIA
36
38
40
42
44
46
48
MEN'S SIZE CHART
CLOTHING
0
1
2
3
4
5
6
JEANS
29
30
32
34
36
38
40
MEN'S SIZE CHART
CLOTHING
0
1
2
3
4
5
6
SHOES
EUROPE
38
39
40
41
42
43
44
45
46
UK
4
5
6
7
8
9
10
11
12
USA
5
6
7
8
9
10
11
12
13
JAPAN
23 CM
24 CM
25 CM
26 CM
27 CM
28 CM
29 CM
30 CM
31 CM
MEN'S SIZE CHART
CLOTHING
0
1
2
3
4
5
6
GLOVES
STANDARD
7
7.5
8
8.5
9
9.5
10
10.5
INTERNATIONAL
XS
S
S
M
M
L
L
XL
CENTIMETERS
19
20
21.5
23
24
25.5
27
28
WOMEN'S SIZE CHART
WOMEN'S SIZE CHART
CLOTHING
XO
OO
O
1
2
3
4
5
6
EUROPE
34
36
38
40
42
44
46
48
50
INTERNATIONAL
XS
S
M
L
XL
2 XL
3 XL
4 XL
5 XL
FRANCE
34
36
38
40
42
44
44
44
44
ITALY
38
40
42
44
46
48
48
48
48
UK
6
8
10
12
14
16
16
16
16
USA
2
4
6
8
10
12
12
12
12
JAPAN
5
7
9
11
13
15
15
15
15
AUSTRALIA
6
8
10
12
14
16
16
16
16
WOMEN'S SIZE CHART
CLOTHING
XO
OO
O
1
2
3
4
5
6
JEANS
25
26
28
30
32
34
34
34
34
WOMEN'S SIZE CHART
CLOTHING
XO
OO
O
1
2
3
4
5
6
SHOES
EUROPE
34
35
36
37
38
39
40
41
42
FRANCE
35
36
37
38
39
40
41
42
43
UK
1
2
3
4
5
6
7
8
9
USA
4
5
6
7
8
9
10
11
12
JAPAN
22 CM
22.5 CM
23 CM
23.5 CM
24 CM
24.5CM
25 CM
26 CM
27 CM
WOMEN'S SIZE CHART
CLOTHING
XO
OO
O
1
2
3
4
5
6
GLOVES
STANDARD
6
6.5
7
7.5
8
8.5
9
9.5
INTERNATIONAL
XS
S
S
M
M
L
L
XL
CENTIMETERS
17
17.5
19
20
21.5
23
24
25.5