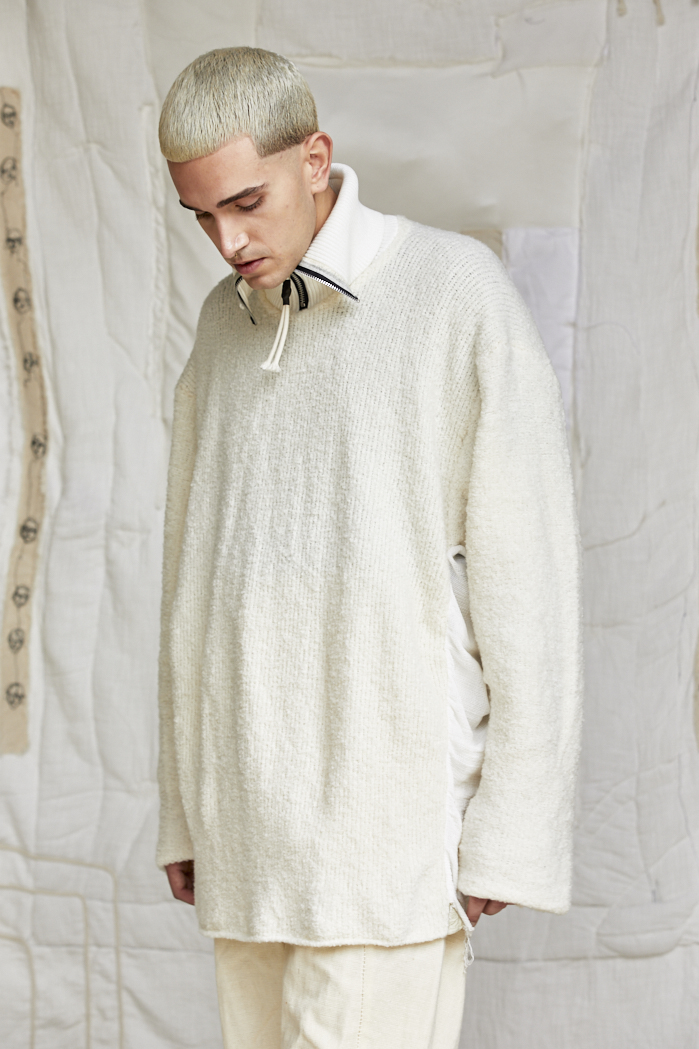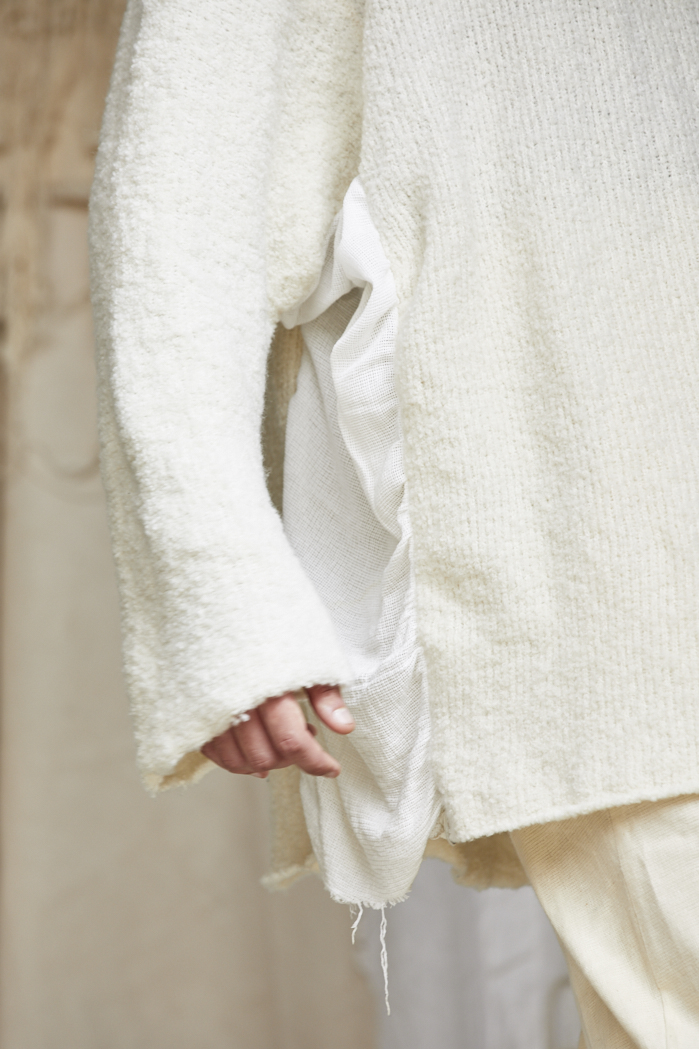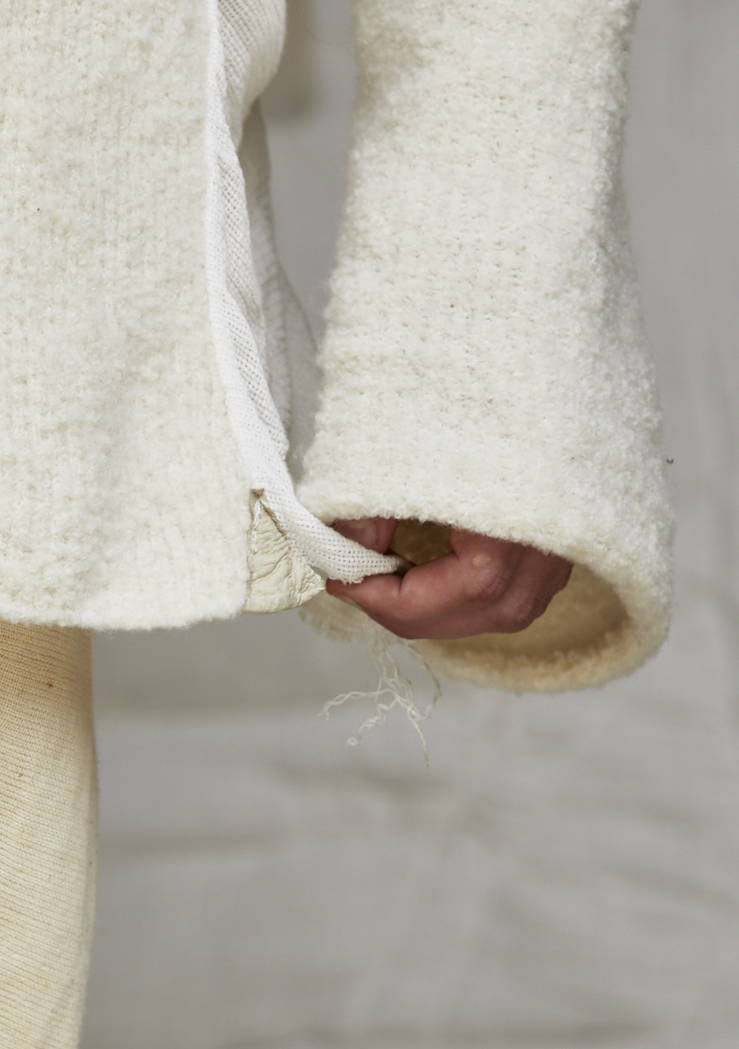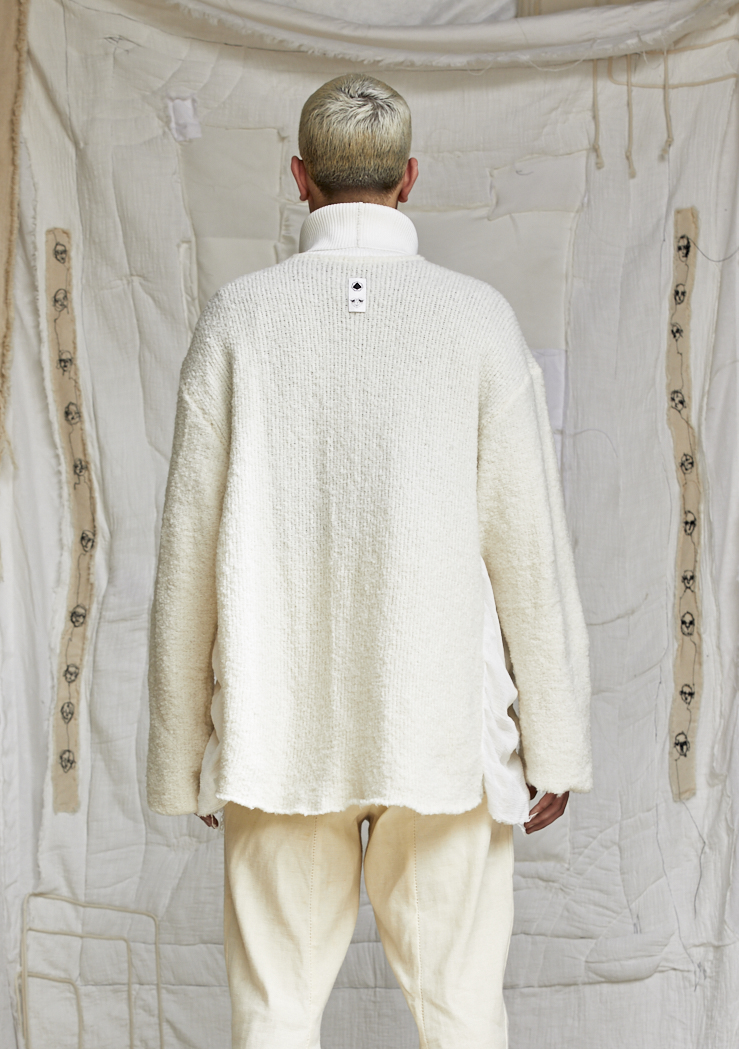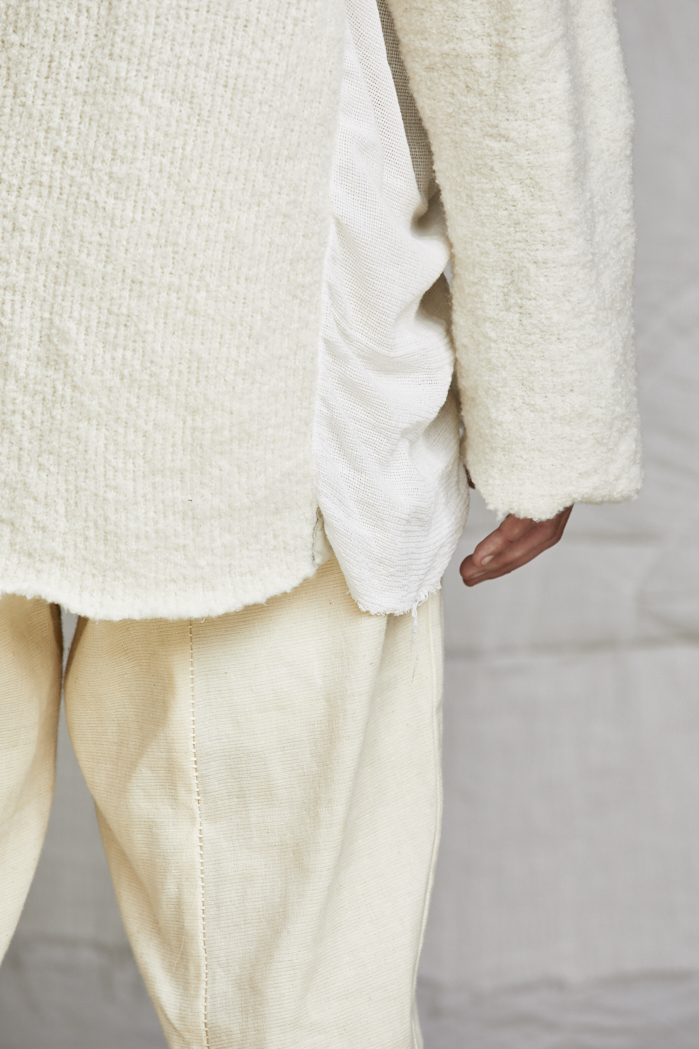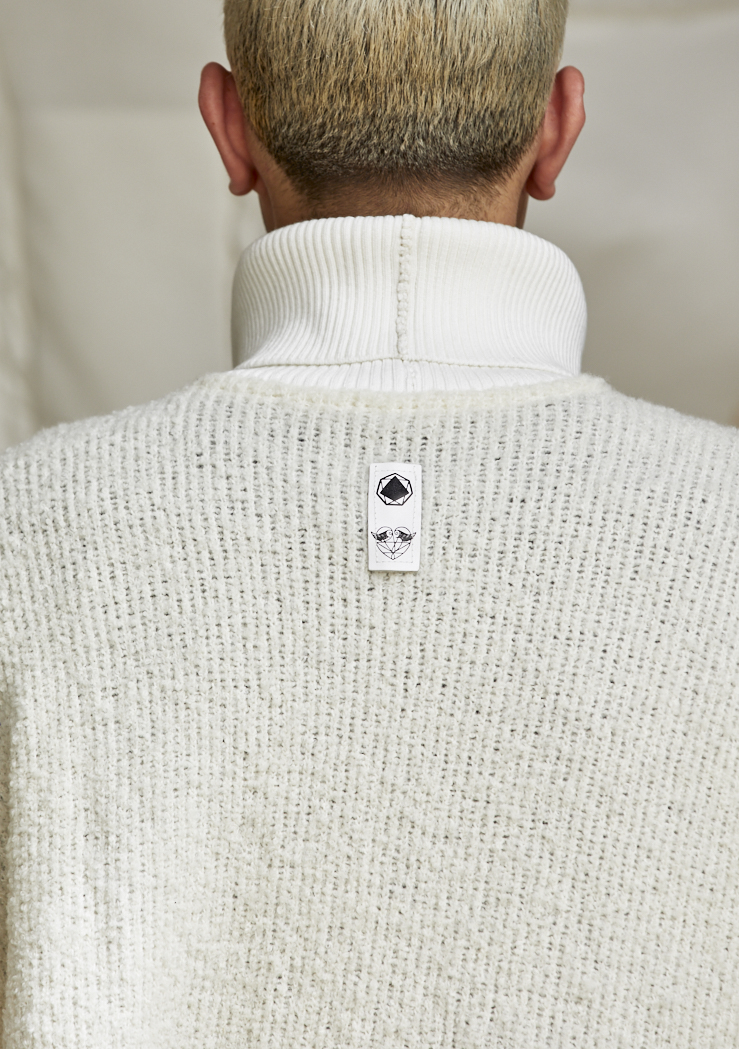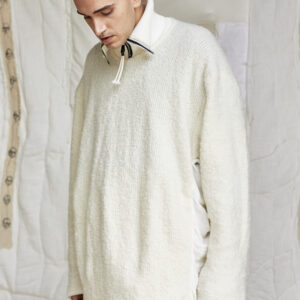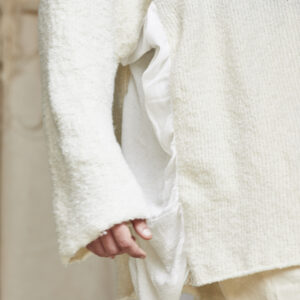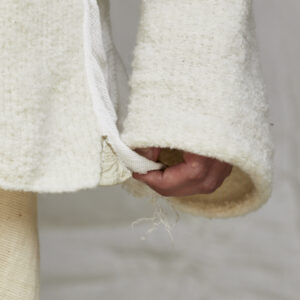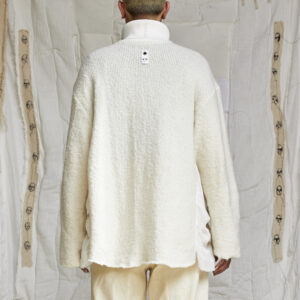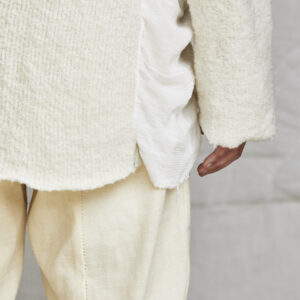 Made from scratch in house, starting with a string. The core textile in Levae has been knitted, than felted. Comes with gauze mesh size panels, which act as air valves. Organic draping in the gauze. Concealed rubber detail on the puller. Hand stitched back neck seam. Triangle distorted leather details on bottom hem. Raw edges. Straight cut lines. Below the hip long.
Heavy density, comforting, lusciously soft hand feel. 
Composition
Yarn  : 100% merino wool
Fabric : gauze
Colour:  off whites.
Features: Unique tactile experience due to the stretch and warms. No movement restriction. 
Behavior: High flexibility, warm. 
Composition properties: Wool fiber has a natural UV protection and antibacterial properties. It continues to insulate even when wet. It is  the most recycled fiber in the world. 
Sustainability:  Artisan, made in house in numbered limited quantities. Made to order. 
Conscious care: Cold hand wash. Dry flat.
Size: ONE SIZE
Flat measurements
Half Chest width flat : 80  cm 
Front length: 77 cm
Back length: 77 cm
Sleeve length (from the seam, as shoulder is undefined) 61 cm
LEVAE_ Oversized Coon Jumper
Leon Louis LEVAE Oversized Coon Jumper in mix media textiles. 
Made in collaboration with Valeriya Olkhova Vo/ft.
Overall oversized fit. Dropped shoulders (depending on your size). Zippable ribbed high neck.  Wedges. (size 8 excella) Artisanlly crafted in house. Gender inclusive.
MEN'S SIZE CHART
MEN'S SIZE CHART
CLOTHING
0
1
2
3
4
5
6
EUROPE
46
48
50
52
54
56
58
INTERNATIONAL
XS
S
M
L
XL
2 XL
3 XL
FRANCE
46
48
50
52
54
56
58
ITALY
46
48
50
52
54
56
58
UK
36
38
40
42
44
46
48
USA
36
38
40
42
44
46
48
JAPAN
2
3
4
5
6
7
8
AUSTRALIA
36
38
40
42
44
46
48
MEN'S SIZE CHART
CLOTHING
0
1
2
3
4
5
6
JEANS
29
30
32
34
36
38
40
MEN'S SIZE CHART
CLOTHING
0
1
2
3
4
5
6
SHOES
EUROPE
38
39
40
41
42
43
44
45
46
UK
4
5
6
7
8
9
10
11
12
USA
5
6
7
8
9
10
11
12
13
JAPAN
23 CM
24 CM
25 CM
26 CM
27 CM
28 CM
29 CM
30 CM
31 CM
MEN'S SIZE CHART
CLOTHING
0
1
2
3
4
5
6
GLOVES
STANDARD
7
7.5
8
8.5
9
9.5
10
10.5
INTERNATIONAL
XS
S
S
M
M
L
L
XL
CENTIMETERS
19
20
21.5
23
24
25.5
27
28
WOMEN'S SIZE CHART
WOMEN'S SIZE CHART
CLOTHING
XO
OO
O
1
2
3
4
5
6
EUROPE
34
36
38
40
42
44
46
48
50
INTERNATIONAL
XS
S
M
L
XL
2 XL
3 XL
4 XL
5 XL
FRANCE
34
36
38
40
42
44
44
44
44
ITALY
38
40
42
44
46
48
48
48
48
UK
6
8
10
12
14
16
16
16
16
USA
2
4
6
8
10
12
12
12
12
JAPAN
5
7
9
11
13
15
15
15
15
AUSTRALIA
6
8
10
12
14
16
16
16
16
WOMEN'S SIZE CHART
CLOTHING
XO
OO
O
1
2
3
4
5
6
JEANS
25
26
28
30
32
34
34
34
34
WOMEN'S SIZE CHART
CLOTHING
XO
OO
O
1
2
3
4
5
6
SHOES
EUROPE
34
35
36
37
38
39
40
41
42
FRANCE
35
36
37
38
39
40
41
42
43
UK
1
2
3
4
5
6
7
8
9
USA
4
5
6
7
8
9
10
11
12
JAPAN
22 CM
22.5 CM
23 CM
23.5 CM
24 CM
24.5CM
25 CM
26 CM
27 CM
WOMEN'S SIZE CHART
CLOTHING
XO
OO
O
1
2
3
4
5
6
GLOVES
STANDARD
6
6.5
7
7.5
8
8.5
9
9.5
INTERNATIONAL
XS
S
S
M
M
L
L
XL
CENTIMETERS
17
17.5
19
20
21.5
23
24
25.5