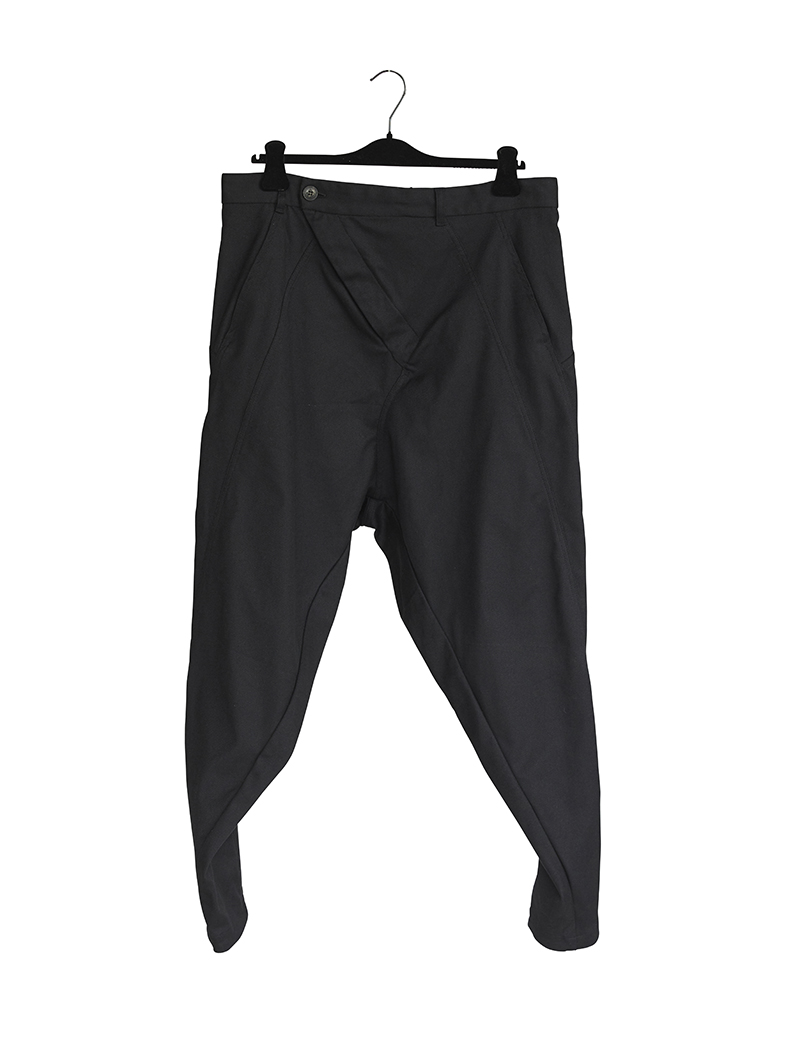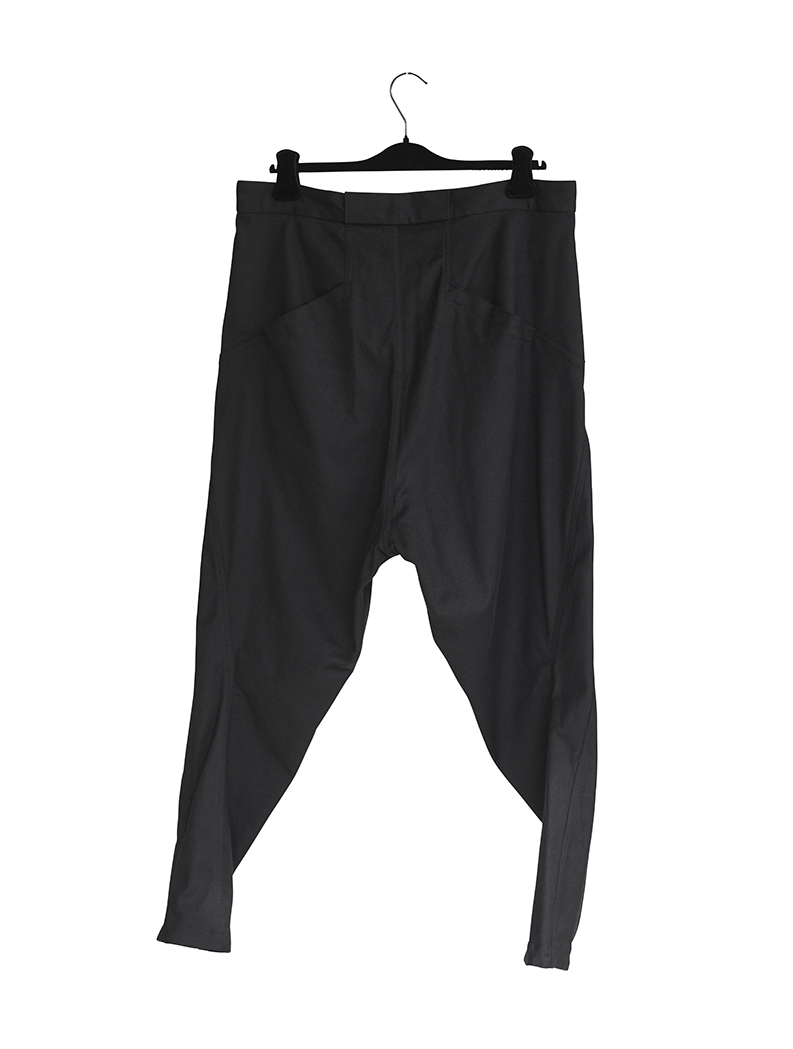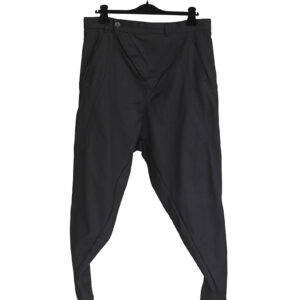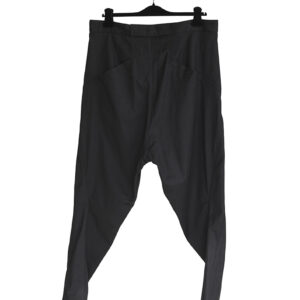 This spacious style is engineered with angled clean cut lines, A shaped on the front Two front side pockets and slanted, welted two back pockets. Belt loops at the waist band, with horn logo button closure. Angled fly with horn buttons. A very versatile style for multipurpose use and styling. 
Medium weight textile has a very stretchy and soft hand feel.
Composition
Fabric shell  : 95% cotton, 5% elastane
Colour: black ( woven pattern visible when very close)
Features
Behavior:  Very flexible. Durable with relentless use.
Composition properties: Cotton is Hypoallergenic, breathable, absorbent, non toxic. It becomes stronger when wet and is biodegradable . Elastine used in a mix textile, prevents sagging and stretching of the cotton. 
Sustainability: Local production cycle. Zero waist. Limited edition. Fabric sourced locally from stand still stock. 
Conscious care:  30 degrees machine wash, to preserve colour. Wash inside out. We recommend a 'no wash' care , where possible. For hygiene of the jeans, place in the freezer for 1-2 hours or hang outside to air out. 
Size XL
Half waste: 46 cm
Half hips: cr 60 cm
Front Length : 105 cm (along the side seam, inc. waist band)
Front rise: 44.5 cm (inc waist band)
Bottom leg half width: 16.5 cm
Nuno size: 
Hight: 1.83
Chest 92
Waist 72
Hips 92
Leon Louis signature Line Crotch pants in a new textile. Now, in Stretchy woven cotton. Full length pants with a drop crotch. Baggy fit, slimmer on the bottom leg. Fully buttons close at the fly and waist band.
MEN'S SIZE CHART
MEN'S SIZE CHART
CLOTHING
0
1
2
3
4
5
6
EUROPE
46
48
50
52
54
56
58
INTERNATIONAL
XS
S
M
L
XL
2 XL
3 XL
FRANCE
46
48
50
52
54
56
58
ITALY
46
48
50
52
54
56
58
UK
36
38
40
42
44
46
48
USA
36
38
40
42
44
46
48
JAPAN
2
3
4
5
6
7
8
AUSTRALIA
36
38
40
42
44
46
48
MEN'S SIZE CHART
CLOTHING
0
1
2
3
4
5
6
JEANS
29
30
32
34
36
38
40
MEN'S SIZE CHART
CLOTHING
0
1
2
3
4
5
6
SHOES
EUROPE
38
39
40
41
42
43
44
45
46
UK
4
5
6
7
8
9
10
11
12
USA
5
6
7
8
9
10
11
12
13
JAPAN
23 CM
24 CM
25 CM
26 CM
27 CM
28 CM
29 CM
30 CM
31 CM
MEN'S SIZE CHART
CLOTHING
0
1
2
3
4
5
6
GLOVES
STANDARD
7
7.5
8
8.5
9
9.5
10
10.5
INTERNATIONAL
XS
S
S
M
M
L
L
XL
CENTIMETERS
19
20
21.5
23
24
25.5
27
28