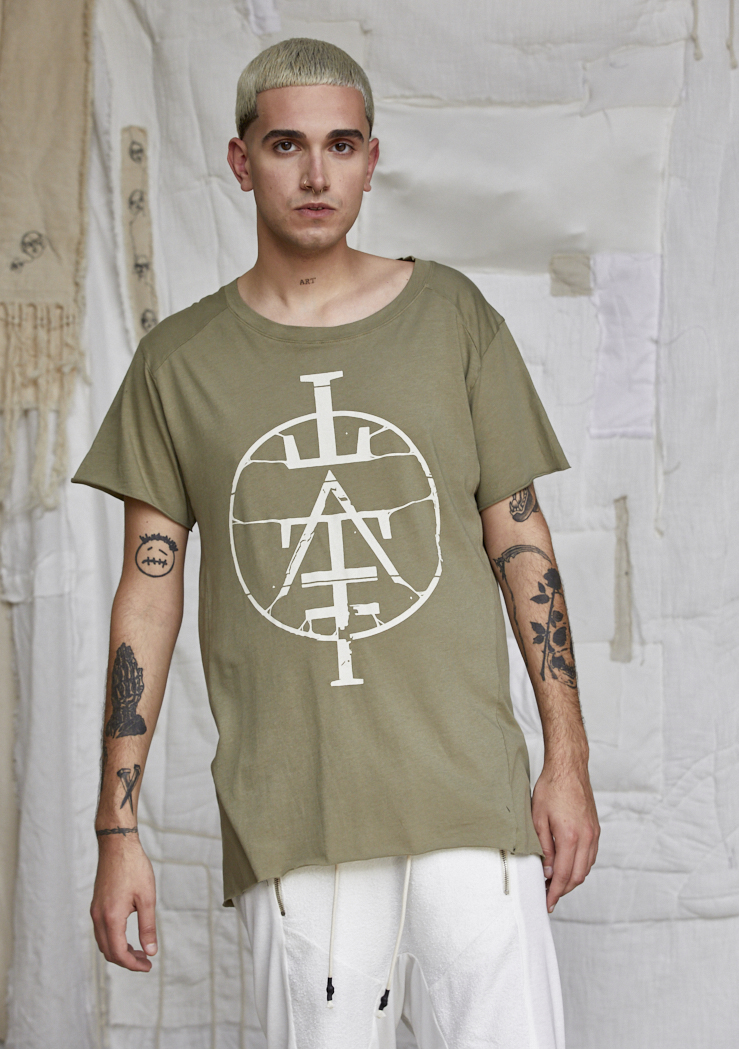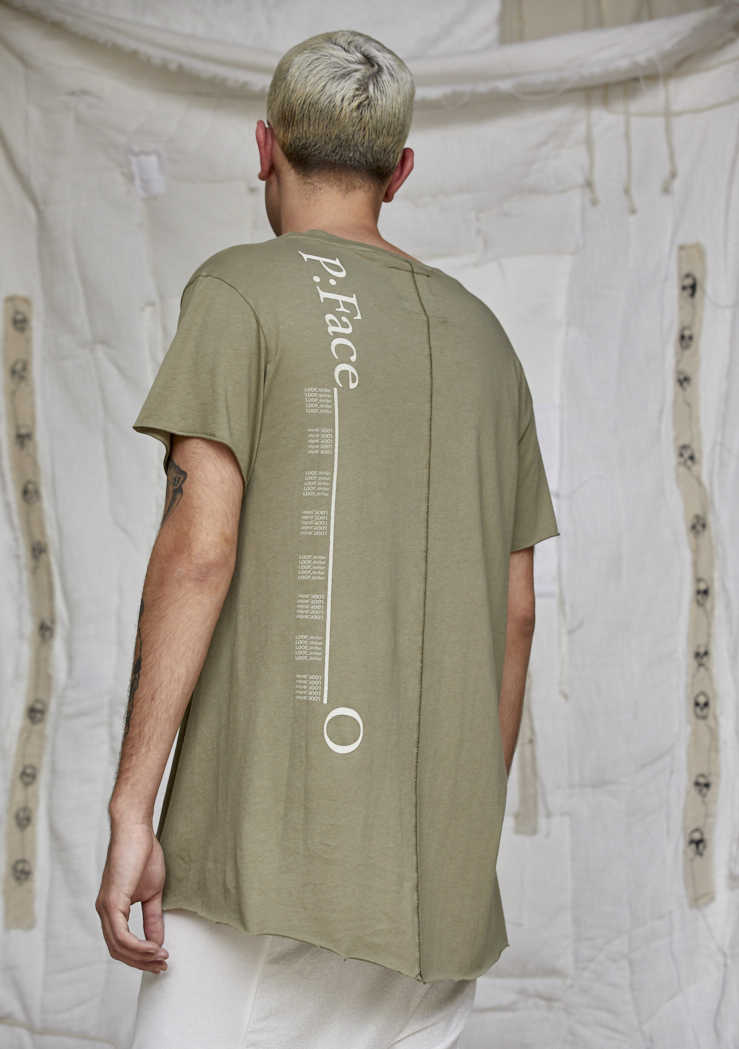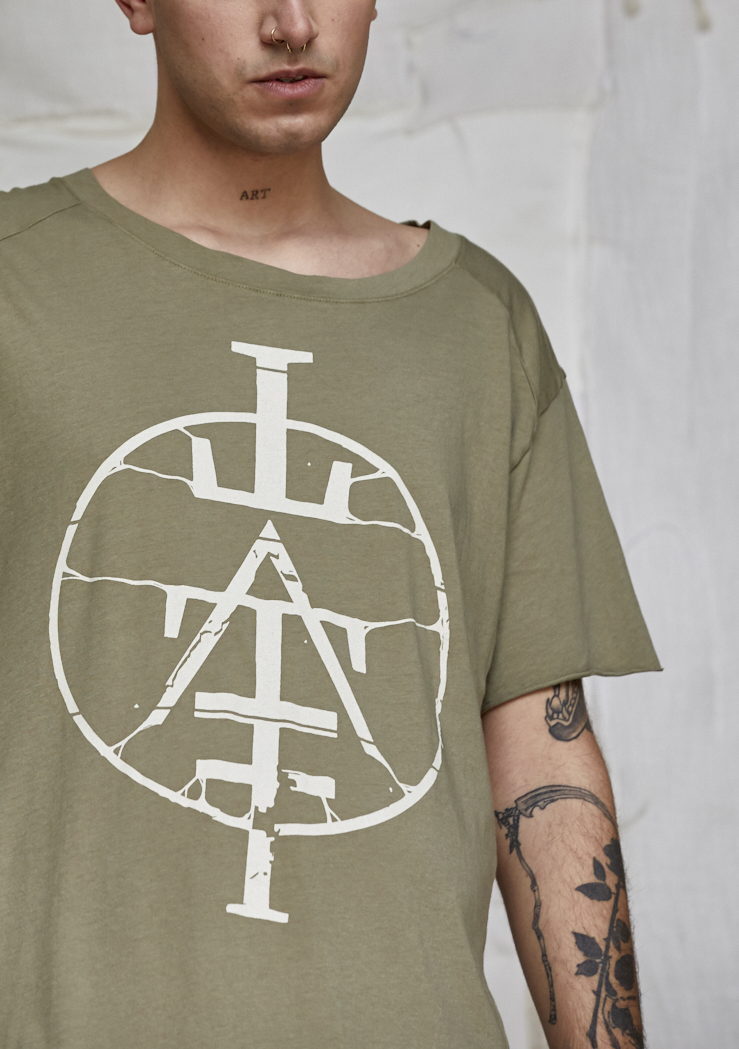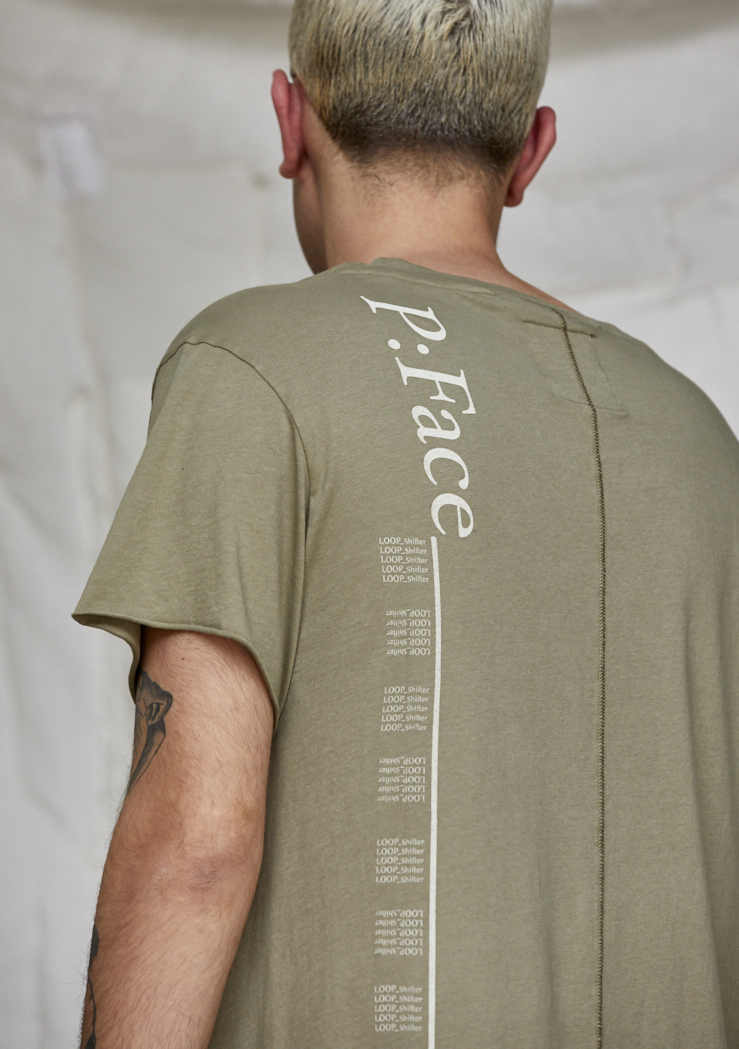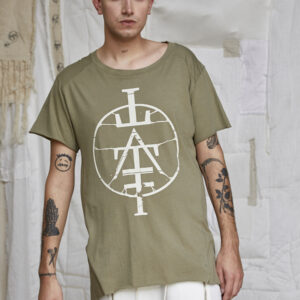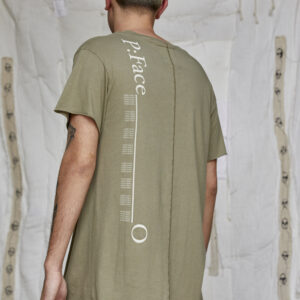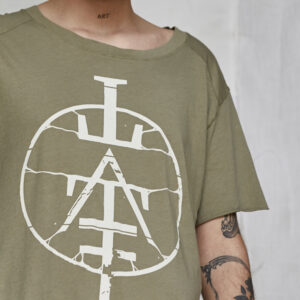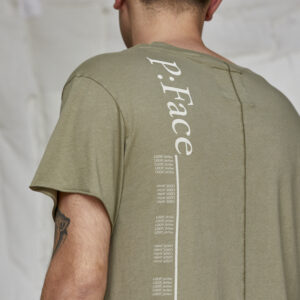 This style comes with clean angled cut lines. A rounded neck, mid biceps sleeves and length just below the hip. All seams are visible, with double cover stitching. The half raglan seams are designed to flatter and shape the upper torso, as well as shoulders. Screen printed limited Tshirt. It features a collaboration Sign in the front chest and 'P:Face_ 0  Loop shifter' on the vertical line of the left back. Gender inclusive style. Signature hanging detail. 
Medium Lightweight textile is smooth, silky and stretchy in hand feel.
Composition
Fabric : 100% organic cotton
Colour: nude
Features: 
Behavior:  Organic cotton is Hypoallergenic and long lasting through relentless use. It's breathable, absorbent and has an excellent dry performance. Organic cotton becomes stronger when wet. 
Composition properties: organic cotton is grown from a non genetically modified plants and without the use of synthetic agricultural chemicals. It uses less energy and water due to improved soil quality, as well as releases fewer greenhouse gasses.
Sustainability: Locally sourced and produced, the style is available ongoingly through seasons. No standstill or waisted stock. Hand Screen printed, supporting local artists. 
Conscious care: gentle 30 degrees wash cycle or cold wash, with non catchy elements.
Size M
Neck opening: 20 cm
Shoulder to shoulder:  42 cm (not fully definable due to half reglan)
Half Chest width: 49.5  cm
Length : 84.5 cm
Sleeve length: 24 cm
Nuno size: 
Hight: 1.83
Chest 92
Waist 72
Hips 92
Leon Louis MONE Fitted T-shirt in organic cotton with print on front and back. This style is a half reglan and has an ideal fit for most male body shapes. A non seasonal T-shirt for any occasion.
Soft and sleek experience. Gender inclusive fit.
MEN'S SIZE CHART
MEN'S SIZE CHART
CLOTHING
0
1
2
3
4
5
6
EUROPE
46
48
50
52
54
56
58
INTERNATIONAL
XS
S
M
L
XL
2 XL
3 XL
FRANCE
46
48
50
52
54
56
58
ITALY
46
48
50
52
54
56
58
UK
36
38
40
42
44
46
48
USA
36
38
40
42
44
46
48
JAPAN
2
3
4
5
6
7
8
AUSTRALIA
36
38
40
42
44
46
48
MEN'S SIZE CHART
CLOTHING
0
1
2
3
4
5
6
JEANS
29
30
32
34
36
38
40
MEN'S SIZE CHART
CLOTHING
0
1
2
3
4
5
6
SHOES
EUROPE
38
39
40
41
42
43
44
45
46
UK
4
5
6
7
8
9
10
11
12
USA
5
6
7
8
9
10
11
12
13
JAPAN
23 CM
24 CM
25 CM
26 CM
27 CM
28 CM
29 CM
30 CM
31 CM
MEN'S SIZE CHART
CLOTHING
0
1
2
3
4
5
6
GLOVES
STANDARD
7
7.5
8
8.5
9
9.5
10
10.5
INTERNATIONAL
XS
S
S
M
M
L
L
XL
CENTIMETERS
19
20
21.5
23
24
25.5
27
28