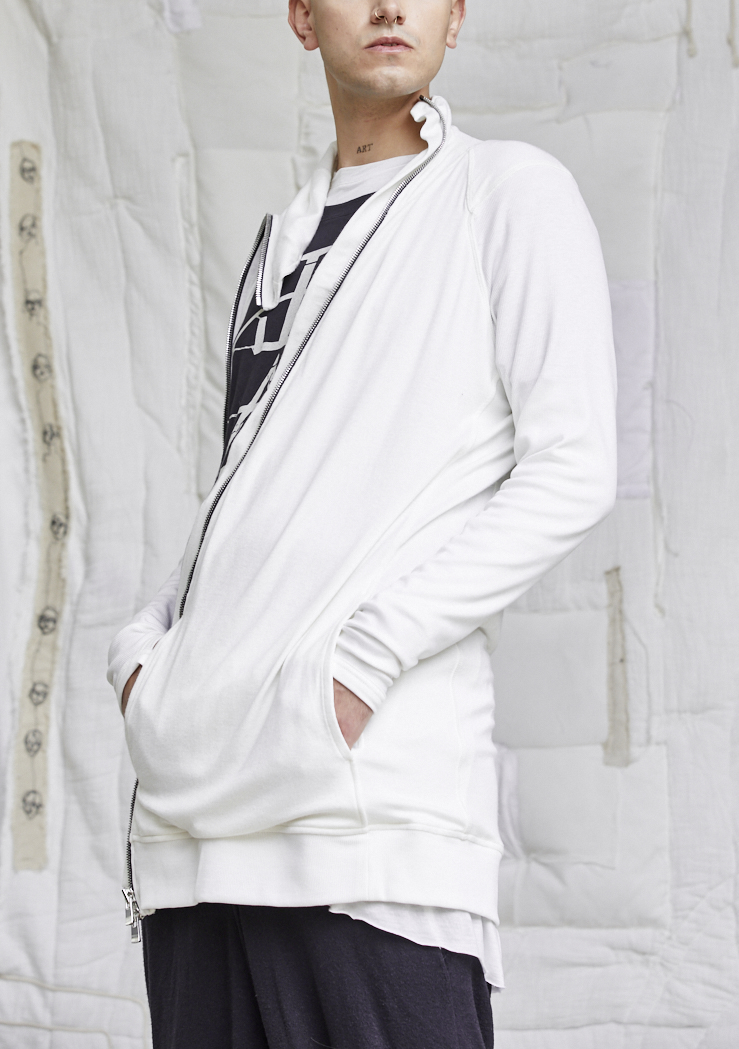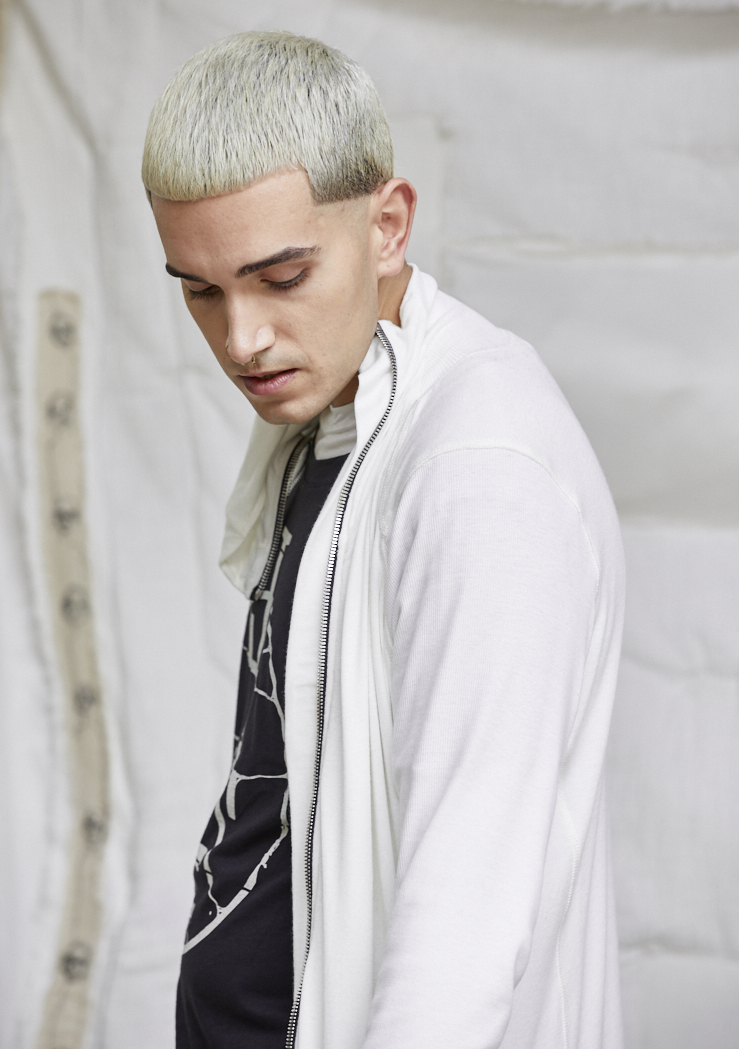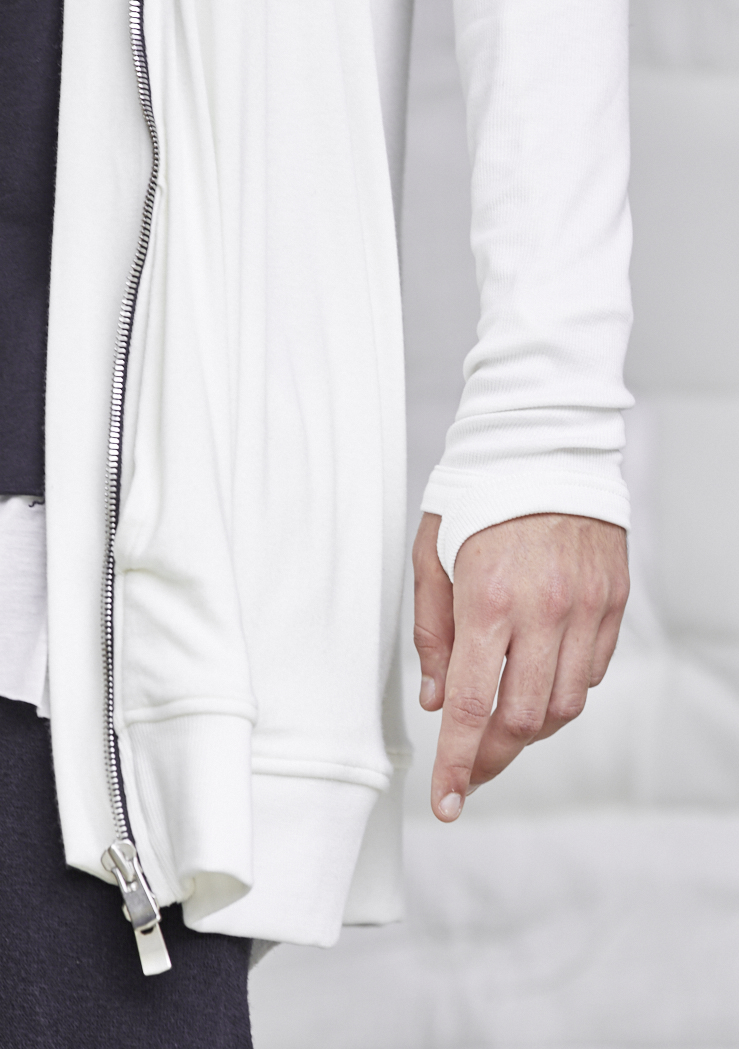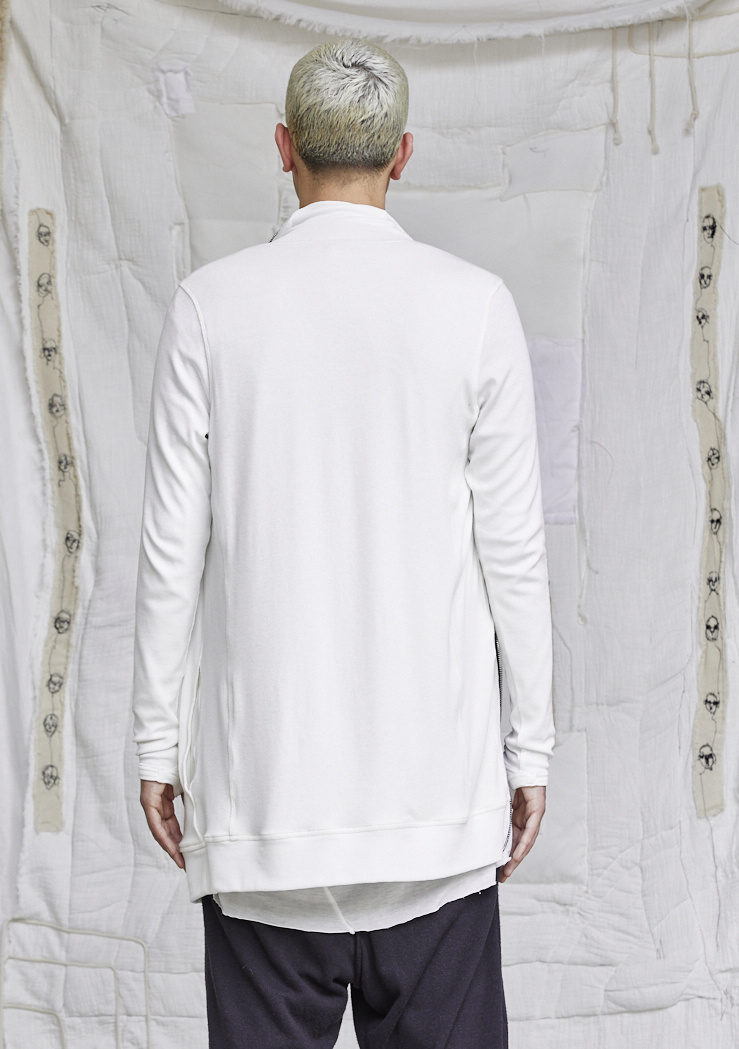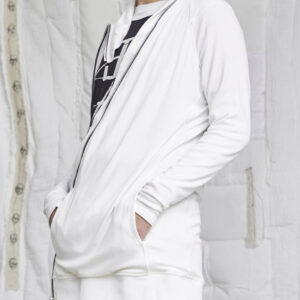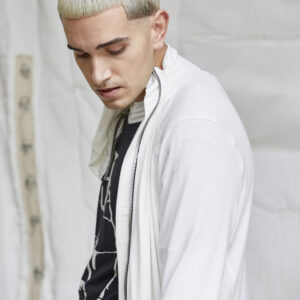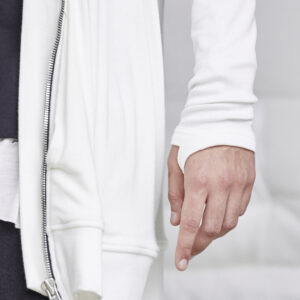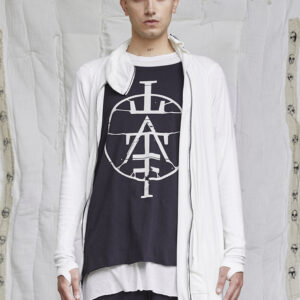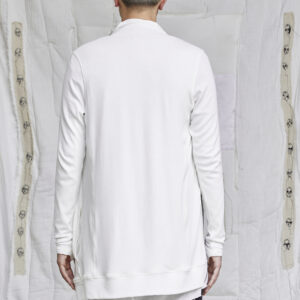 Made in collaboration with Valeriya Olkhova.
Comfortable and flexible sweat with graphic cut lines and reglan, long sleeves. The slimish sleeves come in rib, with a thumb detail. Kangaroo front pocket. Straight cut line on the back. High neck with an inbuilt face mask. Core of the shell, in thick cashmere. Lined fully in tone to tone tencel. When opened, the style drapes and hangs asymmetrically, following the lines of the zipper, which goes from top left to bottom right. Visible double cover stitch in various places. 
Overall, medium weight. Lusciously soft and stretchy hand feel. 
Composition
Shell Fabric 1: 100% cashmere
Shell Fabric 2: 100% tencel modal
Fabric 2: 100% tencel 
Colour: white, black 
Features
Behavior: very flexible and hugging. Natural draping. The cashmere textile allows the balance of the body temperature all year round, due to  Cashmere fibers developing a unique molecular structure.
Composition properties: 
Cashmere is very durable, hypoallergenic, insulating and has antibacterial properties. It's extremely soft and comfortable to wear all year round.
Tencel is a botanic, hypoallergenic, biodegradable textile. It has perfect moisture management and breathability. 
Sustainability: Locally produced. Zero waist. Durable. Non seasonal. Cashmere is from still stock.
Conscious care:  Delicate hand wash , with non catchy elements. Do not machine wash. Max temperature 30 degrees.
Size S
Shoulder to shoulder: 41 cm (seam to seam) due to half raglan, it is undefined
Half Chest width: 50 cm
Front Length : 88 cm
Sleeve length: 71 cm
Vivian size: 
Hight: 1.75
Chest 87
Waist 70 
Hips: 90
Nuno size: 
Hight: 1.83
Chest 92
Waist 72
Hips 92
PERSONA_Mask Collar Sweat
Leon Louis PERSONA Mask Collar Sweat in double layer exquisite textiles. Shell is  in cashmere and rib. Lined with tencel. Elongated, high collar sweat, with angled 2 way, size 8 zipper on the front. Slightly slim fit. Gender inclusive style.
MEN'S SIZE CHART
1CLOTHING
MEN'S SIZE CHART
CLOTHING
0
1
2
3
4
5
6
EUROPE
46
48
50
52
54
56
58
INTERNATIONAL
XS
S
M
L
XL
2 XL
3 XL
FRANCE
46
48
50
52
54
56
58
ITALY
46
48
50
52
54
56
58
UK
36
38
40
42
44
46
48
USA
36
38
40
42
44
46
48
JAPAN
2
3
4
5
6
7
8
AUSTRALIA
36
38
40
42
44
46
48
2JEANS
MEN'S SIZE CHART
CLOTHING
0
1
2
3
4
5
6
JEANS
29
30
32
34
36
38
40
3SHOES
MEN'S SIZE CHART
CLOTHING
0
1
2
3
4
5
6
SHOES
EUROPE
38
39
40
41
42
43
44
45
46
UK
4
5
6
7
8
9
10
11
12
USA
5
6
7
8
9
10
11
12
13
JAPAN
23 CM
24 CM
25 CM
26 CM
27 CM
28 CM
29 CM
30 CM
31 CM
4GLOVES
MEN'S SIZE CHART
CLOTHING
0
1
2
3
4
5
6
GLOVES
STANDARD
7
7.5
8
8.5
9
9.5
10
10.5
INTERNATIONAL
XS
S
S
M
M
L
L
XL
CENTIMETERS
19
20
21.5
23
24
25.5
27
28
WOMEN'S SIZE CHART
1CLOTHING
WOMEN'S SIZE CHART
CLOTHING
XO
OO
O
1
2
3
4
5
6
EUROPE
34
36
38
40
42
44
46
48
50
INTERNATIONAL
XS
S
M
L
XL
2 XL
3 XL
4 XL
5 XL
FRANCE
34
36
38
40
42
44
44
44
44
ITALY
38
40
42
44
46
48
48
48
48
UK
6
8
10
12
14
16
16
16
16
USA
2
4
6
8
10
12
12
12
12
JAPAN
5
7
9
11
13
15
15
15
15
AUSTRALIA
6
8
10
12
14
16
16
16
16
2JEANS
WOMEN'S SIZE CHART
CLOTHING
XO
OO
O
1
2
3
4
5
6
JEANS
25
26
28
30
32
34
34
34
34
3SHOES
WOMEN'S SIZE CHART
CLOTHING
XO
OO
O
1
2
3
4
5
6
SHOES
EUROPE
34
35
36
37
38
39
40
41
42
FRANCE
35
36
37
38
39
40
41
42
43
UK
1
2
3
4
5
6
7
8
9
USA
4
5
6
7
8
9
10
11
12
JAPAN
22 CM
22.5 CM
23 CM
23.5 CM
24 CM
24.5CM
25 CM
26 CM
27 CM
4GLOVES
WOMEN'S SIZE CHART
CLOTHING
XO
OO
O
1
2
3
4
5
6
GLOVES
STANDARD
6
6.5
7
7.5
8
8.5
9
9.5
INTERNATIONAL
XS
S
S
M
M
L
L
XL
CENTIMETERS
17
17.5
19
20
21.5
23
24
25.5