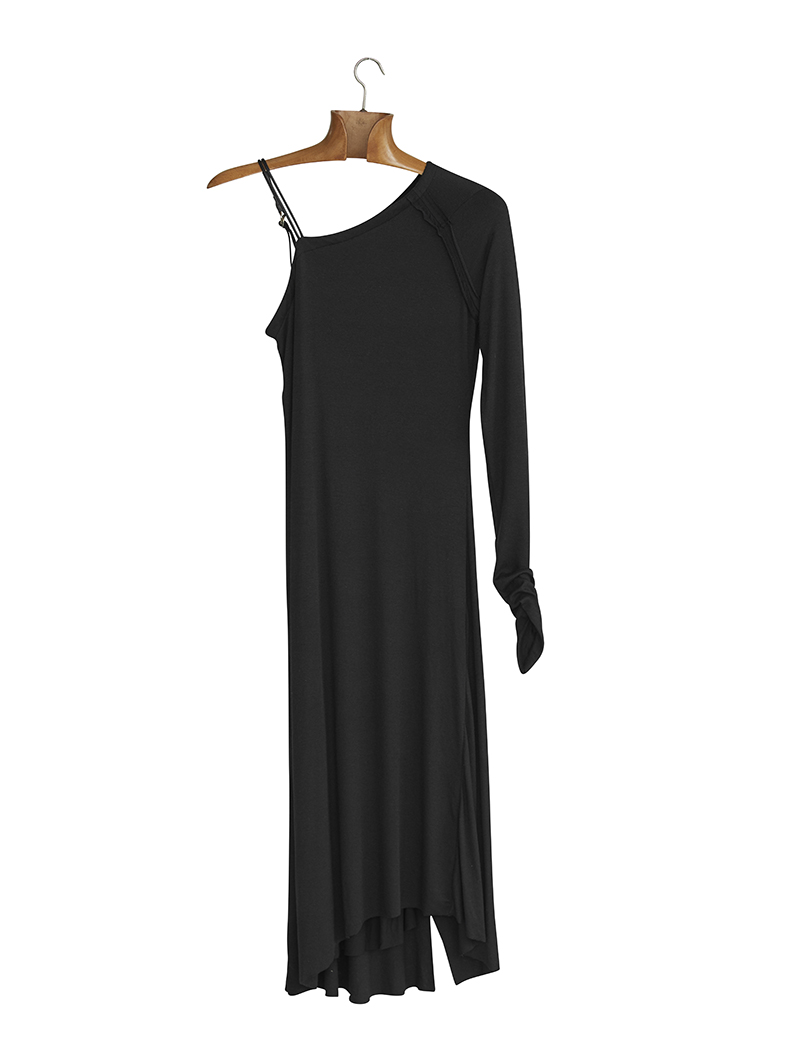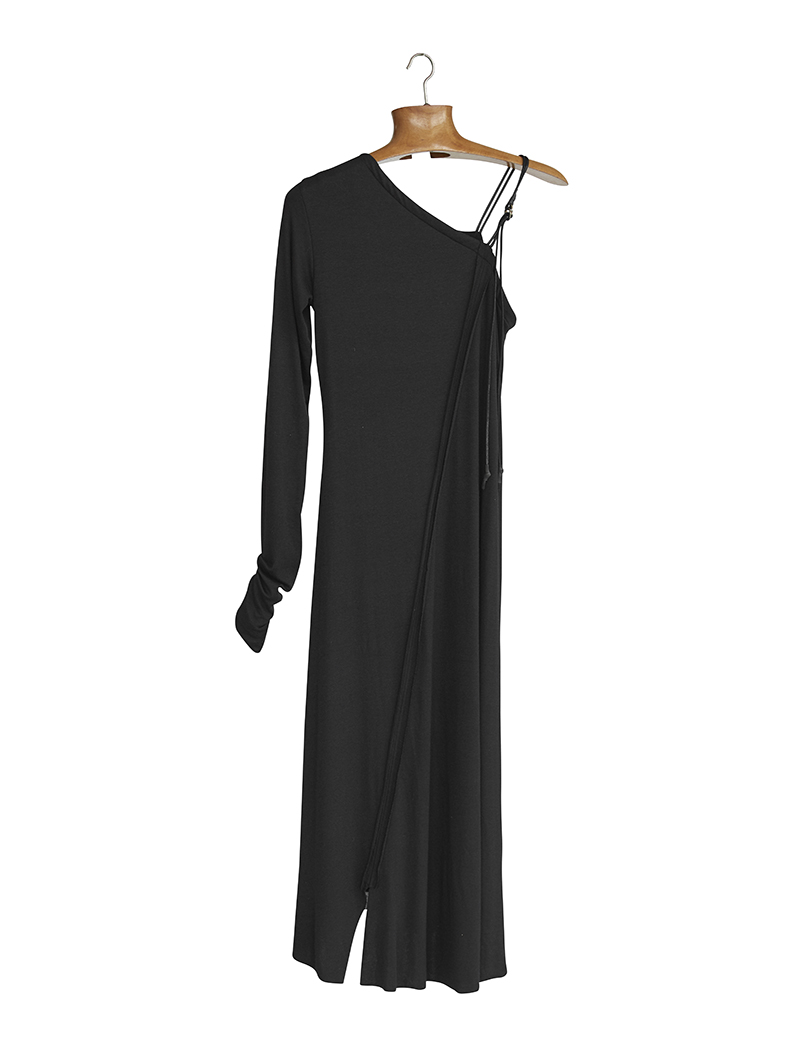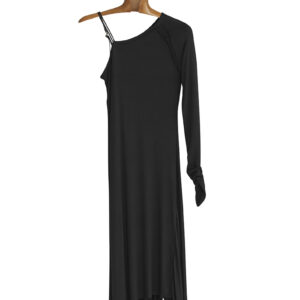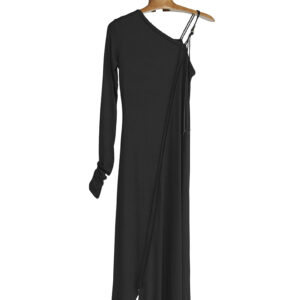 Comfortable and flexible A shaped dress. Has  One slim sleeve, with a thumbhole. Open side of the dress is adjustable with a simple system of string and metal rings, featuring concealed rubber details. The style comes with a slanted controlled raw edge detail on the front and a slight front slit.. This dress is designed as a puzzle piece with a QUI One Sleeve top. Works perfectly together or as a stand alone. Inner hemming is knitted in house by Vo/ft.
Overall, medium weight. Lusciously soft and stretchy hand feel. 
Composition
Shell Fabric 1: 100% cashmere
Fabric 2: 100% tencel 
Colour: white, black 
Features
Behavior: very flexible and hugging. Natural draping. The cashmere textile allows the balance of the body temperature all year round, due to Cashmere fibers developing a unique molecular structure.
Composition properties: 
Cashmere is very durable, hypoallergenic, insulating and has antibacterial properties. It's extremely soft and comfortable to wear all year round.
Tencel is a botanic, hypoallergenic, biodegradable textile. It has perfect moisture management and breathability. 
Sustainability: Locally produced. Zero waist. Durable. Non seasonal. Cashmere sourced from still stock.
Conscious care:  Delicate hand wash , with non catchy elements. Do not machine wash. Max temperature 30 degrees.
Size S
Half Chest width: 41 cm
Front Length :121 cm
Sleeve length: 76 cm
Vivian size: 
Hight: 1.75
Chest 87
Waist 70 
Hips: 90
Leon Louis TAMEN Sleeve dress  in exquisite double layered textiles. Shell in cashmere, Lined with tencel. One sleeved, asymmetrically cut style featuring minimal details and artisanally knitted inner hemming.
WOMEN'S SIZE CHART
WOMEN'S SIZE CHART
CLOTHING
XO
OO
O
1
2
3
4
5
6
EUROPE
34
36
38
40
42
44
46
48
50
INTERNATIONAL
XS
S
M
L
XL
2 XL
3 XL
4 XL
5 XL
FRANCE
34
36
38
40
42
44
44
44
44
ITALY
38
40
42
44
46
48
48
48
48
UK
6
8
10
12
14
16
16
16
16
USA
2
4
6
8
10
12
12
12
12
JAPAN
5
7
9
11
13
15
15
15
15
AUSTRALIA
6
8
10
12
14
16
16
16
16
WOMEN'S SIZE CHART
CLOTHING
XO
OO
O
1
2
3
4
5
6
JEANS
25
26
28
30
32
34
34
34
34
WOMEN'S SIZE CHART
CLOTHING
XO
OO
O
1
2
3
4
5
6
SHOES
EUROPE
34
35
36
37
38
39
40
41
42
FRANCE
35
36
37
38
39
40
41
42
43
UK
1
2
3
4
5
6
7
8
9
USA
4
5
6
7
8
9
10
11
12
JAPAN
22 CM
22.5 CM
23 CM
23.5 CM
24 CM
24.5CM
25 CM
26 CM
27 CM
WOMEN'S SIZE CHART
CLOTHING
XO
OO
O
1
2
3
4
5
6
GLOVES
STANDARD
6
6.5
7
7.5
8
8.5
9
9.5
INTERNATIONAL
XS
S
S
M
M
L
L
XL
CENTIMETERS
17
17.5
19
20
21.5
23
24
25.5