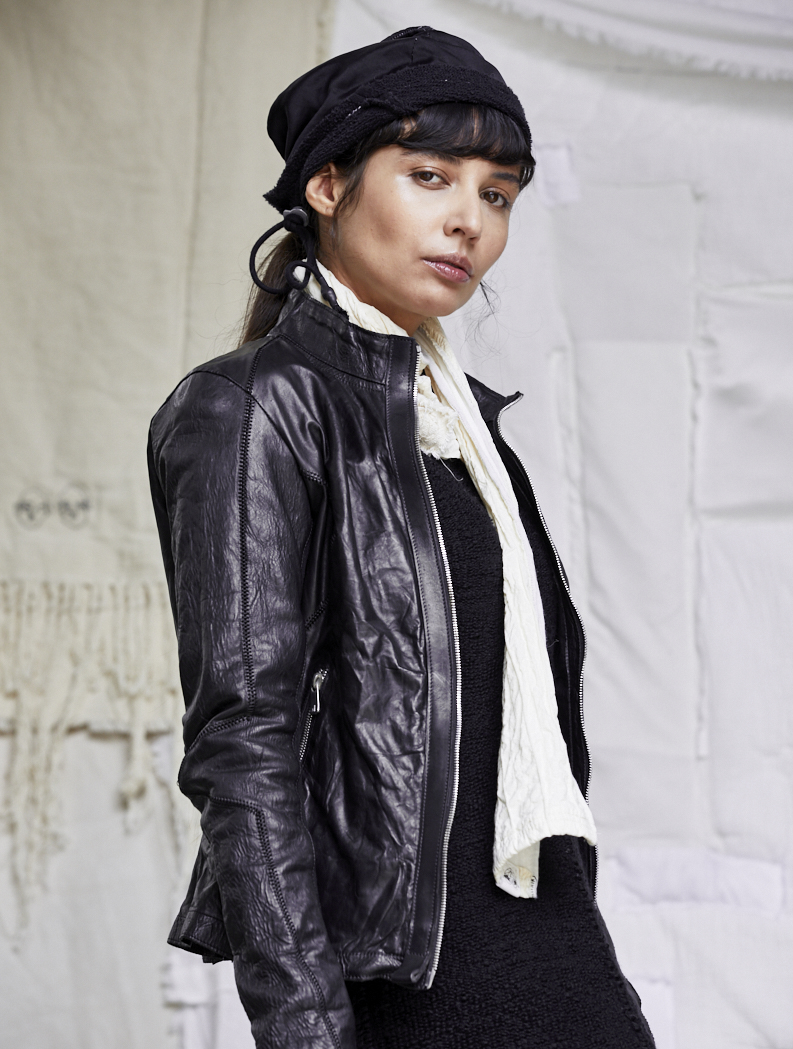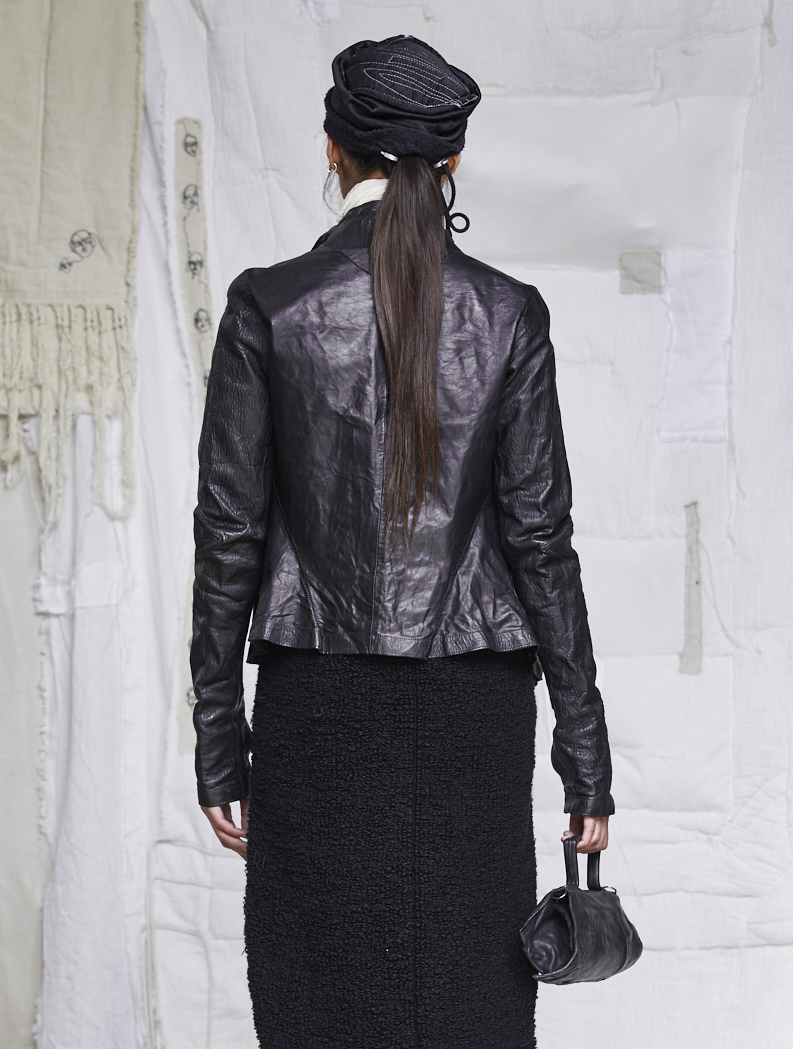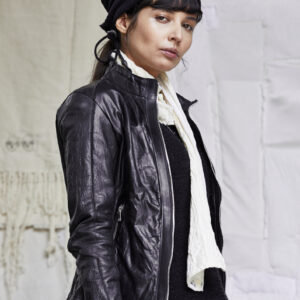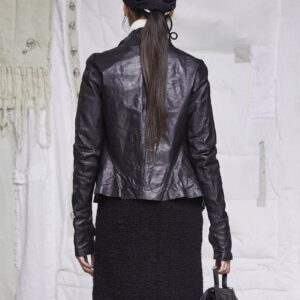 Engineered in signature, graphic, cut lines sewn with scar stitch. Sits shapefully, like an hourglass, around hips long. Features a signature triangle on the neck. All zippers distressed in this jacket. Standing japanese collar. Inside, contains loops, for attaching a lining, that can be found  in different versions on our webshop, when available. 
Overall structured leather.
Heavy-ish strong and sturdy hand feel. Non seasonal
Composition
Shell 1  : 100% horse leather
Colour: black 
Lining 1: 100% wool
Colour: white
Features
Behavior: Very strong and sculptural
Composition properties: protective shell
Sustainability: Local production cycle. Durable and timeless
Conscious care:  no washing
Size 40
Shoulder to shoulder: 39.5 seam to seam (half reglan, shoulder fit can vary)
Half Chest width: 50 cm
Front Length ( HSP to longest point in bottom hem) : 59 cm
Sleeve length: 72 cm (curved)
Vivian size: 
Hight: 1.75
Chest 87
Waist 70 
Hips: 90
TOYAS_Scar Leather Jacket
Leon Louis signature TOYAS Scar Leather jacket in horse leather. Slim fit. Inserted rib panels in the inner sleeve for extra flexibility. Double way, lightweight excella zipper on the front. Zipper side pockets. Long sleeves with thumb holes. Sculptural shell.
WOMEN'S SIZE CHART
WOMEN'S SIZE CHART
CLOTHING
XO
OO
O
1
2
3
4
5
6
EUROPE
34
36
38
40
42
44
46
48
50
INTERNATIONAL
XS
S
M
L
XL
2 XL
3 XL
4 XL
5 XL
FRANCE
34
36
38
40
42
44
44
44
44
ITALY
38
40
42
44
46
48
48
48
48
UK
6
8
10
12
14
16
16
16
16
USA
2
4
6
8
10
12
12
12
12
JAPAN
5
7
9
11
13
15
15
15
15
AUSTRALIA
6
8
10
12
14
16
16
16
16
WOMEN'S SIZE CHART
CLOTHING
XO
OO
O
1
2
3
4
5
6
JEANS
25
26
28
30
32
34
34
34
34
WOMEN'S SIZE CHART
CLOTHING
XO
OO
O
1
2
3
4
5
6
SHOES
EUROPE
34
35
36
37
38
39
40
41
42
FRANCE
35
36
37
38
39
40
41
42
43
UK
1
2
3
4
5
6
7
8
9
USA
4
5
6
7
8
9
10
11
12
JAPAN
22 CM
22.5 CM
23 CM
23.5 CM
24 CM
24.5CM
25 CM
26 CM
27 CM
WOMEN'S SIZE CHART
CLOTHING
XO
OO
O
1
2
3
4
5
6
GLOVES
STANDARD
6
6.5
7
7.5
8
8.5
9
9.5
INTERNATIONAL
XS
S
S
M
M
L
L
XL
CENTIMETERS
17
17.5
19
20
21.5
23
24
25.5