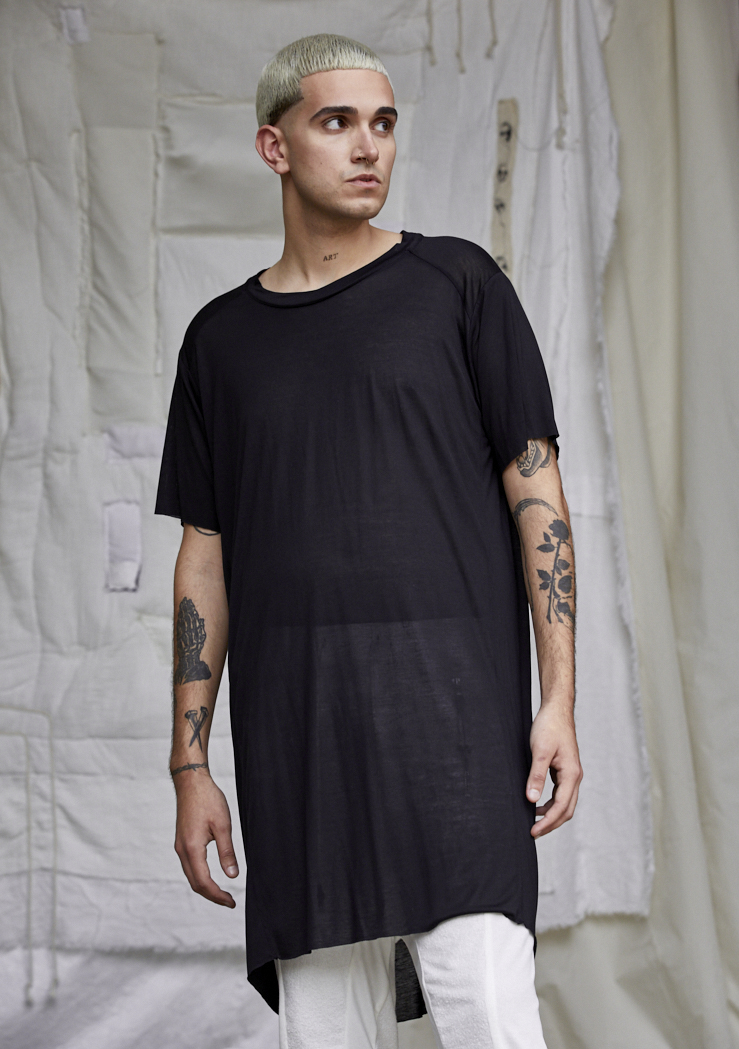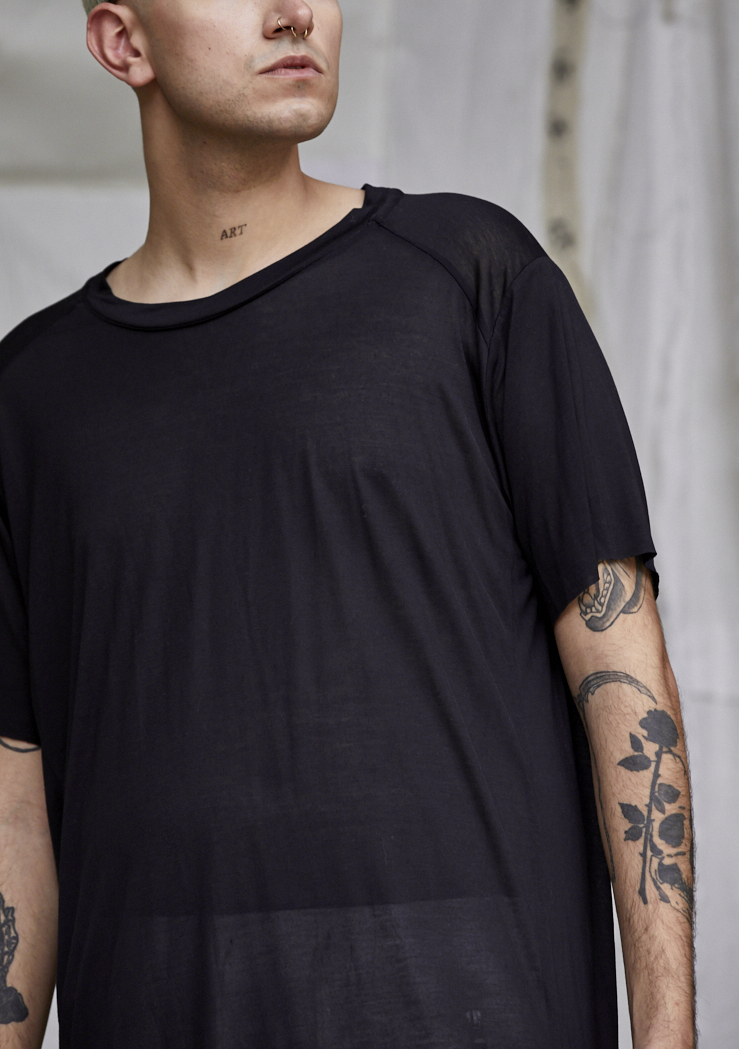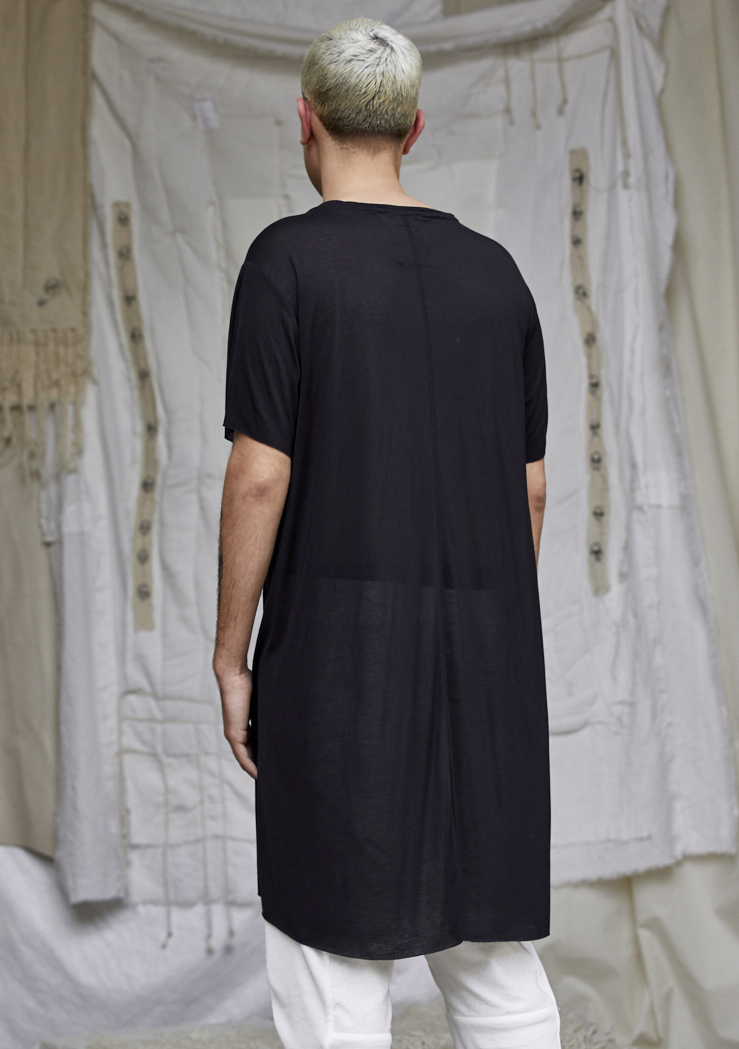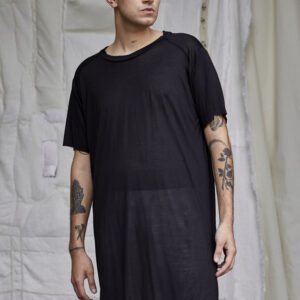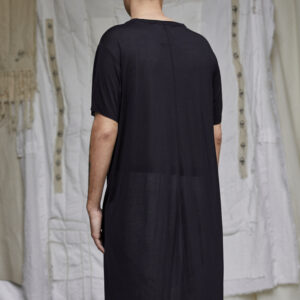 This style comes with a mixed type of cut lines, including a flattering one at the collarbone. The sleeve length is 1/3. Round and hemped neck line. Raw edges on the sleeves and bottom hem. The length is long, below the pants side pockets, with the back a little longer. Center back seam stitch. French inner seams. The T-shirt comes with a signature hanging detail. 
Medium Lightweight textile is smooth, stretchy and slippy in hand feel.
Composition
Fabric : 100% tencel
Colour: optical white, black 
Features:
Behavior:  Airy and stretchy.  Hypoallergenic and long lasting through relentless use. Perfect moisture management and breathability.
Composition properties: Tencel is a botanic and biodegradable textile.  Made from cellulose found in wood pulp of eucalyptus, a fast regenerating tree.
Sustainability: Local production cycle. Tencel has a unique closed loop production, which uses almost 100 % recycled solvents, making it extremely eco-friendly.
Conscious care: gentle cold wash cycle, with non catchy elements.
Size XL 
Neck opening: 23 cm
Shoulder to shoulder: 50 cm
Half Chest width:  63 cm
Length : 96-102 cm
Sleeve length (from SP): 22
Nuno size: 
Hight: 1.83
Chest 92
Waist 72
Hips 92
WIENU_ A-shaped Wide T-shirt
Leon Louis WIENU A-shaped wide Tee. One of the originals of the brand's creation, dating back to 2010.  A non seasonal luxury basic, in tencel. Has a very loose A- shaped fit with a soft and sleek skin experience. Gender inclusive style.
MEN'S SIZE CHART
MEN'S SIZE CHART
CLOTHING
0
1
2
3
4
5
6
EUROPE
46
48
50
52
54
56
58
INTERNATIONAL
XS
S
M
L
XL
2 XL
3 XL
FRANCE
46
48
50
52
54
56
58
ITALY
46
48
50
52
54
56
58
UK
36
38
40
42
44
46
48
USA
36
38
40
42
44
46
48
JAPAN
2
3
4
5
6
7
8
AUSTRALIA
36
38
40
42
44
46
48
MEN'S SIZE CHART
CLOTHING
0
1
2
3
4
5
6
JEANS
29
30
32
34
36
38
40
MEN'S SIZE CHART
CLOTHING
0
1
2
3
4
5
6
SHOES
EUROPE
38
39
40
41
42
43
44
45
46
UK
4
5
6
7
8
9
10
11
12
USA
5
6
7
8
9
10
11
12
13
JAPAN
23 CM
24 CM
25 CM
26 CM
27 CM
28 CM
29 CM
30 CM
31 CM
MEN'S SIZE CHART
CLOTHING
0
1
2
3
4
5
6
GLOVES
STANDARD
7
7.5
8
8.5
9
9.5
10
10.5
INTERNATIONAL
XS
S
S
M
M
L
L
XL
CENTIMETERS
19
20
21.5
23
24
25.5
27
28