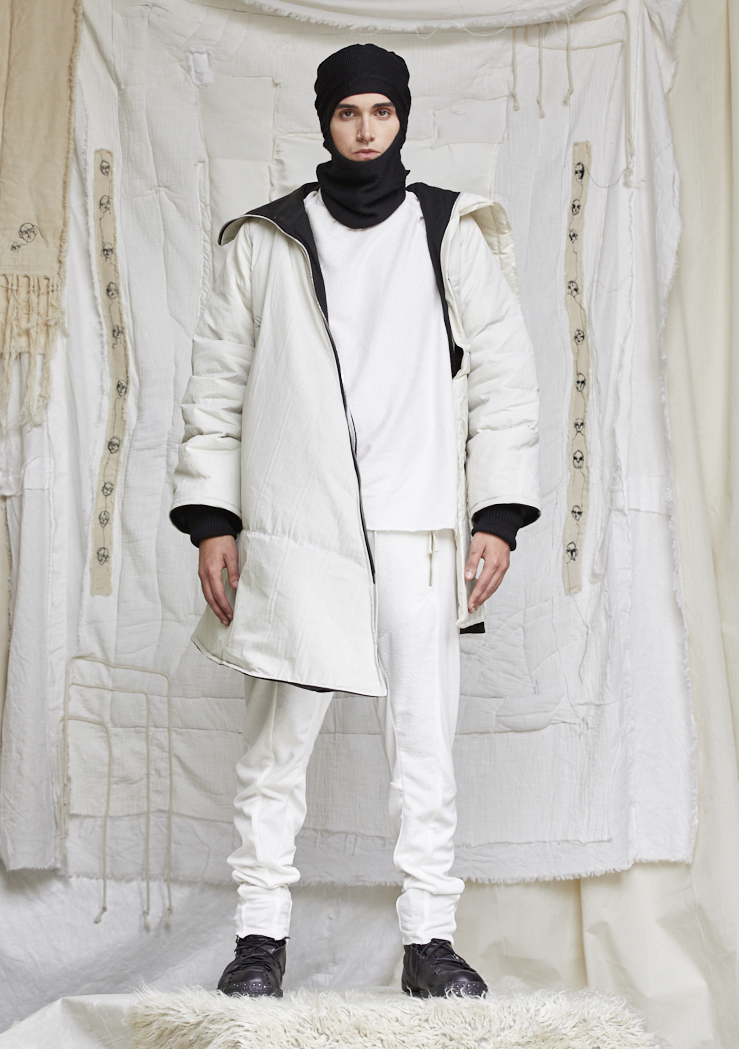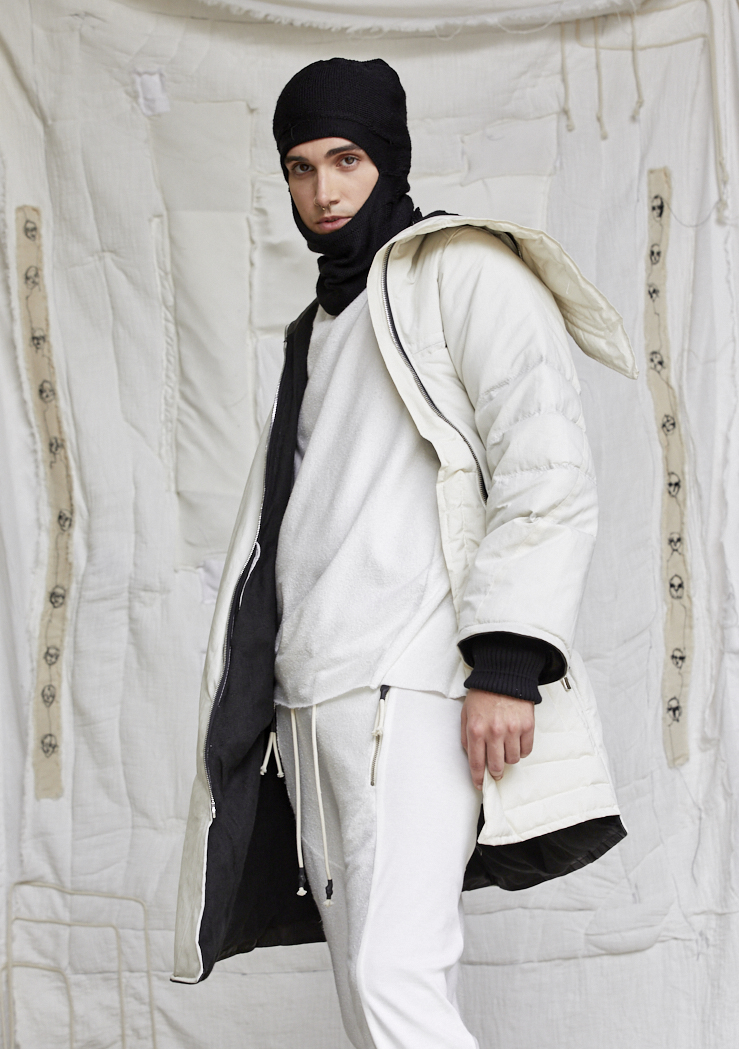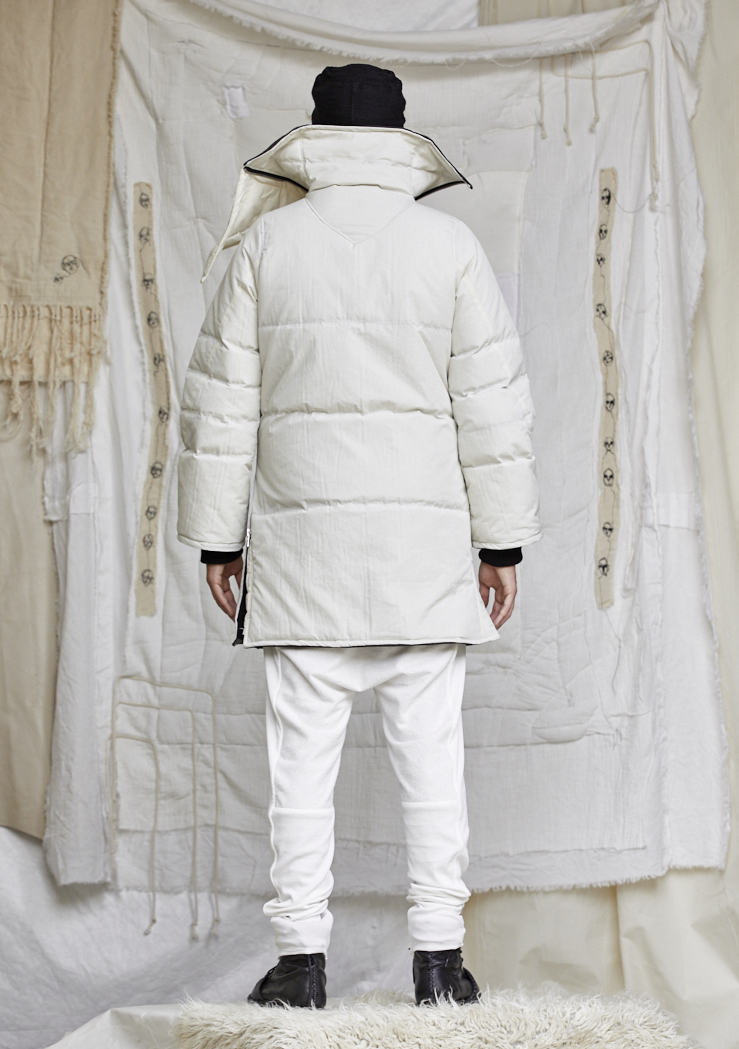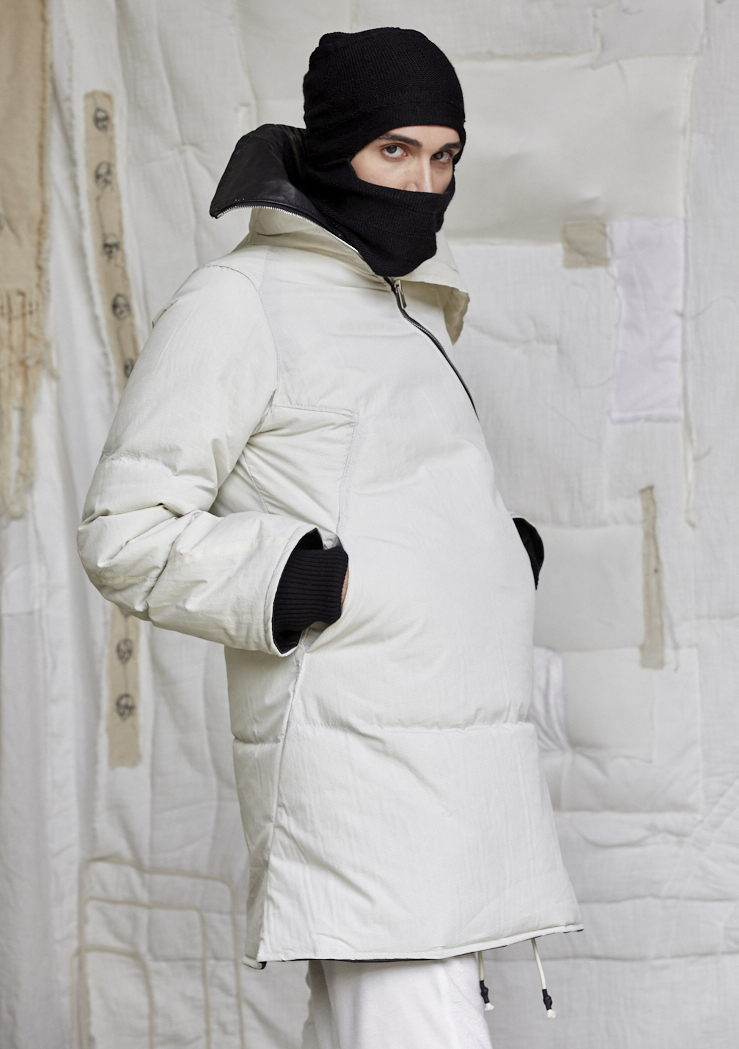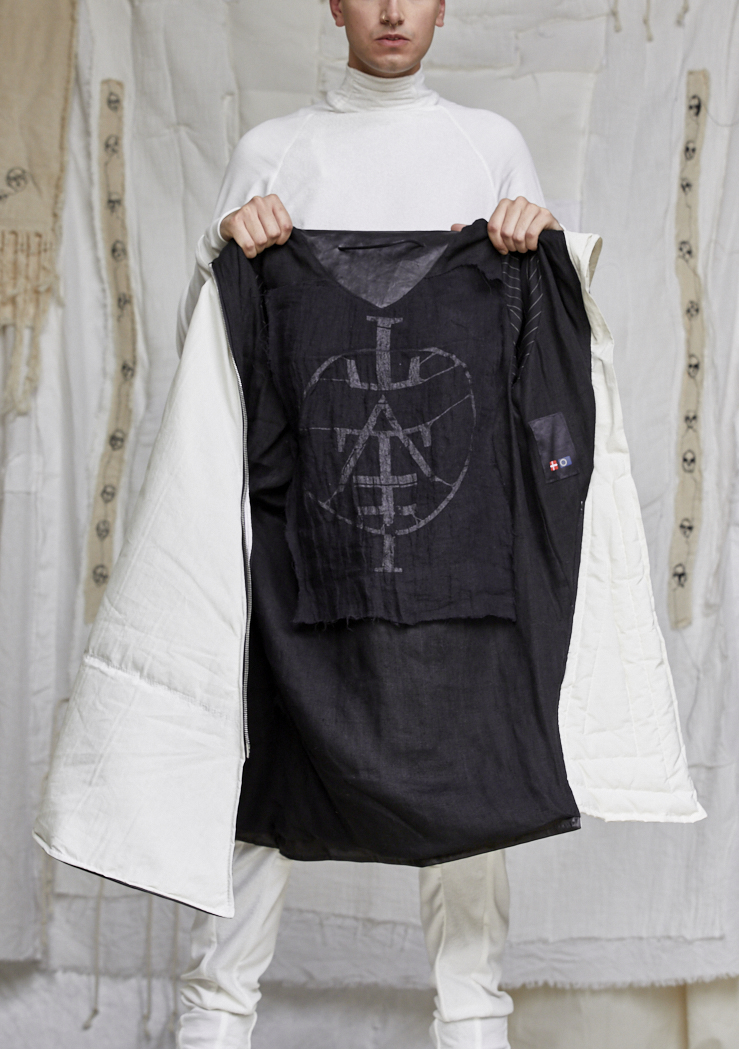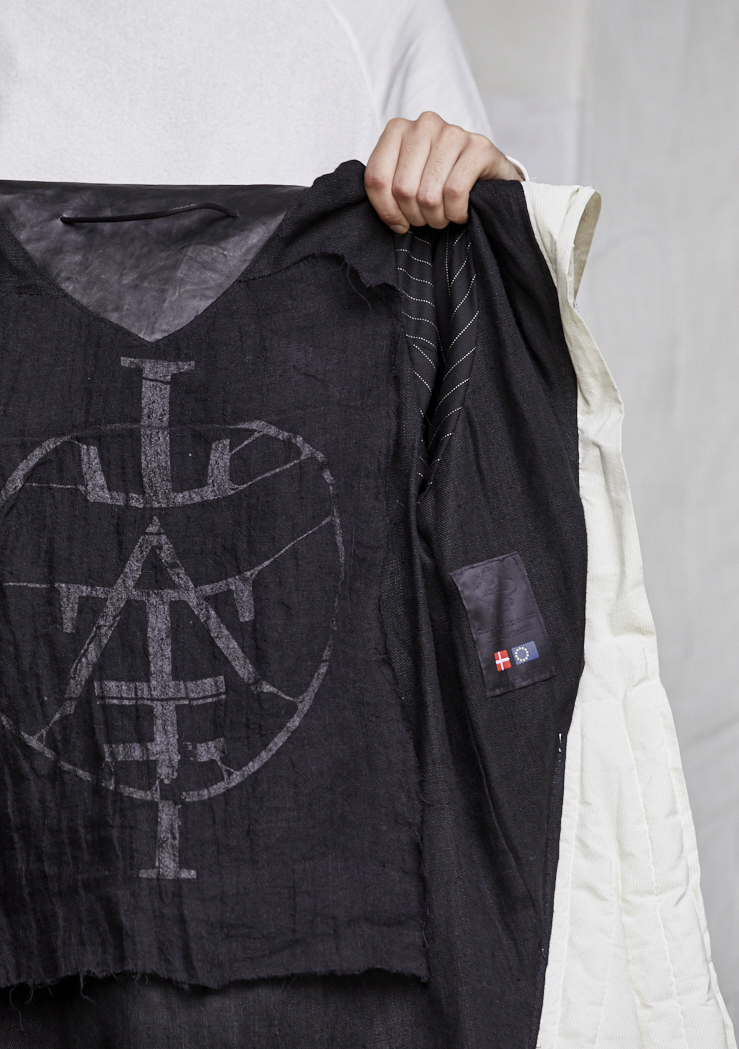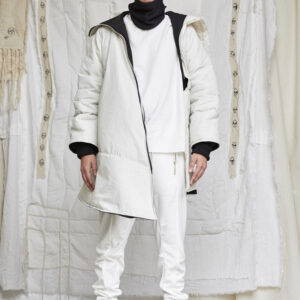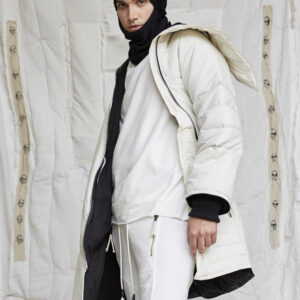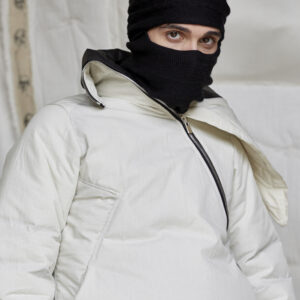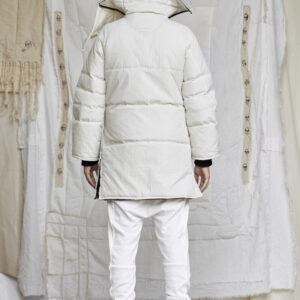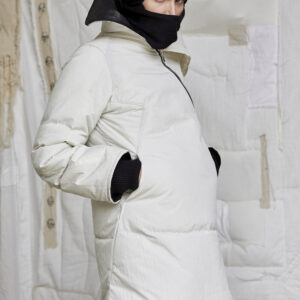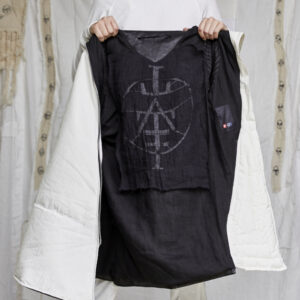 This sculptural style comes with a slanted full length zipper and is mid thigh long. A-shaped. Special collar construction in the height and angles, that can be played with in the styling. When open, the jacket behaves as a moving sculpture, playing with the form and shape. Kenguru front pocket. Cuffs are slimmer than the sleeves, in double layered rib, designed to prevent the wind, connected with leather. Comfortable coon features a special lining combination of linen, leather, print and woven striped sleeves. Signature hanging detail.
Heavyish,flexible and spongy in hand feel.
Composition
Fabric outer : cotton polyester.
Fabric inner: 100% linen
Padding: sintepon
Colour: black
Features:
Behavior: Easy movement, cocooning, comforting feeling.
Composition properties: Cotton is Hypoallergenic, breathable, absorbent, non toxic. Sintepon is very warm. Linen: breathable, very durable, has a thermal regulation, non electrifying, antiallergic.
Sustainability: Made in house from left over limited stock. Print produced locally.
Conscious care: gentle cold wash cycle, with non catchy elements.
Size: S
Neck opening: 24 cm (when closed)
Shoulder to shoulder: undefined due to reglan construction, seam to seam 40 cm
Half Chest width: 55 cm
Length : 91 cm
Half Bottom width: 72 cm
Nuno size:
Hight: 1.83
Chest: 92
Waist: 72
Hips: 92
Vivian size:
Hight: 1.75
Chest 87
Waist 70
Hips: 90
Leon Louis YOUIA Puffer Jacket made in collaboration with Valeriya Olkhova. A Sculptural padded jacket with a size 8 two way zipper. This style comes with a playful high neck collar. Full length sleeves and thick rib cuff. Lined with linen and leather details, featuring printed collaboration 'symbol' on the inside.
MEN'S SIZE CHART
1CLOTHING
MEN'S SIZE CHART
CLOTHING
0
1
2
3
4
5
6
EUROPE
46
48
50
52
54
56
58
INTERNATIONAL
XS
S
M
L
XL
2 XL
3 XL
FRANCE
46
48
50
52
54
56
58
ITALY
46
48
50
52
54
56
58
UK
36
38
40
42
44
46
48
USA
36
38
40
42
44
46
48
JAPAN
2
3
4
5
6
7
8
AUSTRALIA
36
38
40
42
44
46
48
2JEANS
MEN'S SIZE CHART
CLOTHING
0
1
2
3
4
5
6
JEANS
29
30
32
34
36
38
40
3SHOES
MEN'S SIZE CHART
CLOTHING
0
1
2
3
4
5
6
SHOES
EUROPE
38
39
40
41
42
43
44
45
46
UK
4
5
6
7
8
9
10
11
12
USA
5
6
7
8
9
10
11
12
13
JAPAN
23 CM
24 CM
25 CM
26 CM
27 CM
28 CM
29 CM
30 CM
31 CM
4GLOVES
MEN'S SIZE CHART
CLOTHING
0
1
2
3
4
5
6
GLOVES
STANDARD
7
7.5
8
8.5
9
9.5
10
10.5
INTERNATIONAL
XS
S
S
M
M
L
L
XL
CENTIMETERS
19
20
21.5
23
24
25.5
27
28
WOMEN'S SIZE CHART
1CLOTHING
WOMEN'S SIZE CHART
CLOTHING
XO
OO
O
1
2
3
4
5
6
EUROPE
34
36
38
40
42
44
46
48
50
INTERNATIONAL
XS
S
M
L
XL
2 XL
3 XL
4 XL
5 XL
FRANCE
34
36
38
40
42
44
44
44
44
ITALY
38
40
42
44
46
48
48
48
48
UK
6
8
10
12
14
16
16
16
16
USA
2
4
6
8
10
12
12
12
12
JAPAN
5
7
9
11
13
15
15
15
15
AUSTRALIA
6
8
10
12
14
16
16
16
16
2JEANS
WOMEN'S SIZE CHART
CLOTHING
XO
OO
O
1
2
3
4
5
6
JEANS
25
26
28
30
32
34
34
34
34
3SHOES
WOMEN'S SIZE CHART
CLOTHING
XO
OO
O
1
2
3
4
5
6
SHOES
EUROPE
34
35
36
37
38
39
40
41
42
FRANCE
35
36
37
38
39
40
41
42
43
UK
1
2
3
4
5
6
7
8
9
USA
4
5
6
7
8
9
10
11
12
JAPAN
22 CM
22.5 CM
23 CM
23.5 CM
24 CM
24.5CM
25 CM
26 CM
27 CM
4GLOVES
WOMEN'S SIZE CHART
CLOTHING
XO
OO
O
1
2
3
4
5
6
GLOVES
STANDARD
6
6.5
7
7.5
8
8.5
9
9.5
INTERNATIONAL
XS
S
S
M
M
L
L
XL
CENTIMETERS
17
17.5
19
20
21.5
23
24
25.5